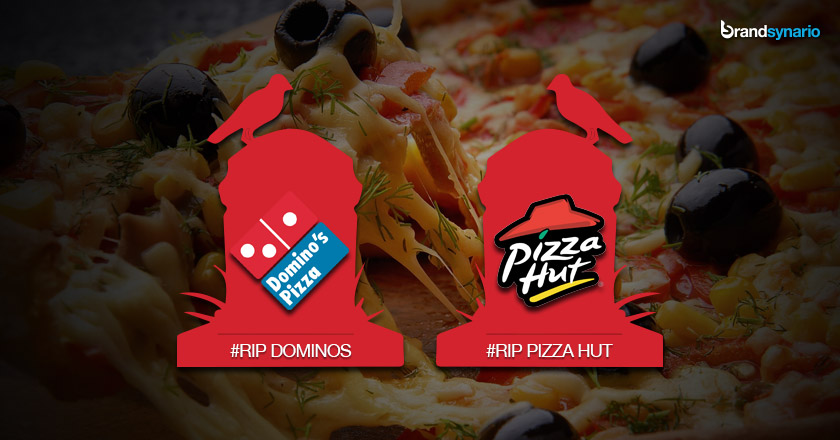 By Zoya Anwer
20 years ago, when the nation was still in love with desi Nihari roti and spicy Biryani with aaloo, a triangular shaped food called Pizza was introduced to us; since then, with each new Pizza outlet, the love affair has continued to grow stronger. 
 It was the great house of Pizza, known to all as Pizza Hut that brought the taste of this savory food item to Pakistan in 1993. To keep the food lovers intact, the global chain added desi touch to pizzas and were called the best.
They were still the best when Domino's and Papa John's came along but then things started to change drastically; the last five to eight years saw a major audience shift from these international chains to many local Pizza outlets.
Reasons are aplenty. While Pizza Hut and Domino's might continue to enforce that their pizzas are the best, the promotional strategies, pricing and the constant rush on the local outlets proves the opposite.
Over the years, their quality kept deteriorating and the pizza which was always preferred by people hit a bottom low.
Following are the local chains that are definitely giving a tough competition to the international chains:
1. 14th Street Pizza:
Launching its pizza in February, 2011, 14th Street brought the idea of a 20 inch pizza and won the hearts of many through social media. With their delivery services available in all major localities of the city, 14th street has successfully  taken away a good share of Pizza Hut's loyal followers. With active website, Facebook and Instagram profiles, 14th Street knows how to reach out to people. After Karachi, they have also opened their outlet in the capital city, Islamabad.
2. California Pizza:
If one has to judge whether California Pizza is a good choice, they can always do it from its main location.
Built almost next to Domino's, Bahadurabad outlet is always swarming with people. The pizza is a treat to our taste buds; the ambience is comfortable and the rates are feasible. They have a user-friendly website and their promotional schemes on their Facebook page are always worth using.
3.
Broadway Pizza
:
Initially opened in Lahore, Broadway Pizza has reached Karachi only recently. With excellent sidelines, exciting flavours and huge pizzas, Broadway is already getting popular among the masses. With an active website that serves as a means to order for delivery, their Facebook page is always active to answer queries of people.
4. Pizza One:
While the above ones are still quite expensive for an average person, Pizza One offers quality in feasible rates. They also have promotional deals for people who buy the coupons. With an active Facebook page Pizza One makes it easier for customers to know all the deals.
5. Pizza Max:
Like Pizza One, Pizza Max is also getting very popular among people who believe that it is better to pay half the price and get a better pizza than to pay full for a lousy one. Pizza Max also offers coupons to people who can avail it and get better deals. With branches all over Karachi, Pizza Max delivers across the city and has dine-in options as well.
6. Pizza Point:
With its brilliant ambience and spacious outlets Pizza Point offers variety of flavours and deals that are unmatched. With their coupons deals, their popularity is ever increasing. They also have an active website and an activeFacebook page.
The trend of pizza started by international has been taken over by these local competitors chiefly because of the better quality and rates provided by them. To get back into the competition they seriously need to work on their promotional schemes as well as the quality.