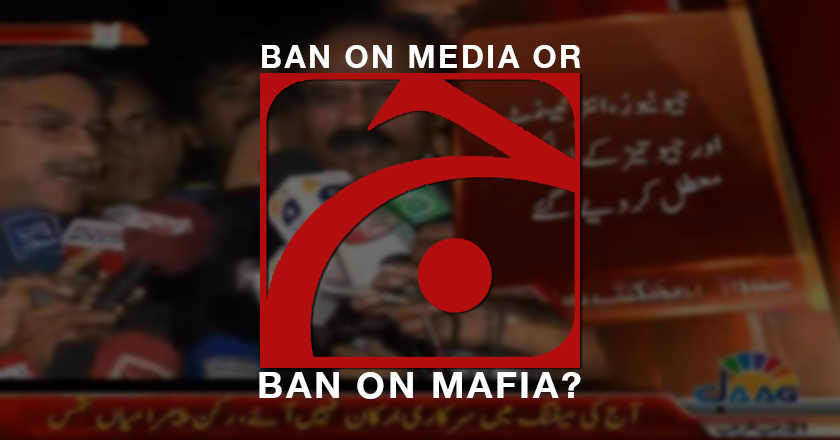 Geo Television Network has been a part of various controversies over the years. The most recent controversy of Shahista Wahidi's blasphemous act on air during the morning show "Utho Jago Pakistan", has led to the ban of entire Geo Network.
PEMRA took notice of the never-ending complaints against Geo, filed by people belonging to seemingly every strata of life. The decision by Pakistan Electronic Media Regulatory Authority (PEMRA) did not come immediately; in fact it took almost a month for it to roll out this conclusive decision that stands valid at least till 28th May 2014.
Geo TV is the ultimate product of the pioneering media house, Jang Group that has literally laid the foundations of the print media in Pakistan. Mir Khalil ur Rehman – the man behind Jang Group of Newspapers, grounded this empire long before anyone else thus marking an unsaid monopoly of jang Group in the media industry of Pakistan.
When Jang Group's heir Geo entered satellite television industry, it inherited the monopoly in its legacy. Thus beings the era of GEO's unparalleled 'hounding' to anything & anyone that dared to stand in its way.
Let's talk about Geo Network's rich history of getting into controversies with big names, a few of which are:
1. GEO/Jang vs. Aamir Liaquat
The great entertainer, Aamir Liaquat is renowned for his loyalties with GEO TV. but little do people remember the time when Aamir Liaquat left Geo for ARY, only to be humiliated in public by a video that got leaked on the internet by a certain "unnamed" source that would have ruined any other Islamic scholars' career but NOT Aamir Liaquat. No Sire, Aamir not only bounced back from that video he bounced back in GEO.
However GEOs' blackmailing did not go unnoticed, many still believe that the video was only the first step to blackmail the prodigal son 'Aamir Liaquat' to return back home.
2. Geo/Jang & Nadia khan VS Noor & Husband
Nadia Khan, the founder of morning shows in Pakistan did something so absurd that remained the most inexplicably senseless move in any show perhaps anywhere in the world.
In 2010, morning show on Geo hosted by Nadia Khan was banned by UAE government. The show was banned due to privacy concerns raised by the husband of a former Pakistani actress, Noor. Nadia Khan, the show's host was accused of making a family matter public which should have stayed between the actress and her husband.
3. Geo/Jang vs. AXACT
Geo along with its publication side Jang was previously sued by Axact, a reputable IT company of Pakistan for propagating fake news against it. The case was taken to high court of Pakistan and later on Geo came out as the culprit along with the imposition of a heavy fine.
4. Geo vs. Govt. of Pakistan
Except for this, Geo had previously been under turmoil for raising questions on the conducted elections, i.e. taking up sides of the opposition party and standing up against the government of Pakistan.
5. Geo vs. ISI
Geo TV was accused of overplaying on the assassination attempt of Hamid Mir, when it blamed the prime intelligence agency of Pakistan, ISI of being involved in the assassination, that too without any proofs.
6. Geo vs. PTI
The political leader and the founder of PTI, Imran Khan has also publicly accused Geo of telecasting personal judgments instead of going for a neutral approach during its broadcasts, as it is media's duty to be as neutral as possible.
Geo yet existed till a few days back even after these controversial happenings. But the latest epic controversy of Shahista Wahidi's blasphemous act placed an end to Geo's invulnerability, immediately imposing a ban on all of the channel's telecasts, causing Geo to go completely offline.