The Holy month of Ramadan is known to be the month of Blessings. It not only brings blessings but excitement and enjoyment in a subtle way. Ramadan is a religious as well as a cultural asset. Be it Iftar dinners or Taraweeh, the gatherings tend to see many the hustle and bustle every year. However, Ramadan also brings us the chance to sit down and enjoy some delicious buffet food with our families.
Karachi is known for its famous restaurants and enormous cuisines, which are present throughout the city. In Ramadan, every restaurant comes up with the best deals and buffet menus for its customers. This year, if you plan to spend a night out with your family and friends, look no further because we have a perfect list for you to plan your next Iftar dinner outing.
1. Clock Tower Restaurant Iftar Buffet Deal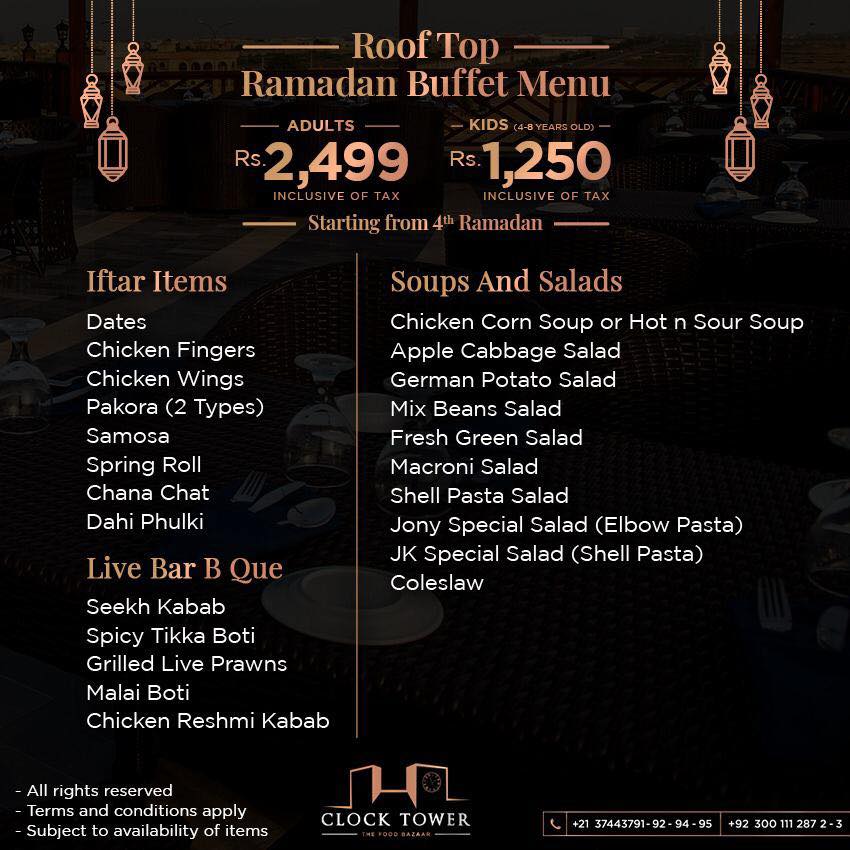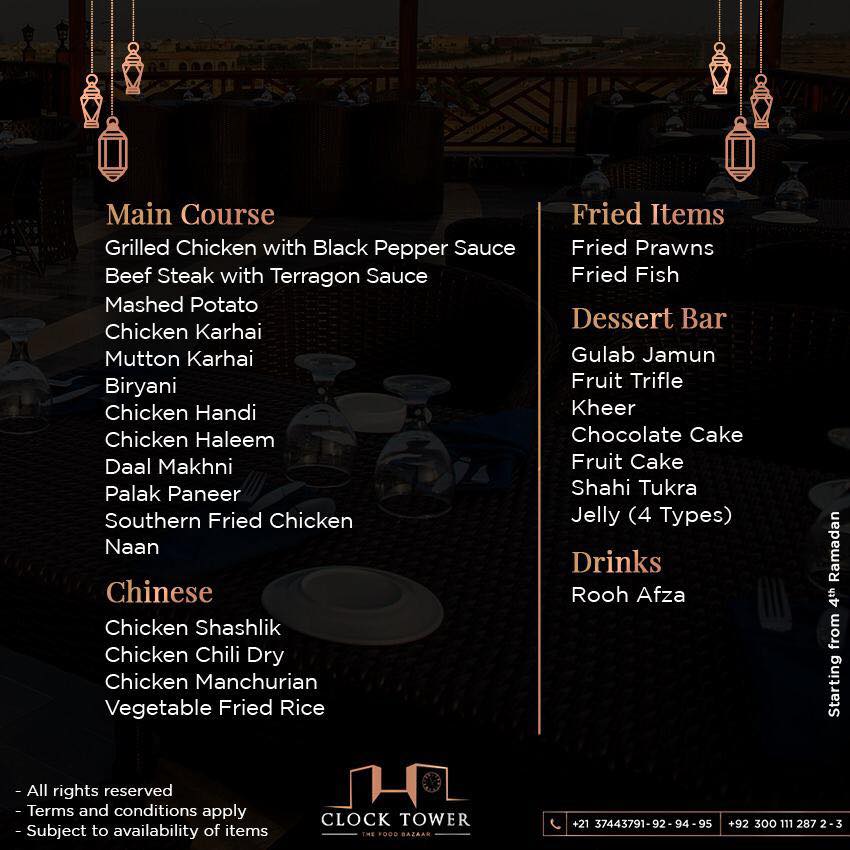 The newly launched eatery on the coast of Karachi's sea is one of the customers' most sought locations. The giant menu, which offers a variety of dishes, is loved by many. The Instagram-worthy views of the ocean and the scenic views at sunset make it the perfect option for your next Iftar dinner plan. The deal is also pocket-friendly and costs as low as Rs. 1,250/- per head.
2. Bar B.Q.Tonight Restaurant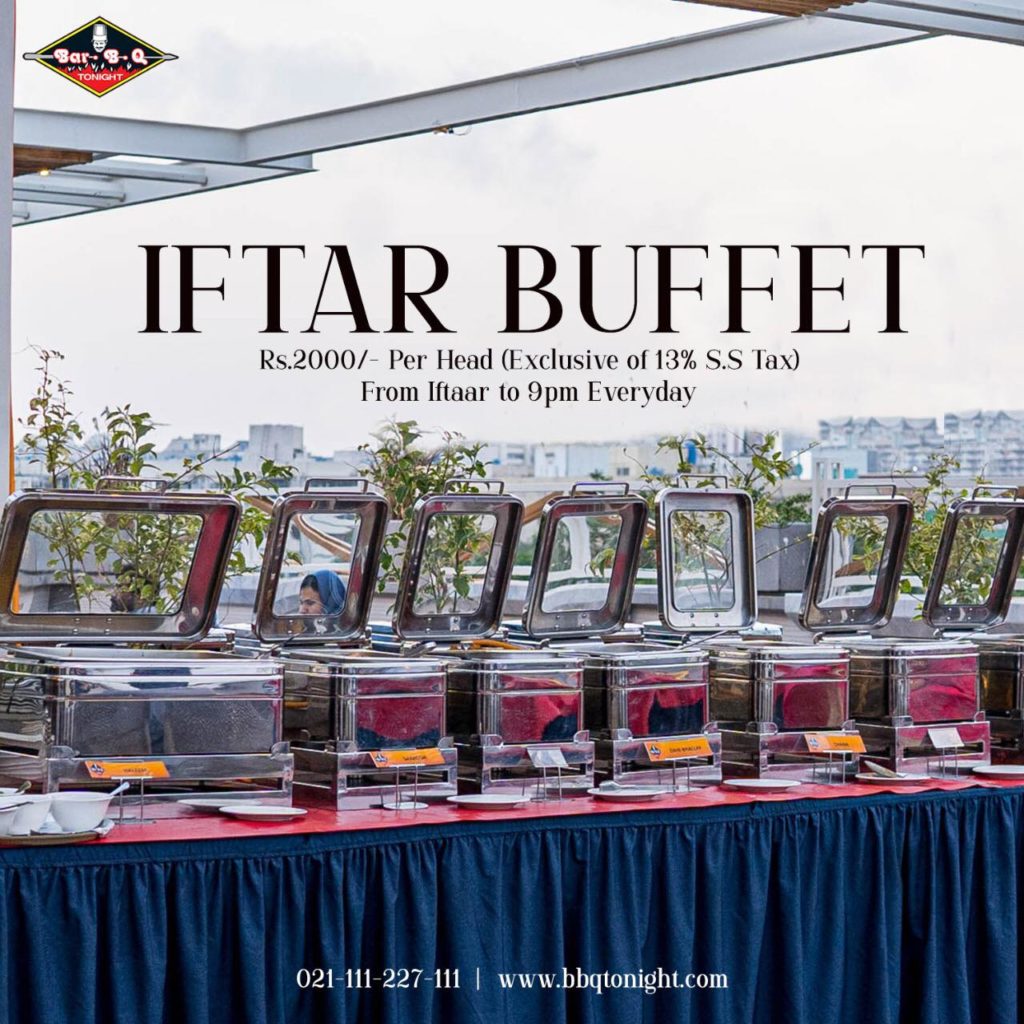 Located in the heart of Clifton, Karachi. Bar B.Q Tonight is another suitable option for Iftar and Sehri buffet meals. The rooftop sitting area is the perfect location to follow the protocols and maintain social distancing. Here, you can get the best of both worlds if you're craving desi food and Bar BQ. The buffet is priced at Rs.2,000/- per head. This seems like a steal deal for the variety of food they offer.
3. LalQila Buffet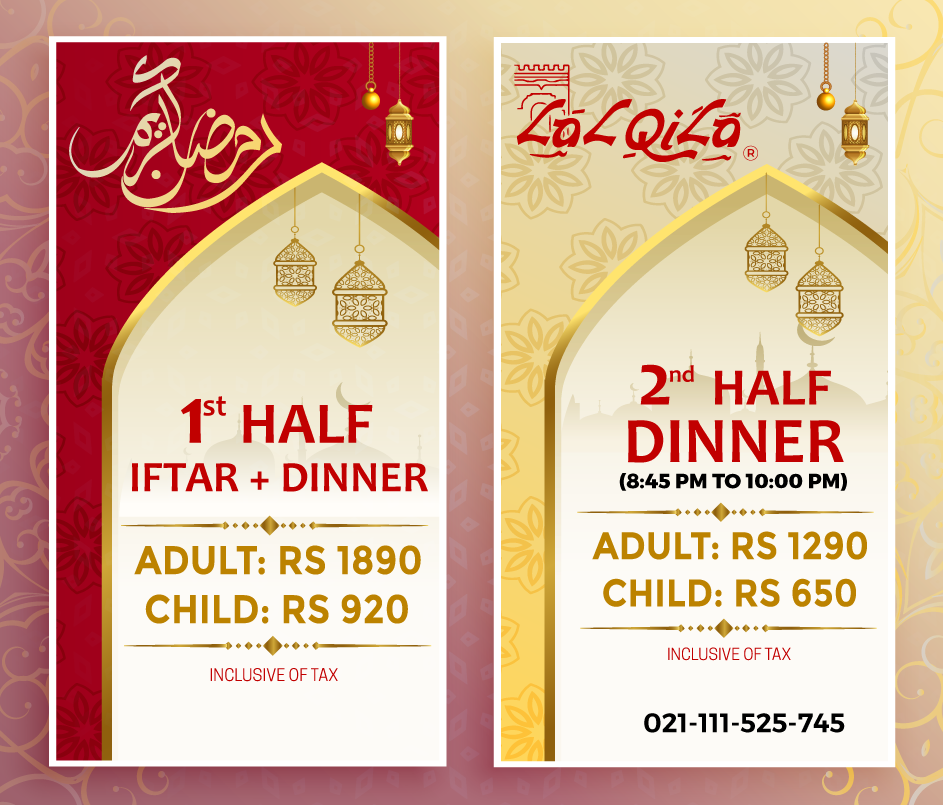 LalQila is the real OG when it comes to Iftar and Sehri buffets. The restaurant needs no introduction. Known for serving the best buffet in Karachi, enjoy your Iftar or Sahoor in LalQila at very affordable prices.
4. Chaupal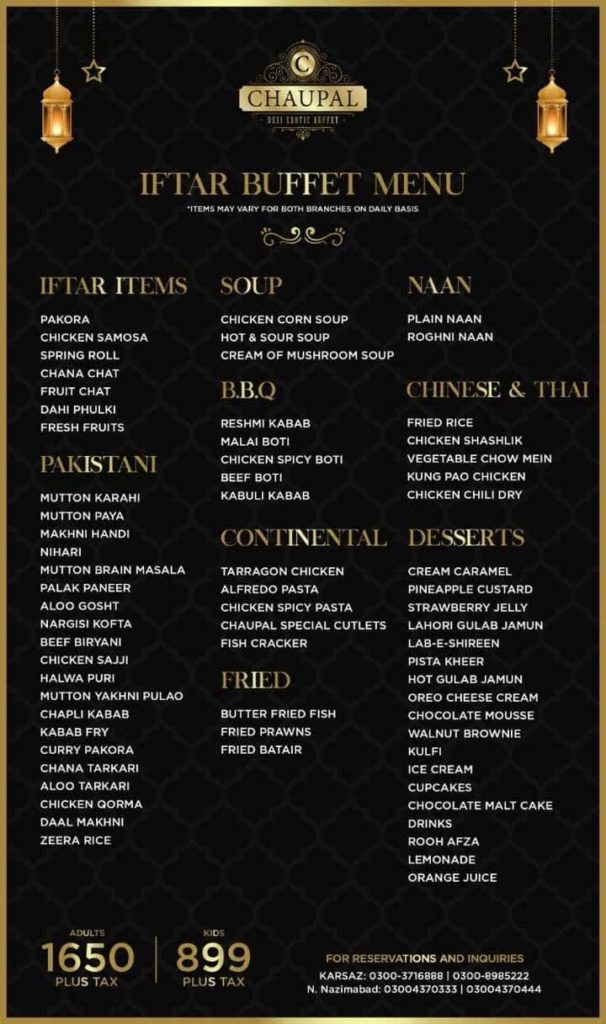 Known for its cozy ambiance and pretty aesthetic, Chaupal is one of our favorites for buffets in Karachi. They have a menu of over 99 dishes, and you will find a great balance of Chinese, desi, and continental. All at a price of as low as Rs. 899/- per head.
5. Cocochan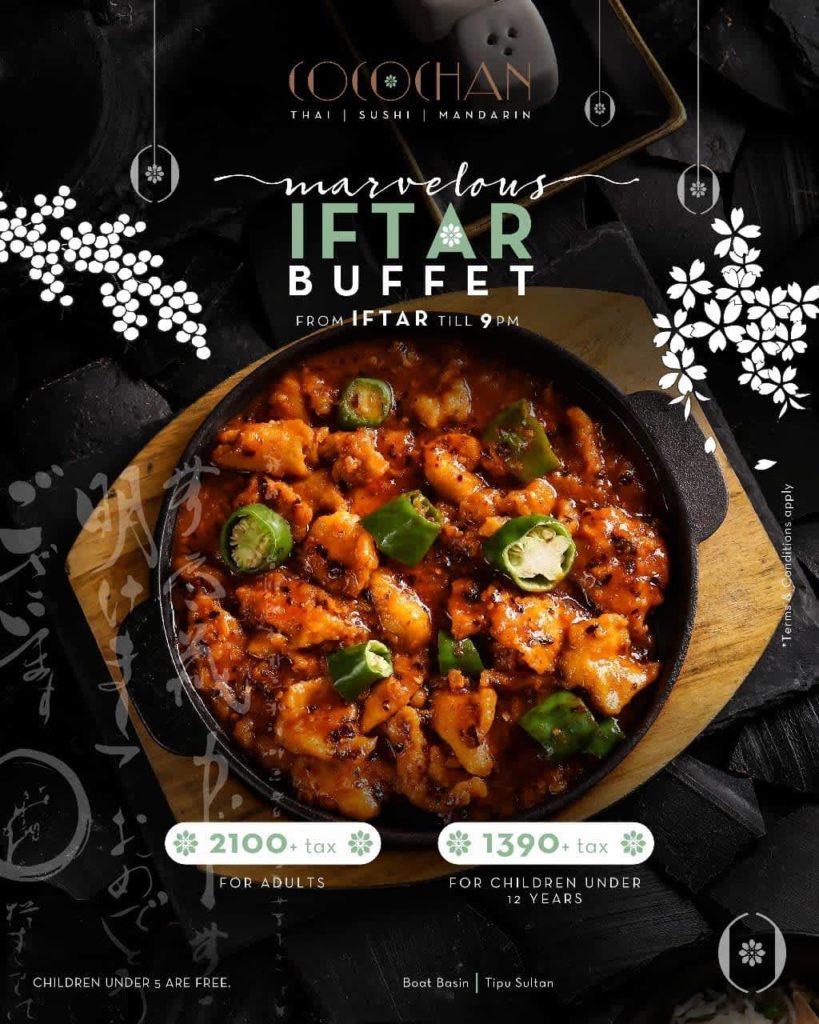 Cocochan's Iftar and Sehri buffet is also one of the best in town. The price range is reasonable and will cost you as low as Rs. 1,390/- per head. However, you can score even big because they offer bank discounts on cards.
6. Kababjees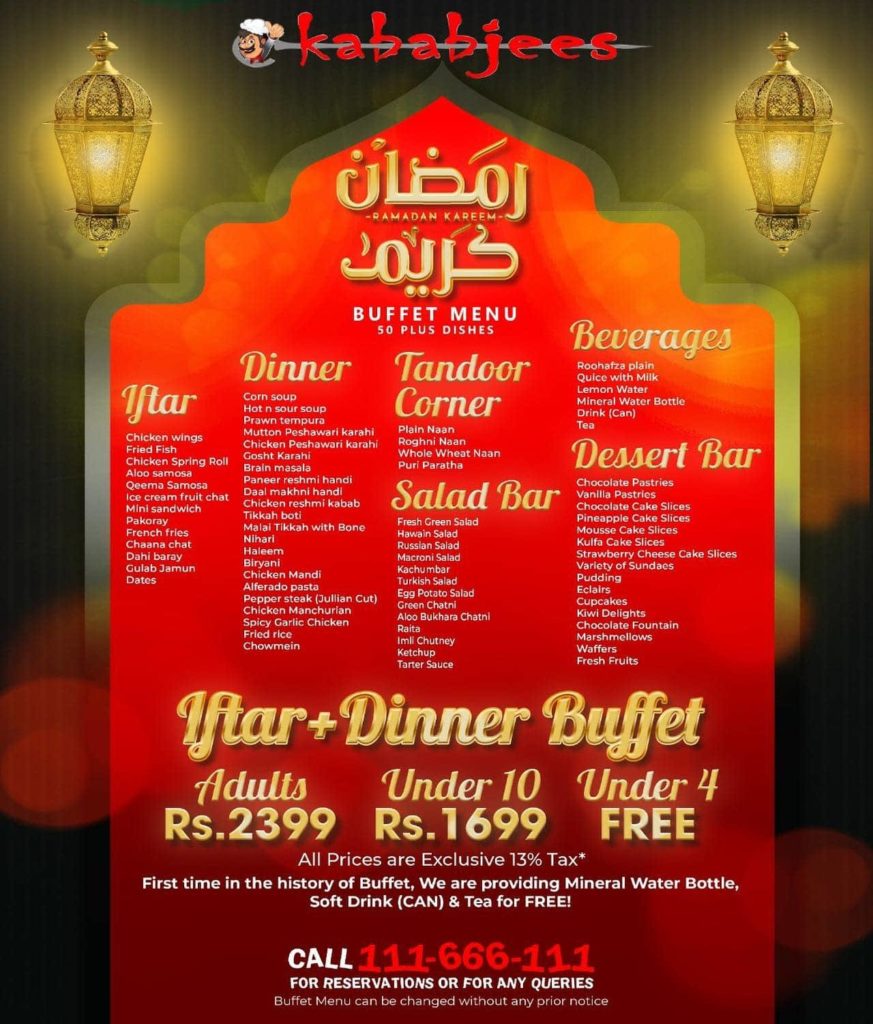 One of the most famous eateries located in Karachi at Do Darya and Super Highway. Kababjees offer a variety of dishes on their many. However, the biggest news is for HBL cardholders because they get a whopping 40% discount on the bill.
So, hop on to one of these locations and spent one of the best Iftars or Sahoors with your friends and family.
Stay tuned to Brandsynario for the latest news and updates.