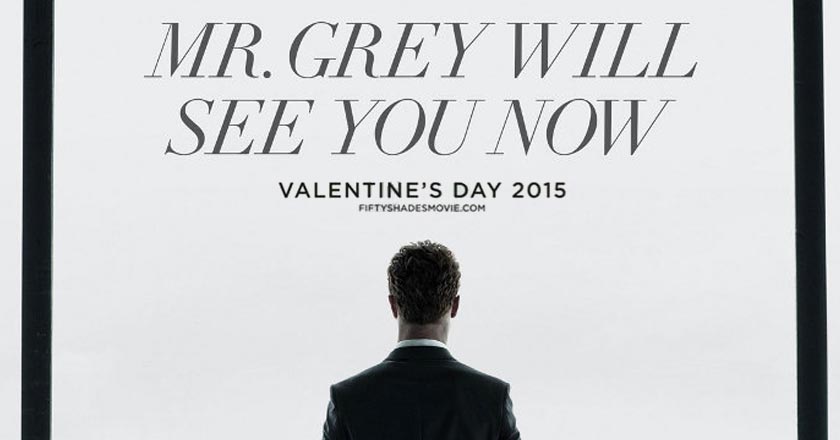 By Zoya Anwer
All those who are waiting for the film version of the erotic book Fifty Shades of Grey should hold their horses as the first poster of the film has been revealed.
For everyone who is still in doubt about the cast, Jamie Dornan will play the dark yet striking character of Christian Grey while Dakota Johnson plays the innocuous Anastasia Steele. 
The poster shows the back of Christian Grey, his hands in his pocket gazing at the skyline of Seattle. The uppercase words on the poster are: Mr. Grey will see you now.
The film which is a direction of Sam Taylor-Wood is based on the novel by the British author, E. L. James. The supporting cast also includes Eloise Mumford, Jennifer Ehle, Max Martini as well as Rita Ora as Mr. Grey's sister, Mia.
Thankfully it is being said that the film will not be as explicit as the book and the producer Michael Luca was reported as saying, "We're very conscious of not making anything gratuitous or exploitive while being faithful to the stories of the book and fans of the book. We're going to give them what they expect, which is an intense erotic love story. Obviously the film can't be as explicit as the book." 
Rita Ora, the British pop artist told the media that she was "excited" to do the film and that it will be the "biggest and most amazing shock ever." 
She told on MTV, "I was nervous because it was the first time I did a movie with words." She also told that she had a lot of fun working with the director. 
Some of her provocative scenes might not be included in the film due to censorship reasons. The singer was recently spotted on the red carpet of this year's Grammys award ceremony.
The film will be released on 14th February, Valentine's Day, next year in 2015.