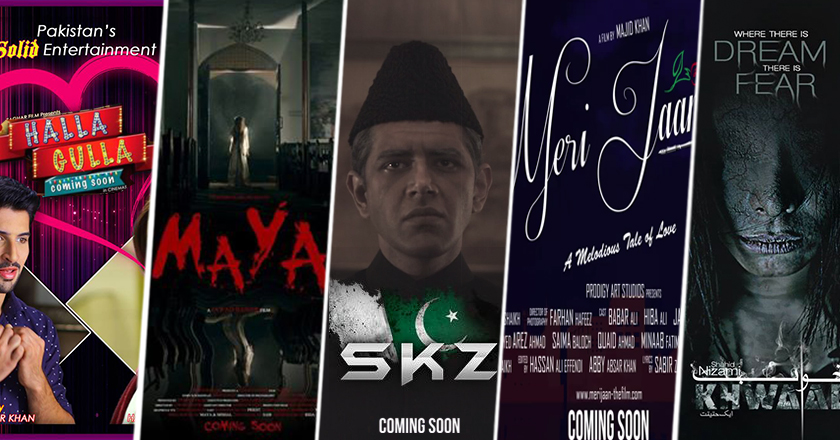 2014 had been a relatively lucky year for Pakistan's cinema industry.
Big blockbusters like 'Na Maloom Afraad', 'Operation 021' and 'The System' grabbed the top 3 spots in the list of the 2014's highest grossing movies.
Read More: Jalaibee's Adnan Jaffar – Exclusive Interview
Now around two dozen exciting cinematic projects are already in order to be released in 2015.
While Jalaibee has already hit the box office this month, there are still an awesome lot of upcoming movies to look forward to in remaining nine months.
Read More: Ho Mann Jahaan – Mahira Khan, Adeel Hussain, Shehreyar Munawar
From action to comedy and drama to horror, Lollywood seems all set with a platter full of popcorn-munching entertainment for the nation's movie buffs and cinema-goers.
So without any further ado, we bring you five much-awaited upcoming movies of the year.
1) Halla Gulla
After Na Maloom Afraad, Javed Sheikh will yet again be seen in another leading comical character in the commercial comedy movie, Halla Gulla. The directorial debut of Kamal Akbar Khan, the movie comprises of a cast of Ismail Tara, Ghazal Javed, Asim Mehnood and Ashraf Khan along with several other fresh faces.
The film's plot is still a mystery, while its release has been rumored to be around mid of the year. Dubbed as "Pakistan's first solid entertainment film", Halla Gulla will also feature an item number "Ishq Kamla".
Watch the song here:
#HallaGullaFilm first Song #IshqKamla Now HD Quality #Like #ShareSinger: Sana ZeeLyrics: Mubashir HassanMusic: Sahir Ali BaggaChoreographer: Veera

Posted by Halla Gulla Film on Monday, November 24, 2014
2) Maya
Moving away from the mainstream genre of movies, Maya is a supernatural venture of Jawad Bashir and his wife Hina Jawad. The movie features fresh faces namely Ahmed Abdul Rehman, Zain Afzal, Sheikh Mohammad Ahmed, Anam Malik, Rasheed Ali along with Hina Jawad herself,
From the looks of its creepy trailer, the true event based horror story is bound to make your skin crawl and give you goosebumps. The movie's exact released date for the year is still announced.
Trailer:
3) Meri Jaan
Marking the return of Lollywood's veteran actor Babar Ali, Meri Jaan emerges to be the classic lovey-dovey drama tale. Directed by Majid Khan and produced by Huma Sheikh, the film stars Hiba Ali in a leading role along with Javed Sheikh, Sangeeta and Saba Hameed.
While the movie claims itself as "A melodious tale of love", Meri Jaan seems to be more of a soap serial than a silver screen material. Will it be able to work its magic on the audience? We have yet to discover.
Trailer:
Alhamdulillah ! Prodigy Art Studios Proudly Presents First Look of "Meri Jaan".#MeriJaanTheFilm

Posted by Meri Jaan – The Film on Saturday, January 17, 2015
4) Saya E Khuda E Zuljalal

Reviving the tales of the 1947 Partition and reminiscing the war of 1965, Saya E Khuda E Zuljalal is a high-spirited, patriotic endeavor dedicated to the heroes of our nation.

It has a star studded cast of male and female actors, comprising of Javed Sheikh, Moammar Rana, Arbaaz Khan, Afzal Khan, Asad Malik, Kamran Mujahid, Sohail Sameer, Naved Rana, Shafqat Chema, Firdous Jamal, Ahsan Najam, Noor, Jia Ali, Rachel Gill and Nimra Khan.

The movie also features a patriotic song featuring the celebrated cricketer Shoaib Akhtar. The release of Saya E Khuda E Zuljalal has been postponed from 14th August 2014 to an unannounced date later this year.
Trailer:
Comprises of few scenes depicting 65 and 71 wars along with CGI Shots. It also gives glimpse of modern day when political and religious manipulation is creating divisions in our nation. SKZ team felt that on this 14th of August we contribute through this promo in order to lift the spirits of the nation. Hopefully, the complete movie will be released by the mid of next year. We thank you all for encouraging and supporting us. Pakistan Zindabad!

Posted by Saya E Khuda E Zuljalal on Tuesday, August 13, 2013
5) Khwaab – Aik Haqeeqat
Following Maya, Khwaab – Aik Haqeeqat is the next in line in the list of horror films to be released this year. Starring Maira Khan, Aamir Qureshi and Khalid Nizami, the movie is directed by Shahid Nizami. No trailer has been launched yet of Khwaab – Aik Haqeeqat.
However, according to its Facebook page, the movie will hit the cinemas, later this year. Find more updates on their Facebook page 'Khwaab – Aik Haqeeqat'