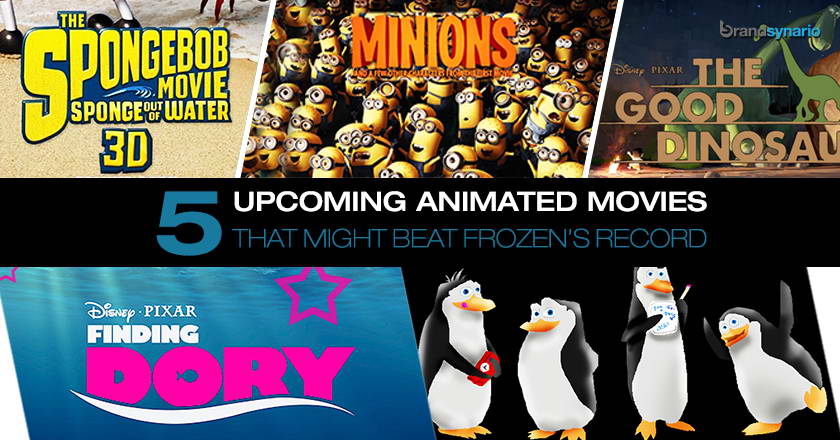 By Zoya Anwer
When it comes to animated films we know that Disney can never disappoint us. After all, it has produced wonderful films like Lion King, Toy Story and the most talked about movie of 2014-Frozen, which was the highest ever grossing animated film and also bagged this year's Academy Award as well.
This doesn't mean that Dream Works and Paramount are any less but Disney has maintained its own benchmark.
However before Frozen there were films that were considered irreplaceable too. Before Frozen, it was Toy Story 3 and Lion King, even Up, Despicable Me, Madagascar and Ice Age were destined to break records.
Similarly, we never know which upcoming movie would brush Frozen aside. But what we do know is that there are many movies of Disney as well that would be released soon and will have the ability to replace Frozen.
Recently 'Maleficent'and 'How to train Your Dragon' did great business and the audience loved the films but they didn't have that spark.
Let's see which of the following upcoming movies would compete alongside Frozen.
Here are some of them:
1) The Penguins of Madagascar
An upcoming American 3D animated action comedy film, The Penguins of Madagascar is produced by DreamWorks Animation. The movie will be a  spin-off from the Madagascar series centered on the fan-favorite penguins, The Penguins of Madagascar- Skipper, Kowalski, Rico and Private will be seen in their own spy thriller.
These oh-so-adorable penguins will surely melt many hearts more than olaf did. The movie is scheduled to be released on November 26, 2014.
2) The SpongeBob Movie: Sponge Out Of Water
For anyone who grew up watching "SpongeBob Squarepants" , here is a good news; Paramount Pictures and Nickelodean Movies will soon bring the sequel of The SpongeBob SquarePants Movie named 'The SpongeBob Movie: Sponge Out Of Water'.
Although no storyline has been disclosed yet but the new poster hints at SpongeBob's journey in to the real world.
3) Finding Dory
Back in 2003, the world fell love with the crazy underwater family in Finding Nemo. 11 years later, Disney Pixar is coming back with another hunt adventure based on the adrokable and the super funny, forgetful fish – Dory.
If frozen was all about snow, then 'Finding Dory' will be all about underwater and judging from the success of its prequel, Finding Dory seems to be the strongest competition to beat Frozen's record breaking success.
4) Minions
These tiny characters literally took over the world by storm. The famous minions from Despicable Me will also have a movie about their own lives with their own language and adorably funny stunts.
This Universal movie is to be released in 2015 and seeing their previous success, this movie can also be one of the best-animated films.
5) The Good Dinosaur
Another Disney Pixar flick, The Good Dinosaur can also melt the hearts of viewers because it is about a humble dinosaur that sets out to bring peace. Such plots can move the audience and can bring this movie on the top. It will be released in November 2015.
So let's see which of these would replace Frozen because each year we do see one movie beating another being bigger and better.