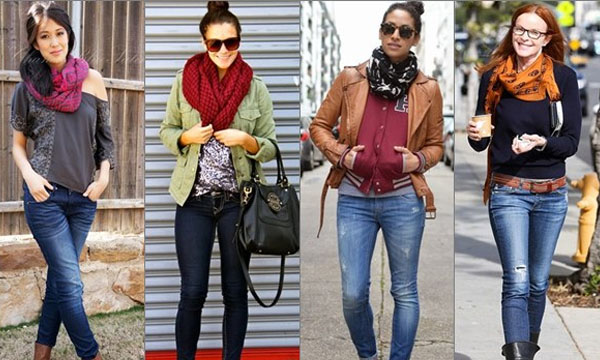 Tired of throwing a scarf over your trendy clothes and dissatisfied with the way it doesn't seem to live up to the rest of your outfit?
Scarves are a nifty accessory for fashion loving people or just regular ones who want a little flair in their daily wear.
While there are countless ways to drape that strip of cloth around your neck or around your head, here are a few of our favorites!
1. Infinity Style Scarf

Sure, you can just out and buy any old infinity scarf, but what to do when you have none but want to indulge in the infinity look?
The video below shows you how to twist and turn your regular scarf into an infinity loop to complete your ensemble.
2. Neck-Tie Knot Scarf
This is one style to try out to add a bit of flair to your wardrobe. While you can attempt this with any old scarf. It works better aesthetically with a silky material.
3. French Twist Scarf Knot
If you really want to dial your fashionista level all the way up, the French twist scarf knot is one surefire way to class up any old outfit. It sounds like it may be a complicated series of steps, but it's actually quite simple!
4. Classic Loop
If the French twist is too exotic for you, you could always go for something more classic and timeless. Just a quick loop right before you're ready to head out the door!
5. Criss-Cross Hijab

Of course, last but not least is the criss-cross hijab. While there are a multitude of ways to either very simple or very fashionably cover your head on a daily basis, this criss-cross method falls somewhere in the middle. It is a bit time-consuming but the style gives your headscarf a very chic and put together look.
https://www.youtube.com/watch?v=YYWwzNNoO1w
Have any more trendy and creative ideas to share with us? Share them us in the comments below.
Stay tuned to Brandsynario for more news and updates.