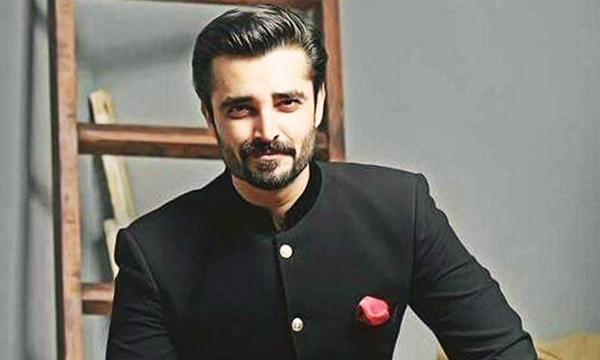 Known for his dazzling looks and controversial social media updates, Pakistani actor Hamza Ali Abbasi has never feared to speak his mind and therefore has always managed to stay in the spotlight.
Here are 5 times Hamza Ali Abbasi was totally bold and fearless making him land into legal trouble, and become the center of controversies.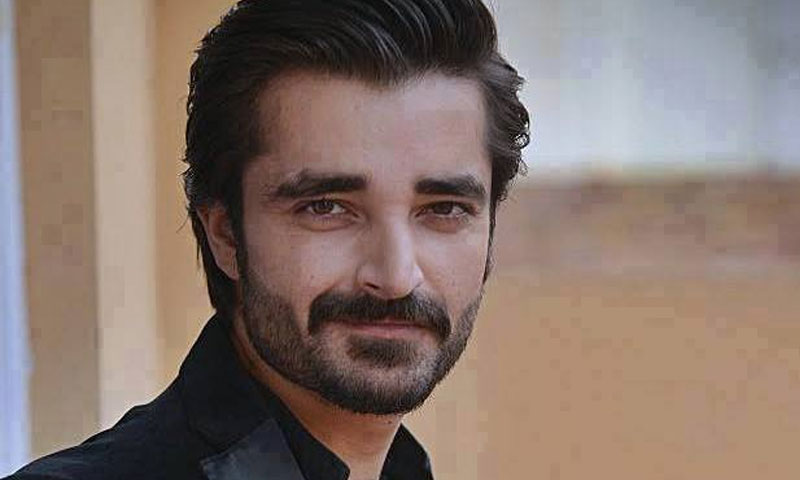 1. Served Legal Notice by PML-N for Spreading False Rumours about Punjab Kidnapping
The daring actor has come under fire once again as the Punjab government served him a legal notice for spreading "false rumors". In a post, updated on Facebook late last night, the actor revealed that he had been served a notice for spreading rumors about the recent wave of child kidnappings taking place in the province of Punjab.
In his facebook post on August 3rd Hamza wrote that more than 900 children are kidnapped from Punjab with 400 from Lahore alone.
Read his recent social media post below: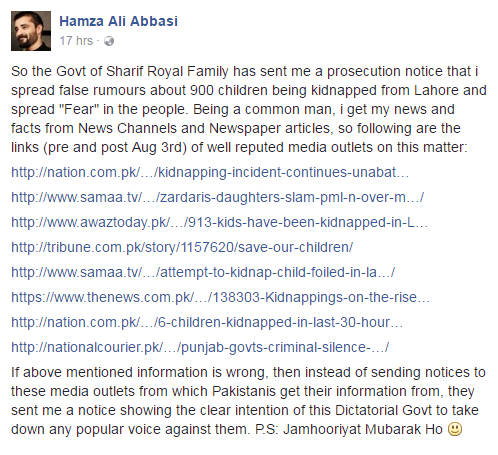 According to the notice, the number of missing children quoted by Hamza is incorrect and is "less than one third that you (Hamza) reported".
The notice further added that Hamza's post, "was exaggerated and it created a sense of insecurity in the general public". This was not the first time the actor has come into the limelight for his social media updates.
Read what the Mann Mayal actor wrote on August 12th, SAMAA TV reports:
"Blasts spilling innocent blood, Children being kidnapped for their organs, new born babies being kidnapped and replaced by dead babies, working women being randomly stabbed and the assailant said the motive was "for fun", the dark times getting darker for my beloved Pakistan as the politicians continue to fill their bank accounts."
Whether it's about taking a stand for the Ahmadis or speaking against item songs in Pakistani movies, Hamza has never feared speaking up against any topic deemed controversial by the society.
Twitterati seemed to stand by Hamza's side and totally supported him:
We stand with #HamzaAliAbbasi https://t.co/8V5MXeQhqe

— THE FOUR MUSKEETERS (@AYMAAA001) September 1, 2016
#HamzaAliAbbasi shud not apologize. How many ppl will the govt target to hide their incompetence. https://t.co/4YNHUj6d8u

— sarosh yakoob mehdi (@whereangelsdare) August 31, 2016
PMLN has time and resources to take notice of #HamzaAliAbbasi but they become blind n deaf when Altaf abuses Pak..
Badshaahs in Pakistan!

— Rania (@raniaakhter7) August 31, 2016
So suing #HamzaAliAbbasi will solve the issue of kidnapping? Are you serious? I mean really? Are you? Wow 😂😂😂just by one status! #Funny

— Fouzia Bhatti (@BhattiFouzia) August 31, 2016
2. When Hamza Raised his voice for the Ahmedis & got Banned by PEMRA
During Ramadan, Hamza was banned by the Pakistan Electronic Media Regulatory Authority (Pemra) from hosting his Ramadan show on Aaj TV, after receiving complaints about the show airing offensive content.
Watch video:
Soon after the notice by PEMRA was issued, the host Hamza Ali Abbasi wrote the following message on his Facebook account.

3. When Facebook banned his social media account for speaking over Kashmir Issue
Hamza Ali Abbas has made headlines again after his Facebook account was deactivated when he posted about the martyred Kashmiri freedom fighter, Burhan Wani and their struggle for peace.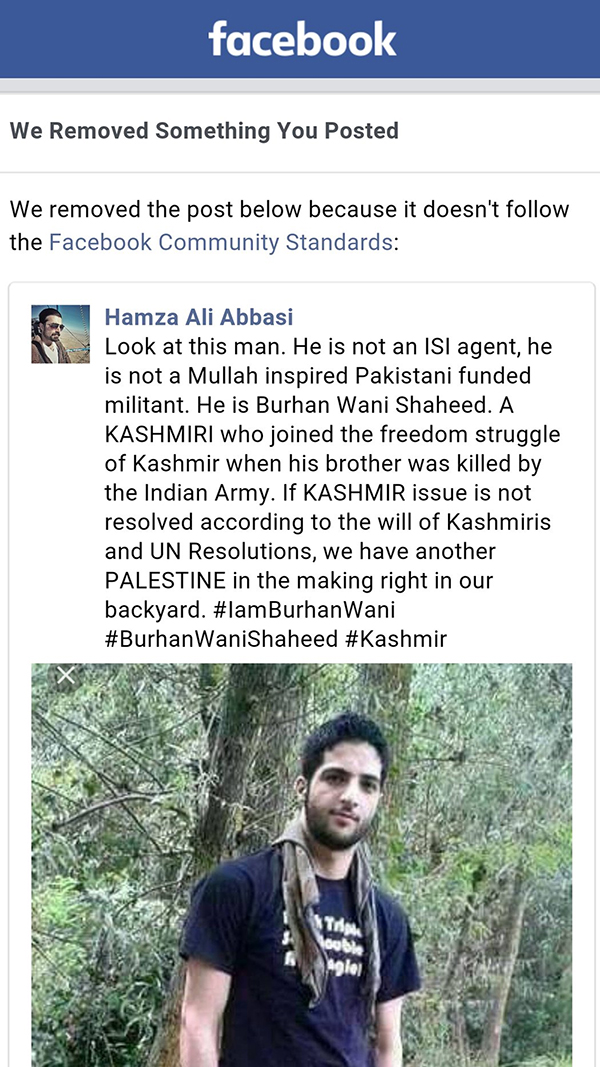 This was the 2nd time Facebook suspended Hamza's account for not falling under 'Facebook Community Guideline'.
#FreeKashmir pic.twitter.com/PYK8PvfBha

— Hamza Ali Abbasi (@iamhamzaabbasi) August 15, 2016
4. When Facebook took down his Charlie Hebdo attack in Paris post & then Apologised
Hamza had posted about  Charlie Hebdo attack in Paris but it was taken down even though Facebook did issue an apology later on- they quoted it as an 'accidental mistake'.
Read Hamza's status that was removed by Facebook below:
[fb_embed_post href="https://www.facebook.com/hamzaaliabbasi/photos/a.266364016760613.62964.182248258505523/828642790532730/?type=3&theater/" width="550″/]
Read Facebook's apology message:
[fb_embed_post href="https://www.facebook.com/hamzaaliabbasi/photos/a.266364016760613.62964.182248258505523/829448947118781/?type=3&theater/" width="550″/]
5. Legal Notice Controversy with the News International
Back in April this year, Hamza Ali Abbasi decided to sue a local newspaper, the News International for publishing a false story and wrongfully quoting him.
He claimed that the newspaper has falsely quoted him about comments on his fellow celebrities, namely Maya Ali, Junaid Jamshed and Fawad Khan.
Read Hamza's statement below:
[fb_embed_post href="https://www.facebook.com/hamzaaliabbasi/posts/1073497172713956/" width="550″/]
Here is the satire piece that was written on Hamza Ali Abbasi by the News International: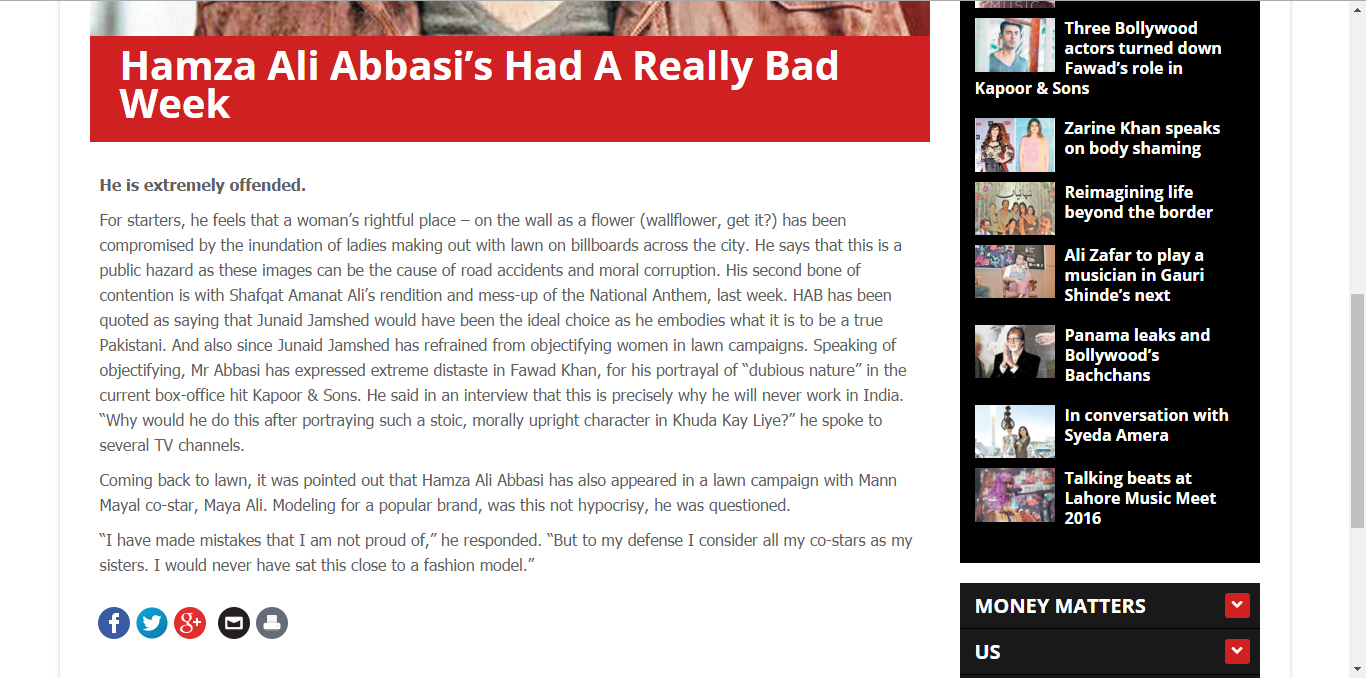 What will Hamza Ali Abbasi do next to stay in the limelight? Stay tuned to Brandsynario to find out.
10 Times Hamza Ali Abbasi Proved He is the King of Social Media