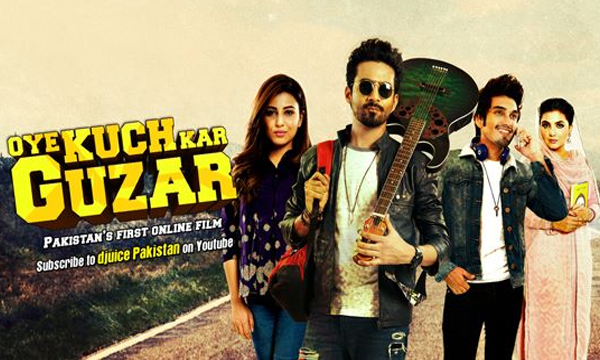 The revival of cinema culture in Pakistan has set a chain reaction in motion. Our local movies have already replaced international ones in the theaters and audiences are loving it. The content is good, the songs catchy and soulful. The next step is going digital and that too is being done! Djuice Pakistan is in works to launch the country's first online movie Oye Kuch Ker Guzar.
Oye Kuch Ker Guzar translates into 'take the plunge' or 'take charge'. A message we really need to give our youth. Everyone dreams, but very few are able to act upon those dreams. Therefore this movie is predominantly about the characters taking control and being the change they want to see. This message is also relayed through djuice social campaigns and TVCs time and again.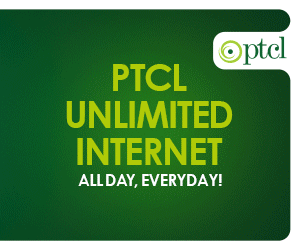 The usage of internet has trebled in the last decade. People now prefer staying home and being online rather than indulging in social activities. In fact socializing is mostly done online. High-speed internet particularly with the launch of mobile broadband (3G and 4G LTE), has brought about this shift. Young and old alike are being enabled to achieve so much more, sitting right at home.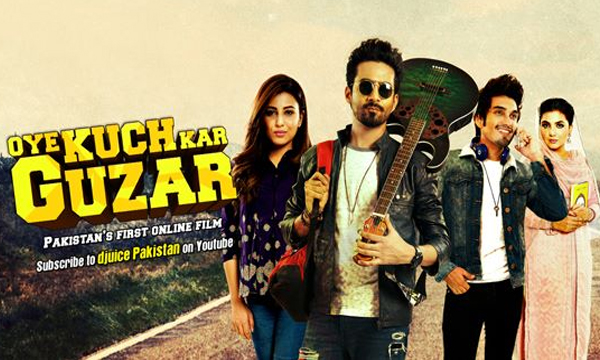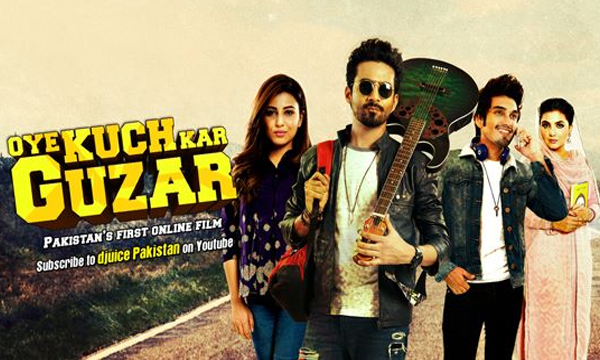 Therefore it is hardly surprisingly that a feature film is being released, catering solely to this audience. Oye Kuch Ker Guzar promises to a fun filled movie that you can enjoy with friends and family. We got our first look at it after the trailer launch. Check it out below.
5 things to expect from Oye Kuch Ker Guzar
The movie is made especially for those who would rather stay in bed all day than go out and watch a movie in the theaters. The best part is, you won't have to worry about sold out tickets and finding time in your daily schedule to make a movie date. Just call in your friends for a sleep over, order lots of food and stream online. The complete movie is going to be launched on Youtube. With Youtube's offline feature now you can even download the entire movie during that one lucky hour when the internet works and watch it later, when it dies.
From the trailer, we can surmise that the cast and the characters they play in the movie will be very interesting. Starring Ali Safina, Ushna Shah, Uzair Jaswal, Mehjabeen Habib & Nayyar Ejaz, Oye Kuch Ker Guzar is giving a very youthful and fun feel to the film. It appears to be a story that everyone especially the youth can relate to.
Since the movie is online, for the first time, the viewers have a chance to decide the turn the story will take. It is being shot in such a way that every episode has alternate endings. The audience can pick and choose how they want the characters' lives to turn out. Using annotations and end screens viewers can steer the story in their chosen direction. Related videos on the side will better help you understand the story and make a decision.
The ultimate battle between the dreamers and the realists. Almost everyone at one point has gone through this experience. The trailer too highlighted this story. Ali Safina is a dreamer. And his dream is being quashed by a team of realists who think he is wasting his life chasing something that can never happen. The movie will mostly likely be about him overcoming some crazy odds to achieve his dream.
As mentioned above the cast in the movie is pretty interesting. The much better singer from the Jaswal sibilings, Uzair Jaswal is in it. Also the story sees Ali Safina trying to become a musician. Therefore you can expect the music in the movie to be stupendous! We simply can't wait for the music launch.
Oye Kuch Kar Guzar, Pakistan's first online film which lets the viewer decide his or her own story sets a precedent for content creators and consumers. The film is aptly named: Oye Kuch Kar Guzar, which translates into 'take the plunge, or just do it' reinforces our essence of gaining independence through a digital lifestyle.
This country first collaboration has been shot in a way that gives alternate endings to each episode and each episode compels the viewer to steer the story in their chosen direction by using annotations and end screens that keep the viewers tuned in, skip ahead, see related videos throughout and you get to provide calls to action at the right times. This empowerment not only enriches the video experience by adding information and engagement it allows the brand to interact with its consumers on a whole new level.