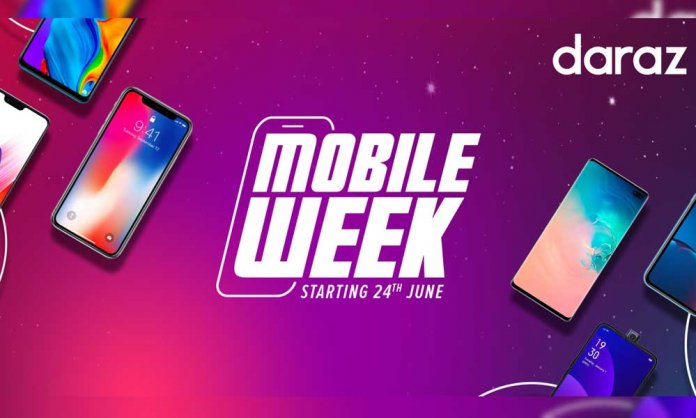 Daraz's Mobile Week is positioned as the best opportunity for consumers to invest in a new phone. During the week-long sale, which starts on June 24th, the e-commerce will be offering the latest smartphones from leading brands on discounted rates.
Consumers can choose from a number of exciting mega deals, collect vouchers during Shake Shake and Rush Hour sessions and use a bank card to get additional discounts.
These are just a few of the reasons why buying a smartphone and accessories from Daraz during Mobile Week is a good idea. Daraz has, over the years, introduced app features and implemented policies that make shopping on the platform a smart decision.
1. Digital Payments
While customers can pay for their orders with cash upon delivery, Daraz offers a number of digital payment options that make the shopping experience faster and more convenient. Firstly, there is the option to pay using a bank card. The platform has partnered up with MCB for the sale so that users can avail a further 15% off on their purchases.
Daraz also has running partnerships with HBL and Meezan so additional discounts are available on Wednesdays and Fridays, respectively. Silk Bank and Mastercard customers will also be avail discounts during the sale. Paying with EasyPaisa is also an option. The Daraz app is optimized to remember a customer's card details so that users are not prompted to re-enter them at every checkout making the process much faster.
Customers can also pay using Daraz Wallet – a digital wallet on the app which allows customers to checkout faster and gets exclusive bonuses. Paying with the wallet also makes the returns and refunds process easier.
In case customers are hesitant to engage in a digital transaction, Daraz has implemented a "Purchase Protection" policy.
2. Purchase Protection
Purchase Protection is a policy that promises customers that, whether they are making digital payments or opting to engage in a cash transaction, they will be 100% safeguarded from all fraud and their personal details are kept completely private, as well. The policy is central to Daraz's customer satisfaction practices.
3. Exclusive Launches
During Mobile Week, the latest smartphones will be made available on the Daraz app and leading brands will be exclusively launching their products on the app. These include the One Plus 7, Infinix Hot 6x, Nokia 2.2 and Nokia 4.4.  Additionally, CAT has made its range of rugged phones exclusively available on the platform. Customers, therefore, will have more options to explore during Mobile Week.
4. Shorter Delivery Time
Daraz promises customers shopping from DarazMall express shipping. In other words, if a customer is purchasing products from the official stores of the RealMe, Honor, Samsung or Nokia on the Daraz app, their order will be shipped to them faster.
Daraz has also introduced DEX – Daraz Express – Pakistan's first logistics company optimized for e-commerce operations. More than 55% of all orders are conducted through DEX, as a result, deliveries are completed 1-2 days faster than with Daraz's external partners. Therefore, customers can rest assured that they will receive mobile phones very soon after the order is placed.
5. Add to Wishlist and More Discounts
While Mobile Week sale starts on June 24th, the platform has already made mega deals available on the app so that customers can start exploring and adding to wishlist. Once the sale goes live, they can simply purchase the desired products.
In the lead up to the sale, the platform is holding Rush Hour sessions, as well. This means that every day between 9 am and 10 am a new collectible voucher is unlocked on the app. Customers can collect these vouchers and they will be applied automatically on their cart when they are ready to make their purchase given that criteria are met. These vouchers are stackable so that multiple vouchers can be applied to one cart – the more you collect, the more you save!
Vouchers can also be collected during Shake Shake sessions which are being held on the app. Log on to the Daraz app during the times shown below for a chance to win vouchers. If you happen to see Daz, the company's mascot, on your home screen it's time to Shake!
Anyone looking to buy a new phone should definitely check out Daraz's sale. Accessories such as power banks and smartwatches from brands such as Anker and Amazfit will also be available on lower prices during Mobile Week. With all the exciting sale features and promises Daraz has made to customers, it'll be the prime opportunity to purchase these products.