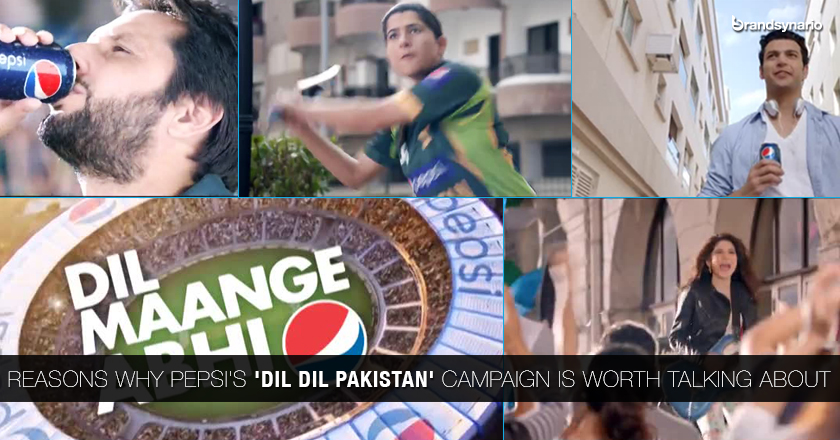 As a nation easy to please, it only takes three simple things to win over any Pakistani's heart – Good Food, Good Music and Good Cricket. 
By sponsoring Pakistan's cricket team and budding music talent for over two decades, Pepsi has always succeeded in creating a perfect blend of the aforementioned things that are close to every Pakistani's heart; the blend just became even more perfect with Pepsi's latest 'Dil Dil Pakistan' campaign. 
No matter what rumor says, we're rooting for Pepsi this ICC T20 2014 season.
You will definitely follow us once you read the reasons mentioned below, but before that, let's have a look at the TVC. 
Pepsi is Pakistani and They're Proud of It!
Pepsi is Pakistan's highest selling cola brand and they're definitley proud of it.
A strong promoter of the nation's heroes and its budding talent, Pepsi's favorites have always been superstars from the field of music and cricket.
The recent advert bears strong testimony to the above mentioned fact.
The musical journey that started from Vital Signs, continued with Awaaz, Strings, Ali Azmat and Ali Zafar has now lately blossomed with Pakistan's youth icon, Ayesha Omer.
To add the cherry on the top, Pepsi chose the nation's most lovable patriotic song of all times, close to every Pakistani's heart "Dil Dil Pakistan" for the TVC. While the older version has no parallel, Ayesha Omer's remix only makes it more approachable to the younger generation who are sadly lost in the realm of Eminem and Pitbull.
Promoting Pakistani #Girls Can Do Attitude
Previously, Pepsi has grabbed male superstars as its ambassadors. This time, the brand went a step ahead by promoting the nation's female icons in its advert.
A girl can rock with a guitar as good as any male lead. That's why, instead of using icons like Atif Aslam or Ali Zafar, Pepsi chose Ayesha Omer as the face of the brand. But what makes us proud is the fact that the campaign also features the captain of Pakistan's women cricket team, Sana Mir.
Empowering girl power to its core, Pepsi has definitely won the hearts of all the ladies out there.
They Have Afridi, Others Don't
Nike has Ronaldo, Lux has Katrina, Head & Shoulder's has Kareena and Pepsi's pride is the nation's hero, the jewel of the crown "Shahid Afridi".
Consequently, the brand has every right to show off what its rivals fail to have.
The boom boom legend Afridi is spotted in majority of its adverts along with many of our popular cricket stars like Misbah-ul-Haq and Umer Gul.
 Pepsi Motto = More Fun, Less Drama
Pepsi is a brand for the youth and they know exactly what their target market wants – action, fun and excitementt.
Rather than capitalizing on emotional appeals and 'happiness factors', Pepsi gives its target market the right kind and the right dose of entertainment
Recently, Pepsi designed "larger than life" cricket bats and set them up in major cities to show its support for our cricket team and likewise connect with the youth on grass root level.
Honoring Old heroes, Welcoming New Stars
Hands down, the presence of our all-time favorite cricket icons, Wasim Akram and Waqar Younus melted the hearts of all patriots.
They have been forever loved by the people of the nation and admiration for such heroes will never cease to exist. Kudos to Pepsi for bringing back wonderful memories of our glorious cricket days back, while simultaneously acknowledging the emerging talent of the nation like Ahmed Shehzad.
To sum up, Pepsi's latest marketing campaign has Good Food, Good Cricket and Good Cricket – reasons enough to make any Pakistani proud.
PS: They have AFRIDI; thus we rest our case here.