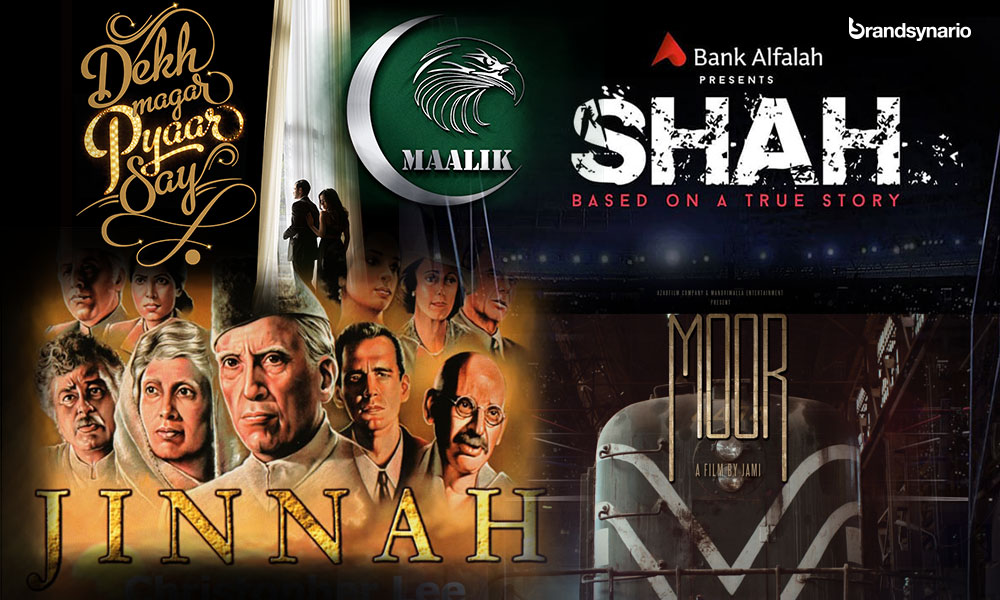 The 14th of August have not always been a coveted release date for local films, but this Independence Day will mark Lollywood's busiest time of the year with an extravaganza of five Pakistani movies hitting the box-office. 
Lining up an epic entertainment galore on 14th for the cinema-buffs, some films are bound to stir up your patriotic fervor while others will surely give you moments of rib-tickling comedy.
So fuel up your spirit of Independence to do all things Pakistani this fortnight and hop down to the theaters near you to witness the clash of the five impressive local releases!
1) DEKH MAGAR PYAR SAY
Release Date: 14th August 2015.
Cast: Humaima Malick, Sikander Rizvi, Irfan Khoosat & Aqdas Waseem. Cameos by Humayun Saeed, Hassan Sheheryar Yasin, Meera & Aamna Ilyas
Starting the Independence Day spree of movies is Humaima Malik along with Sikandar Rizvi, kindling their magic on the big screen with Dekh Magar Pyar Sey. Like Karachi Sey Lahore, the Asadul Haq's directorial debut too is a high budgeted rom-com set in Lahore.
Watch the trailer of Dekh Magar Pyar Say below:
[dailymotion id="x2y6zj4″]
2) MOOR
Release Date: 14th August 2015.
Cast: Hameed Sheikh, Samia Mumtaz, Shaz Khan, Nayyar Ejaz, Ayaz Samoo, Abdul Qadir.
With its release in pending since last two years, Moor's launch in the cinemas will now face a mighty battle with Dekh Magar Pyar Sey, Maalik, SHAH and Jinnah on August 14th. All set to expose the corruption that has gripped Balochistan's railway system, the movie tells a heartbreaking real-life story of an ill-fated Pakistani family.
A project of Nadeem Mandviwala Productions, Moor stars Hameed Sheikh, Samia Mumtaz, Shaz Khan, Nayyar Ejaz, Ayaz Samoo and Abdul Qadir.
Watch the trailer of Moor here.
[fb_embed_post href="https://www.facebook.com/moorofficialpage/videos/674196659379875/?permPage=1/" width="550″/]
3) SHAH
Release Date: 14th August 2015.
Cast: Adnan Sarwar, Kiran Chaudhry, Sardar Baloch, Adeel Raees and Gulab Chandio.
Featured on the life of the legendary Pakistani boxer and an Olympic medalist- Syed Hussain Shah, Pakistan's revolutionary sports movie SHAH is all set to punch its other cinematic rivals. While the movie's promo rolled out this month, received a warm welcome by the audience; let's see if the cinema-goers will ditch the rest of the cinematic line-up and book their seats for watching SHAH on the release day!
Watch the trailer of SHAH below:
[iframe id="https://player.vimeo.com/video/132317431″]
4) JINNAH RE-RELEASE
Release Date: 14th August 2015.
Cast: Christopher Lee, Shashi Kapoor, James Fox, Maria Aitken, Richard Lintern, Shireen Shah, Indira Varma, Shakeel
A mighty blockbuster of 1998, there could not have been a better time for the Christopher Lee starrer to re-release in the industry this Independence Day. Nevertheless, it's too early to tell if the re-launch of the tale of partition and its leaders will be as successful as it is anticipated
Watch the trailer of Jinnah here:
5) MAALIK
Release Date: 14th August, 2015.
Cast: Aashir Azeem, Farhan Ali Agha, Sajid Hassan, Hassan Niazi, Sabreen Baloch, Rashid Farooqi, Marriam Ansari, Adnan Shah and Tatmain ul Qalb.
Further heating up the competition, marches Maalik to fuel up your feelings of patriotism on August 14th. With its tale revolving around the lives of powerful men belonging to Pakistan's Elite Special Forces, Maalik will unravel how their lives get entwined in the clutches of corruption.
Watch the trailer of Maalik below:
[iframe id="http://player.vimeo.com/video/114170380″]
While these five entertainment packages are enough to keep us hooked on Friday the 14th, theaters will also be opening doors for  movie "Brothers" from across the border.  Will it be able to alone conquer the cinemas and put the pile of powerful Pakistani projects out of business? We don't think so!
So which Pakistani movie will you be rooting for this Independence Day? Let us know in the comments below.