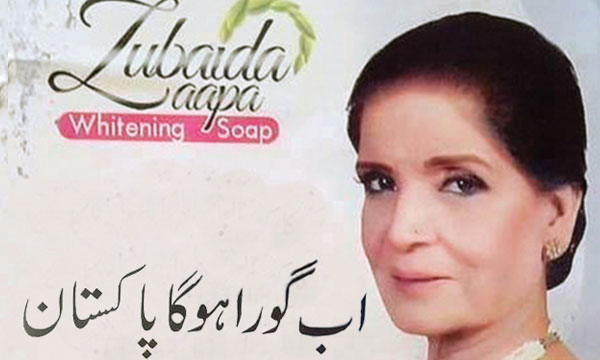 Pakistan and the phenomena for fair skin go hand in hand. The "gora obsession" has been embedded in our society for the longest time. The stigma related to dark skinned for men and women is equal in our country.
The same can be said for our neighboring country India who has recently began to fight this issue and has been seen promoting, "Black is beautiful" through social media campaigns.
It is about time Pakistan's fairness creams, too, turn over a new leaf and reject strategies that equate being fair to having a successful career and even impressing men.
Here are the top 5 commercials that have promoted the fair skin fetish while degrading those with a dusky skin tone.
1. Zubaida Apa in Whitening Beauty Soap – "Ab Gora Hoga Pakistan"
When veteran culinary expert Zubaida Apa endorsed a whitening soap it caused an uproar in the media industry. While she has a large fan following and is famous for her household hacks, the misguided advertisement encouraged women to have fair skin.
Its tagline 'Ab Gora Hoga Pakistan'  raised many eyebrows as it was causing a negative impact on the young girls.
2. Faiza Beauty Cream
The TVC is exceptionally idiotic and shows a young girl being called 'kaali' by her college mates. The objectifying of women and the emphasis on a woman's physical appearance has to stop as it is breeding insecurity in the minds of young women. After watching this ad it certainly feels that women have only one job, that is to please men by being beautiful and having the perfect looks!
3. Skin White – Skin White Cream
Skin White's TVC showed how to get fairer skin within  14 days and it is the secret to women getting the man of their dreams.
4. Stillman's Skin Bleach Cream
Capitalizing on the 'gora craze' that exists in our country,  this Stillman's ad highlighted how being fair opens doors for women in their personal, student and professional life.
5. Fair Menz

Sadly it is not just women who are on the quest to becoming fair, Men in Pakistan are also subjected to this plague. The ad by Fair Menz portrayed how men can achieve confidence and feel attractive by just being fair.
 These commercials have played a big role in injecting the illness of inferiority in the youth of Pakistan. It is about time these promos should be stopped once and for all.
Stay tuned to Brandsynario for latest news and updates.