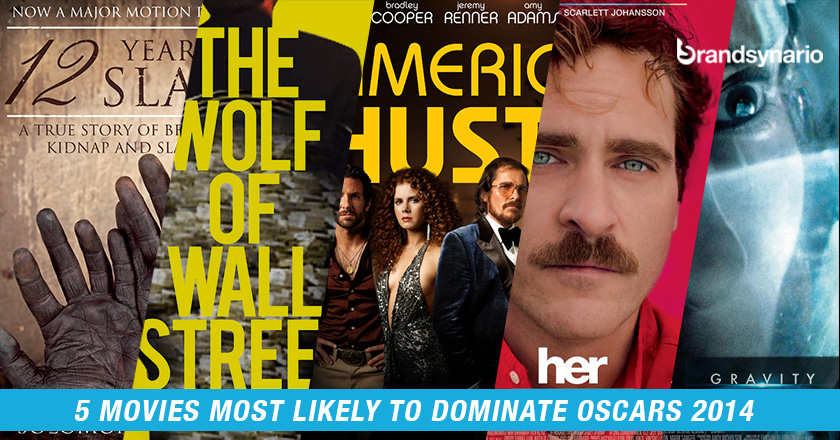 It seems that predicting the Oscar winners has become America's favorite pastime. With the awards season in the air, the internet population has become obsessed with the nominations for the most awaited award function of the year.

Last year ,2013 was undoubtedly a brilliant year for movies however, guessing the Academy Award nominations and winners is always tricky.

Nonetheless, Brandsyanrio has compiled a list of the most potential, worthy movies of 2013 that are most likely going to bag the prestigious Oscar, or at least make it to nominations for sure. Let's take a look.
American Hustle
Dominating the early award circuit like a king, American Hustle has become the biggest candidate for the Oscars. Apparently, the film is guaranteed for the nominations of Best Picture and Best Direction, while Bradley Cooper, Amy Adams and Jennifer Lawrence are expected to make it to Best Actor, Actress and Supporting Actress selection.
12 Years a Slave
Like American Hustle, Steve McQueen's "12 Years a Slave" is sure to rule the nominations overall. The movie has achieved exceptional response from all the precursors and is destined to get nominated for major Oscar categories.
Gravity
2013's phenomenal space odyssey, "Gravity" has been a huge success on the box office. With its eye-popping visual effects and breathtaking action sequences, the movie is definitely amongst the top contenders to win the Oscar for "Best Picture" as well as grab other powerful nominations.
The Wolf of Wall-street
With everyone abuzz with this fantastic movie, "The Wolf of Wall Street" , it has become apparent, that the movie is director's "Martin Scorsese" and actor's "Leonardo Di Caprio's greatest work in years. The movie poses a  has a strong possibility of earning Oscar nominations.
 Her
The probability is that "Her" will be the "artsy" movie to make its way to this year's list of Academy Awards. The heartwarming love story of a man and a machine has attained incredible end-of-the-year response, with its fan eager for one the most inventive works of the year, to get serious recognition at the Oscars.
Other than the five assured names above, people have huge expectations with "Captain Phillips", "Nebraska", "Dallas Buyers Club" and "Saving Mr. Banks".
Award predicting is absolutely fun but no one really knows which way the Academy Awards will swing.
What 2013 movies and performances you think are Oscar worthy? Share with us in the comments below.