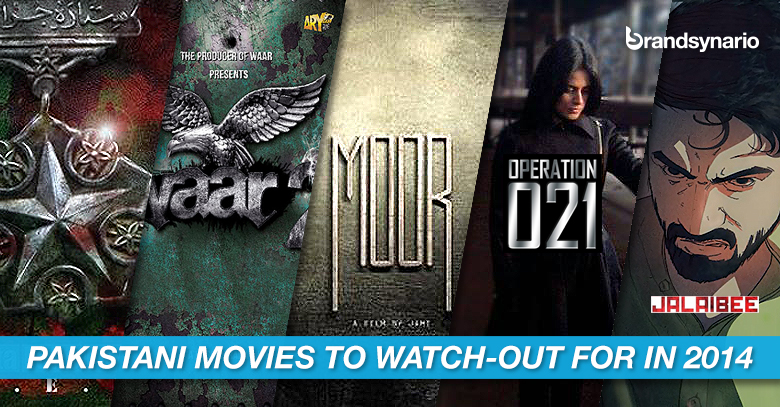 Now that our film industry has awakened from a decade long slumber, it has surprised the world all its mighty force.
The journey of a cinematic revival that gradually took speed from Shoaib Mansoor's "Khuda Kay Liye" and "Bol"has now reached its full pace, with the dawn  of 2013 blockbusters "Waar" and "Zinda Bhaag".
Bilal Lashari's Waar is currently number 1 with 9.1/10 ratings on the list of International Movie Database (IMDB) 2013.
On the other hand, Zinda Bhaag made us all proud by being the first Pakistani movie in fifty years to make its way to Oscar nominations.
Beyond doubt, 2013 was the year of Pakistan cinema's rebirth. The advent of New Year promises some great movies. Let's have a sneak peak of what entertainment is lined up in 2014
1. Waar 2
With the nation still rejoicing over Waar's record breaking success, the makers of the revolutionary project haveannounced its sequel "Waar 2". The cast has not been disclosed yet.
However, promising to be yet another exciting extravaganza of entertainment, the movie's shooting is already in the air and is expected to hit the silver screen by the end of this year.
2. Operation 021
After Waar, we will witness the legendary Shaan Shahid once again in Zeba Bakhtiar's and Azan Sami Khan's"Operation 021″. The story of Pakistan's first action spy thriller revolves around the political and social turmoil that has engulfed the nation.
Alongside Shaan, Aamina Sheikh, Shamoon Abassi and Iman Ali will work their magic on the big screen.
3. Jaliabee
With the recent release of its promo making waves on social media, Jaliabee has already mesmerized the audience with the glimpse of the vintage Ford Mustang in its trailer. Its cinematography via the Alexa HD ARRI camera becomes equivalent to that of "Iron Man 3 and "Skyfall".
The cast will include prominent actors and models like Adnan Jaffer, Ali Safina, Uzair Jaswal, Waqar Ali Khan and Zhalay Sarhadi
4. Moor
With a budget of more than Rs. 55 million, Moor's story will unleash the corruption that has gripped Balochistan's railway system. Filmed around the breathtaking valleys of Balochistan, the upcoming movie is all set to woo the audience with its release in April 2014.
5. Delta Echo Foxtrot
A tale of patriotism, passion, sacrifice and courage, ARY Films & Media Mind work together bring "Delta Echo Foxtrot" to the Pakistani Silver Screens. Apparently the movie's cast is still a secret. According to rumors, it will get released sometime around this year.
Other than these, Hijrat, Naach and Downward Dog are the other prominent names that are likely to hit the cinemas soon.
Till then, let's keep our fingers crossed for the cinematic endeavors in the year ahead and wish them all Good Luck.