It's not always that funny ads are the most effective. Emotional and sci-fi ads are also effective if they are in line with the brand positioning. But today, we are going to be focusing on the funny ads that expertly promoted products. Not only that, but they are still capable of giving you a laugh.
Here are some of those funny ads:
1. Bank Services Never Stop
The ad is about a heist where the moment robbers stroll in, their identities are revealed. And even though, this bank employee is a hostage, she decides to market products. Well, is that stupidity or bravery, we will never know but do take a look.
2. Too Much Dandruff? Let's use it!
Running away from a crush because you have a few white flecks on your shoulder? That is not going to cut it. Bring to the table, creative ideas like this one, where to promote anti-dandruff products, you portray dandruff in the most hilarious light. Because why do you need powder to get rid of sweat when you have dandruff?
Read More: funnThis is How Every Pakistani Girl Can Get Hair Like Rapunzel
3. When a permanent marker leads to immortality 
Does this make fun of a religious belief? Yes. But considering it was made by the people of the same community, it must not have raised any eyes. Moreover, the community would have found it funny.
Basically, the idea was that the vermillion mark on the forehead represents a married woman. When the woman becomes a widow, the mark has to go. If the mark is made from a permanent marker, then does the man comes back to life; a question to ponder over.
4. Time to call spouse on bad breath
A number of people have bad breath problems and they don't even realize it. To promote their mouthwash, the brand expertly places eye masks.
Read More: 10 Lies of Advertising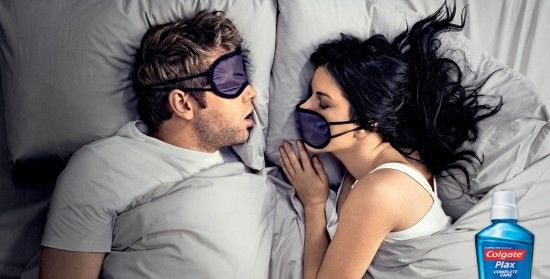 5. Promoting tracker technology
If you are a dad to a young girl and you want to keep your reputation in front of her, how do you sabotage the first date? Simple! You give your car keys to them and track their movement. Talk about helicopter dad.
There are many more funny ads that will split you with laughter. But in the list that we compiled which one did you find the best?
Stay tuned to Brandsynario for the latest news and updates!