Ramadan is a month of celebration. A celebration of our religion. A celebration of our culture. And what better way to celebrate an occasion than indulging in food. We observe Ramadan every year, and every year we tend to try new recipes for Iftar. Today, we are rounding off all the delicious Iftar recipes you should try this Ramadan.
1. Easy Cresent Samosa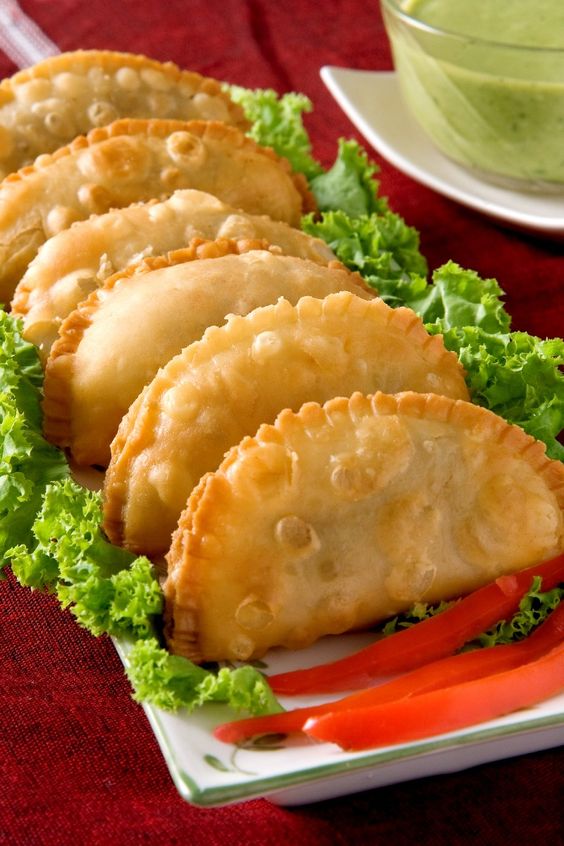 Samosas are a must for Iftars. Be it Aaloo, keema or daal samosa. Samosas are the food for the soul. However, if you are tired of all the traditional samosas recipes, then here is a twisted version of a delicious samosa and a feast for the eyes.
INGREDIENTS
1

small 

onion

, finely chopped

2

cups cooked diced 

potatoes

1

cup cooked diced

carrot

1

⁄

2

cup canned

sweet peas

 or 1/2 cup frozen sweet peas, thawed

2

(8 ounce) packages crescent rolls

1

⁄

4

teaspoon 

ground ginger

1

⁄

4

teaspoon 

dried cilantro
DIRECTIONS
Saute onion and garlic in oil for 5 minutes until onion is soft.
Add all other ingredients except crescent rolls.
Stir gently over medium heat for several minutes until well incorporated. Set aside.
Open cans of crescent rolls and unroll the dough.
Separate into 4 rectangles and pinch the triangular perforations to seal.
Cut each rectangle in half crosswise to make squares (you'll have 8 squares per can of crescent rolls).
Spoon a heaping spoonful of filling in the center of each square and fold over to make a triangle.
Pinch the edges to seal.
Bake on cookie sheets or deep fry until golden.
Serve with a sauce.
2. Cornflakes Chicken
This cornflake chicken recipe is the best choice for all chicken lovers. The best part you can freeze them and then enjoy them later at your convenience.
INGREDIENTS
Marinate Chicken
1

 

(450 gram)

 

chicken breast

,

cut in strips

2

tablespoon

 

ketchup

2

tablespoon

 

lemon juice
Spices
1

 

tablespoon

 

garlic paste

1

tablespoon

 

red chili flakes

Half

tablespoon

 

red chili powder

,

 adjust heat to taste

Half

 

tablespoon

 

soy sauce

1

 

teaspoon

 

cumin powder

Half

teaspoon

 

black pepper powder

1/4

 

teaspoon

 

baking powder

1/2

teaspoon

 

salt

, 

or to taste
Flour coating
1/2

 

cup

 

cornflour

1/3

cup

 

plain flour

1/4

 

teaspoon

 

salt

1/2

 

teaspoon

 

red chili powder

1/2

 

teaspoon

 

oregano

 
Cornflakes coating
2

 

eggs

1/4

 

teaspoon

 

red chili powder

1/4

 

teaspoon

 

salt

3

cups

 

cornflakes

,

 crushed
To Marinate
In a bowl, mix all ingredients to marinate chicken. Set aside for 30 minutes or overnight in the fridge.
Top Coat
In a bowl, mix ingredients of flour coating and set aside.

In another bowl, beat egg with salt and red chili set aside.

In another plate, keep crushed cornflakes for coating.

First, coat all chicken strips with a flour mixture. Then dip each strip in an egg mixture and coat with crushed cornflakes.
To Fry
When all chicken is coated in a wok, deep fry them in small batches on medium heat for 4 minutes or until golden and crispy.
3. Chicken Pakora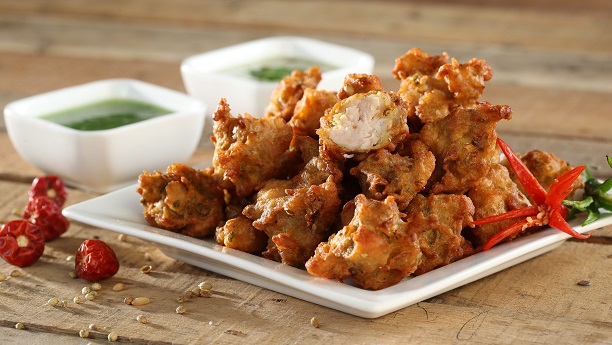 No, Iftar is complete without pakoras. They come in all shapes and sizes. Try your hand on the chicken-flavored pakora if you haven't already.
INGREDIENTS
6

 

chicken thigh fillets

 – 

chopped into bite-size pieces 

1

 

tbsp

 

minced ginger

1

green chili

 – 

finely chopped

1

 

tsp

 

ground cumin

1

 

tsp

 

ground coriander

1

 

tbsp

 

dried coriander leaf

1

 

tsp

 

chili flakes

Vegetable oil for deep frying

1/2

tsp

 

salt

1/2

tsp

 

garlic salt

1/4

 gram flour

1

 

tbsp

 

cornflour

 – 

cornstarch

1/4

tsp

 

baking soda

180

 

ml

 

(¾ cup) water
INSTRUCTIONS
Place the chicken thigh pieces in a bowl.

Add the minced ginger, chopped chili, cumin ground coriander, dried coriander leaf, chili flakes, and ground fenugreek. Mix to coat the chicken, then cover and marinate in the refrigerator for 30 minutes.

Take the chicken out of the fridge and sprinkle on the salt, garlic salt, gram flour, cornflour, and baking soda.
Mix to combine, then add in the water a splash at a time until you have a batter about the thickness of double (heavy) cream. You may not need all of the water.
Add the chicken into the oil, one piece at a time, using a set of tongs. You will need to work in 2 batches to ensure the pan isn't overcrowded.
Fry for 4-5 minutes until the coating is golden brown and the chicken is cooked through.
4. Deep-fried spicy potato sandwich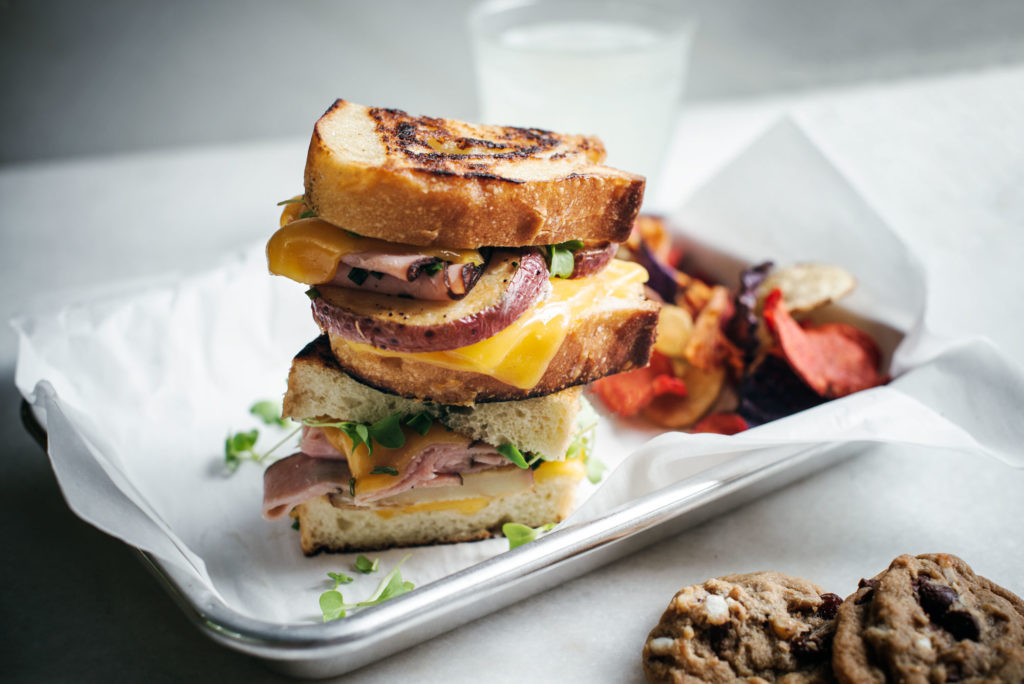 INGREDIENTS
For the spicy potato filling
3 medium-sized potatoes, cut into small pieces
1/2 tsp Mustard seeds
2-3 green chilies
1/2 cm grated ginger
Pinch garam masala
Pinch Haldi (turmeric powder)
A squeeze of lemon juice
Fresh coriander for dressing
For the batter
1 cup chickpea flour
2 Pinch salt
1 Pinch Haldi (turmeric powder)
A Pinch garam masala
Pinch red chili powder
For the sandwich
Some slices of white bread
Tomato ketchup
 INSTRUCTIONS
Cut and boil small pieces of potato (with a pinch of salt) and mash
Then in a separate frying pan, pop some mustard seeds in oil
Add green chilies, ginger, garam masala Haldi (pinch) salt to taste
Then take off the heat and add a bit of lemon juice and fresh coriander
For the batter, mix chickpea flour with warm water and make it a thin consistency
Add a bit of salt, turmeric, garam masala, and red chili powder to flavor the bread when you batter it
For the sandwich, spread ketchup on one side of one slice
Spread potato mix on the other slice and slap together
Cover in batter and fry until golden brown
5. Tandoori Cutlets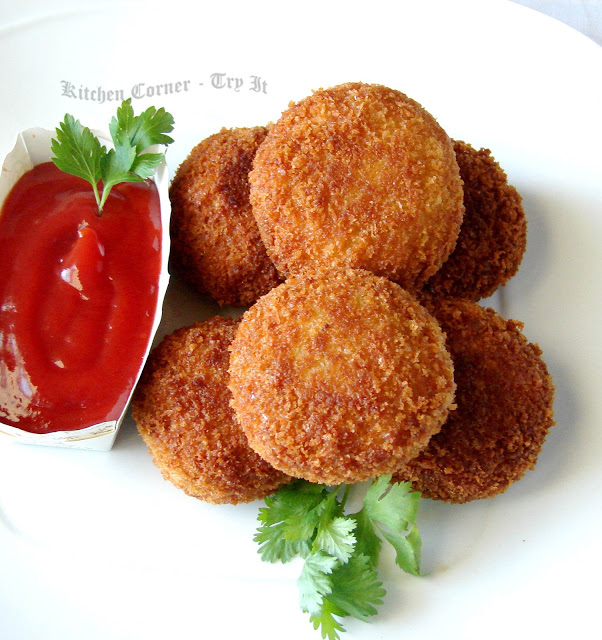 INGREDIENTS
Flour
Eggs
Oil
Salt
Vinegar
Red chili powder
Green chilies
Garam masala
Boiled potatoes
Tandoori chicken
INSTRUCTIONS
Mix tandoori chicken, vinegar, and garam masala, salt, and chopped green chilies in a bowl.
Mash boiled potatoes and mix with the mixture prepared in step 1 to form a thick paste.
Mold the paste in the form of cutlets.
Beat eggs in water.
Coat cutlets with flour. Dip in eggs. Deep fry in oil
Try these Iftar recipes and let us know in the comments below which one you like the best.
Stay tuned to Brandsynario for the latest news and updates.