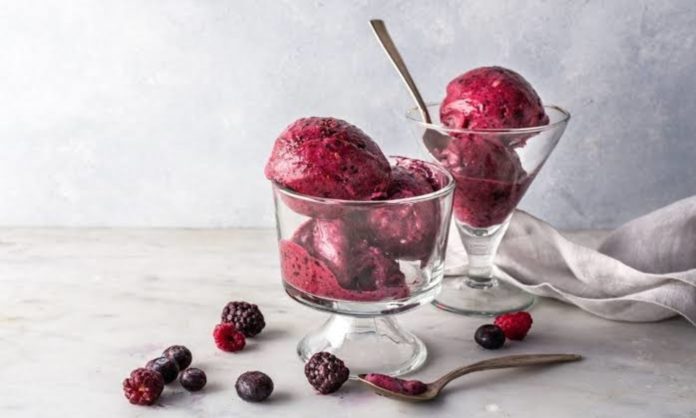 Cherry season is here, and so is the chance to enjoy tantalizing and mouthwatering cherry desserts. This summer, fruit is packed in vitamins and nutrients yet lasts for a short time. To make the most of cherry season, try these delicious frozen cherry desserts to beat the summer heat.
1. Cherry Chocolate Chip Frozen Yogurt 
This fruity frozen yoghurt is packed with flavour. Just blend, freeze, and scoop if you are craving for it off-season cherries. You can add blueberries, strawberries, raspberries, or peaches.
Ingredients
1/3 cup Cherries, fresh
8 oz Sweet cherries, frozen dark
2 tsp liquid stevia
1/3 cup Chocolate chip, sugar-free
24 oz 0% Greek yoghurt
8 oz 2% milk
Instructions
Blend the main ingredients, including frozen sweet dark cherries, plain Greek yoghurt, milk and stevia in the blender.
Pour the mixture into a metal or ceramic loaf pan and stick in the freezer for about 1 hour.
When the yoghurt has thickened up, add mix-ins, including the chocolate chips and cherry bits – and stick back in the freezer for two more hours.
After the cherry chocolate chip, frozen yoghurt has been in the freezer for about 4 hours, remove and let sit and room temperature for around 5 minutes. This will soften it up so that you can scoop it out beautifully.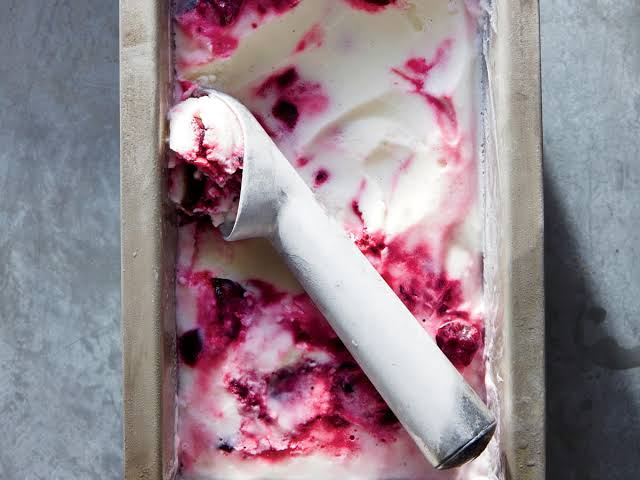 2. Cherry Sorbet
This easy sorbet recipe is just three ingredients, and all without an ice cream maker! The easiest cherry dessert ever using frozen cherries.
Ingredients
Frozen cherries
1 Lemon
Sugar to taste
Instructions
Take a pack of frozen cherries and pop them into a food processor or blender. Add sugar, and process or blend until smooth. Add fresh lemon juice to taste. Freeze. Yup, that's it!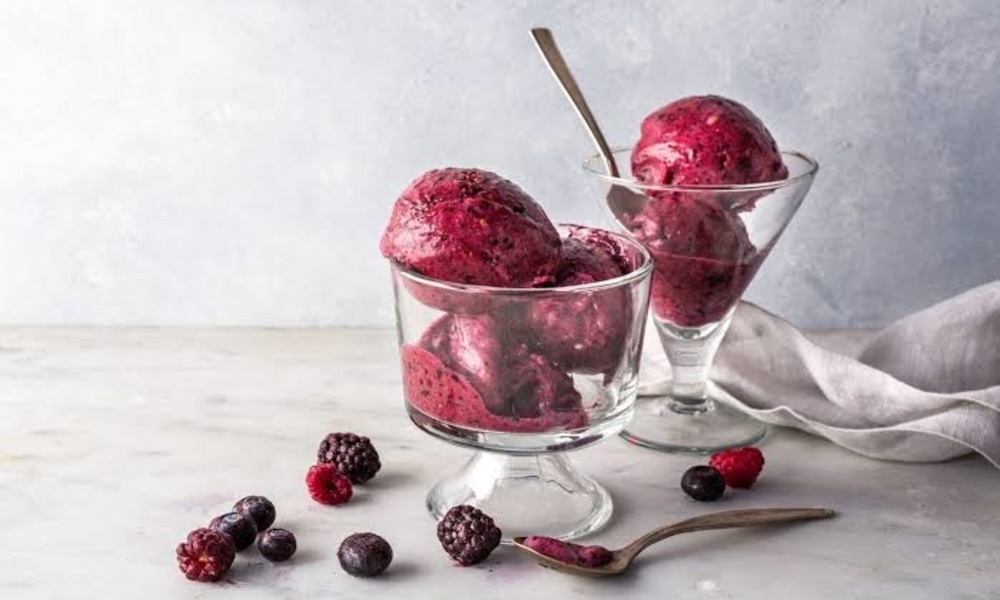 3. Cherry Chocolate Chip Ice Cream
You're going to scream for this ice cream. Why? Because it's incredibly delicious and yet it's made without a drop of milk and hardly any sugar (yes, really).
Ingredients
2 cups frozen cherries
1/2 cup vanilla yoghurt
1/2 cup mini chocolate chips
Instructions
Blend cherries and yoghurt in a high power blender.
Fold in the chocolate chips with the help of a spatula.
Pop the container in the freezer for about two hours. The ice cream will come out as creamy as ever.
Read More: 7 Places To Get The Best Singaporean Rice In Karachi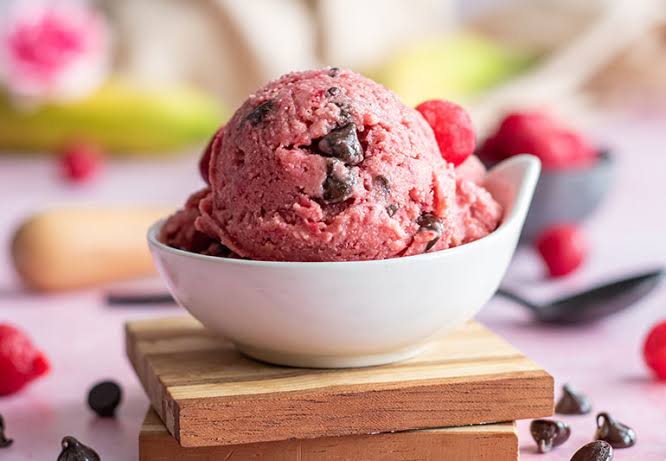 4. Cherry-Bomb Coconut Milk Popsicles
These cherry coconut pops are perfect when sweet cherries come into season. But you can always use frozen cherries as well.
Ingredients
One lb. cherries (fresh or frozen, thawed if frozen)
1 1/2 cups water
1/2 cup sugar
2 tsp. fresh lime juice (1-2 limes depending on their juiciness)
3/4 cup coconut milk
3/4 cup plain yoghurt
1/3 cup sugar
Instructions
Combine all of the cherry filling ingredients in a saucepan over medium heat and bring to a simmer. Cook until the cherries are soft, 10-15 minutes. Set aside and chill until thoroughly cooled.
Puree the cherry filling in a blender. Strain out any remaining cherry chunks. Setting aside the cherry juice.
In another bowl, whisk together all of the coconut filling ingredients until smooth.
Pour the first layer of cherry juice into the pop mould. Freeze for 30 minutes-1 hour or until just firm enough to keep the coconut filling from bleeding into the layer.
Pour a layer of coconut filling. Place the popsicle sticks into the pops, ensuring the stick goes into the first cherry layer.
Freeze for 30 minutes to 1 hour or until firm enough to keep the next layer from bleeding into it. Repeat for the remaining layers. Freeze for at least 2 hours after the final layer to ensure pops are excellent before serving.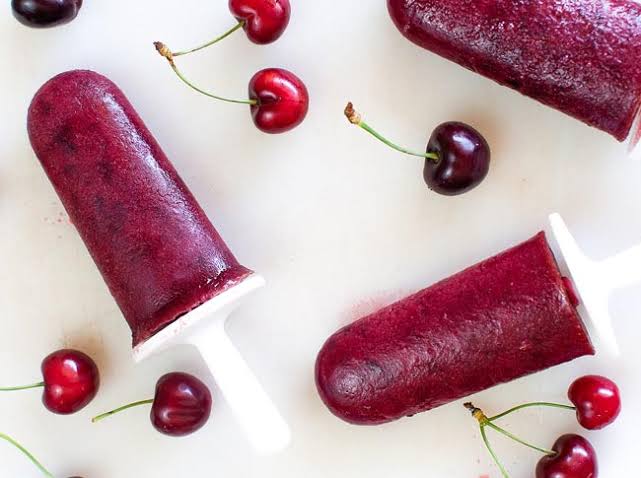 5. Frozen Sweet and Sour Cherry Granita
This sweet-tart frozen dessert takes a few hours to freeze but only 15 minutes of hands-on time.
Ingredients
1 Pound stemmed sour cherries
1 Pound stemmed sweet cherries
1/2 cup water
1/2 cup cherry syrup
1/8 teaspoon salt
Instructions
Puree 1 pound pitted sour cherries, and 1 pound pitted sweet cherries with 1/2 cup water in a blender until smooth. Transfer through a fine-mesh strainer in a bowl and stir in simple syrup to taste and salt.
Freeze until very slushy, 1-2 hours. Rake the mixture with a large fork to fluff it up. Then repeat the d raking every 2 hours until wholly fluffed and frozen.
Return to the freezer and repeat the process of freezing and raking with the fork two more times.
Use an ice cream scoop to serve the mixture in small glasses.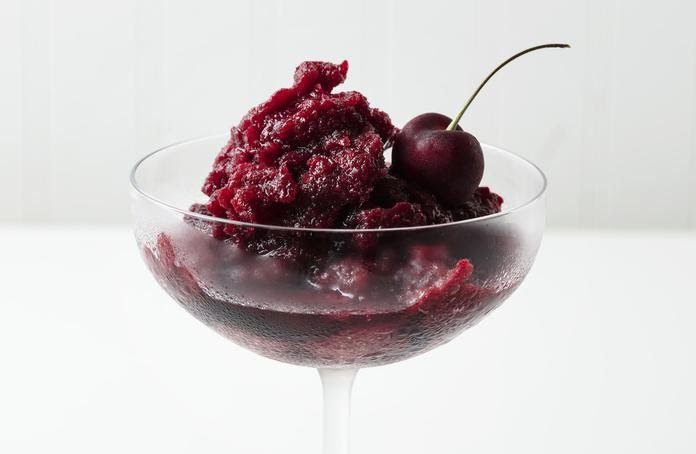 Read More: This Rooh Afza Cheesecake Has Become The Talk Of The Town-Would You Try It?
Stay tuned to Brandsynario for the latest news and updates.