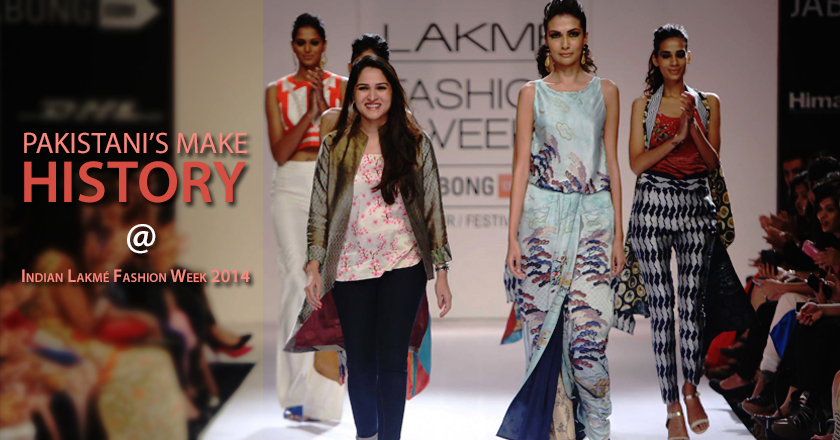 Four famous Pakistani Fashion Designers participated in the recent Lakme fashion show India on 20th August 2014. 
Alongside the Indian designers, these four much prominent Pakistani designers showcased their artistic skills who's designs were well received amongst the Indian fashion enthusiasts. These top Pakistani designers included the following:
Saniya Maskatia
Rizwan Beyg
Zara Shahjahan
Faiza Samee
Saniya Maskatia
Each of these designers introduced a new theme with Saniya Maskatia introducing a Japanese inspired theme 'Sakura' representing beauty and fragility. Have a look at the designs shared at LFW 2014 India right here:
Saniya Maskatia much excited from the well-received response stated the following,
"We are thrilled to be participating for the first time on such a large scale in India and to represent the contemporary face of Pakistani fashion,"
Rizwan Beyg
On the other hand, Rizwan Beyg a comparatively new and much trendy designer from Pakistan also made it to LFW 2014. The designs were exquisite and were definitely something to have a look at, here have a look:
Rizwan's views on Indian and Pakistani fashion collaboration are well reflected through his words,
"We have different identities and we come from different places and go to different places. In that sense, we designers become ambassadors for Pakistan every time there is an international fashion show,"
Zara Shahjahan
The third designer from Pakistan who participated in LFW 2014 was Zara Shahjahan. Zara was the only designer from Pakistan representing contemporary Pakistani theme based designs under her collection titled "City of Gardens 2014".
Zara's designs were one of the most well acclaimed ones throughout the LFW due to her understanding of various cultures and their well implementation within her designs, have a look at some of her designs right here:
Zara showed much interest in LFW, stating that it is a great platform for her brand while also expressing her delightful experience of heart-warming acclaim she received for her floral designs.
Faiza Samee
Following Zara, another much talented designer from Pakistan Faiza Samee also showed her modern yet classy designs on LFW 2014 India. Having been a part of LFW for years, this was the very first time Faiza showcased her designs at the LFW ramp. Here is a glimpse of her wonderful work:
Expressing her desire to re-enter the muslim fashion category, Faiza talked about her latest collection holding trendy Mughal themed coatees and pajamas.