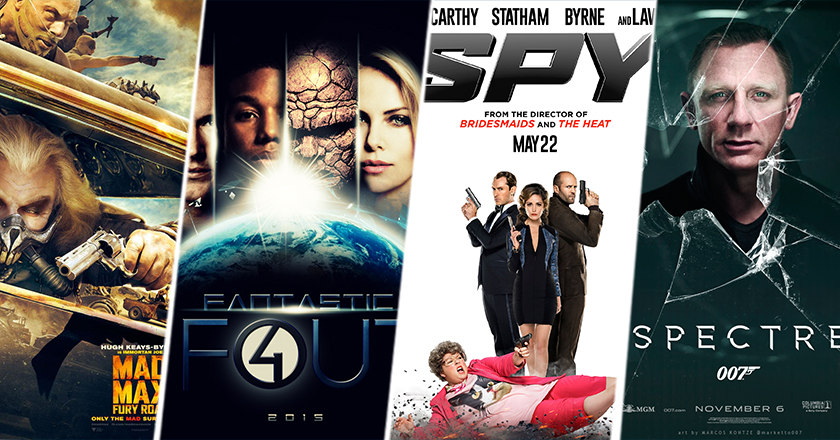 2015 is bringing us the best of the best in Hollywood movie industry and here at Brandsynario, we have handpicked 4 movie trailers hot off the editor's list.
1) Spectre
Spectre will be the twenty-fourth James Bond film produced by Eon Productions.
Spectre features Daniel Craig as James Bond, Christoph Waltz as Franz Oberhauser, Léa Seydoux as Dr. Madeleine Swann, Ralph Fiennes as Gareth Mallory and Monica Bellucci as Lucia Sciarra.
The Plot: A cryptic message from an unlikely source sets James Bond navigating the layers of a sinister organization known as SPECTRE.
As M continues fighting political pressures that threaten the future of MI6, Bond draws closer to uncovering the hidden truth at the foundation of the conspiracy that will force him to question the value of everything he has fought to protect.
Spectre is scheduled to be released on 6 November 2015.
In case you missed it, here's the teaser trailer for SPECTRE

Posted by SPECTRE on Saturday, March 28, 2015
2) Fantastic Four
The Marvel comics "Fantastic Four" have been re-imagined by Fox Entertainment and the new trailer is out now.
The cast has been reordered, with Miles Teller as Reed Richards/Mr. Fantastic, Kata Mara as Susan Storm/Invisible Woman, Michael B. Jordan as Johnny Storm/Human Torch and  Jamie Bell as Ben Grimm/The Thing.
The plot revolves around four scientists who are caught in an experiment and sent to another dimension. The trailer is fresh and looks promising, and the movie has been directed by Josh Trank.
The movie is all set to hit theatres in August 7, 2015.
#ICYMI Watch the trailer for Fantastic Four, in theaters this summer. Which scene is your favorite?

Posted by Fantastic Four on Friday, February 13, 2015
3) Spy
Spy is an upcoming 2015 American action comedy film directed and written by Paul Feig.
The film stars Melissa McCarthy, Jason Statham, Rose Byrne, Miranda Hart, Bobby Cannavale, Allison Janney and Jude Law.
Susan Cooper (McCarthy) is an unassuming, deskbound CIA analyst, and unsung hero behind the agency's most dangerous missions. But when her partner (Law) falls off the grid and another top agent (Statham) is compromised, she volunteers to go deep undercover to infiltrate the world of a deadly arms dealer, and prevent a global disaster.
The film is scheduled for a June 5, 2015 release.
CIA analyst Susan Cooper just became your worst f*cking nightmare. Watch the Spy Movie red band trailer NOW.

Posted by Spy Movie on Wednesday, January 21, 2015
4) Mad Max: Fury Road
Mad Max: Fury Road is an upcoming post-apocalyptic action film directed, produced and co-written by George Miller, and the fourth film of Miller's Mad Max franchise.
The first film of the franchise in 30 years, Fury Road features actor Tom Hardy as Mad Max.
In a post-apocalyptic wasteland, loner Max meets Furiosa, a woman who wishes to cross the desert. Max has been captured and his only hope of freedom is Furiosa, who is on the run from Max's captors because she stole their most precious resource, women who have been kept as objects and whose purpose is to mother the next generation. They need Max's knowledge of the desert to safely cross it and escape the madness of their enemies.
The film will have its world premiere on 14 May 2015 at the 68th Cannes Film Festival in an out of competition screening, followed by a wide theatrical release on 15 May 2015.
As the world fell, the madness began. Watch the exclusive new trailer for #MadMax: Fury Road.

Posted by Mad Max on Tuesday, March 31, 2015