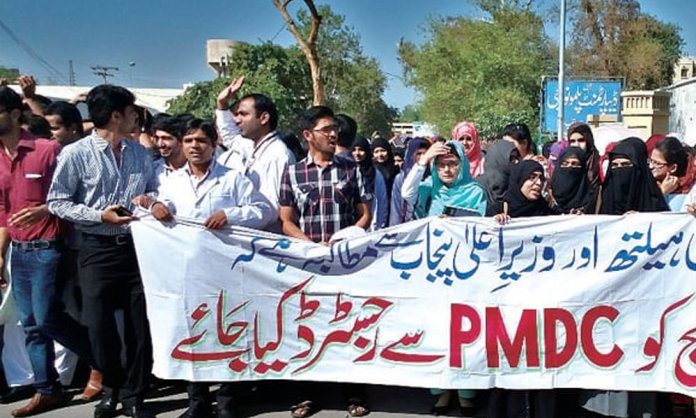 In a surprising, rather shocking move, the government has replaced Pakistan Medical and Dental Council with Pakistan Medical Commission.
The Ministry of National Health Services (NHS) has directed the council employees that the office will remain shut for one week.
Due to this irksome decision, as many as 300 employees of the Pakistan Medical and Dental Council (PMDC) are scared of losing their jobs and they also staged their protest yesterday for the same by gathering outside the PMDC building and chanting slogans in favour of restoration of their jobs.
The protestors complained that the behavior of the authorities was unethical and it seemed that they did not care about the employees at all.
When contacted, here's what PMDC registrar, retired Brig Dr Hafizuddin Ahmed Siddiqui said:
"Although it not decided finally by the employees, but we must go in court to fight for justice", he suggested adding that good and bad people existed everywhere but 'weigh all with same scale' is sheer discrimination.

"I strongly condemn such autocracies", he remarked.
A protesting employee told Daily Times that PMDC the government is intending to nominate a selected group and impose them on the council to look into all affairs of the council. The official added that world Federation of Medical Education (WFME) and Foundation for Advancement of International Medical Education and Research (FAIMER) are also annoyed over such unjust measures by the government.
However, an NHS employee had a diffrent story to tell:
"Implementation of new Ordinance requires dissolution of current PMDC. Government of Pakistan hence on Sunday directed the temporary shutting down of the offices of Council. This would ensure protection of the essential records and assets of PMDC. The offices will remain shut for one week. PMC shall be a body corporate consisting of:

(1) The Medical and Dental Council;

(2) The National Medical and Dental Academic Board; and

(3) The National Medical Authority, which will act as a Secretariat of the Commission," it stated.
Do you think it was a good decision? Let us know in the comments.
Stay tuned to Brandsynario for more news and updates.