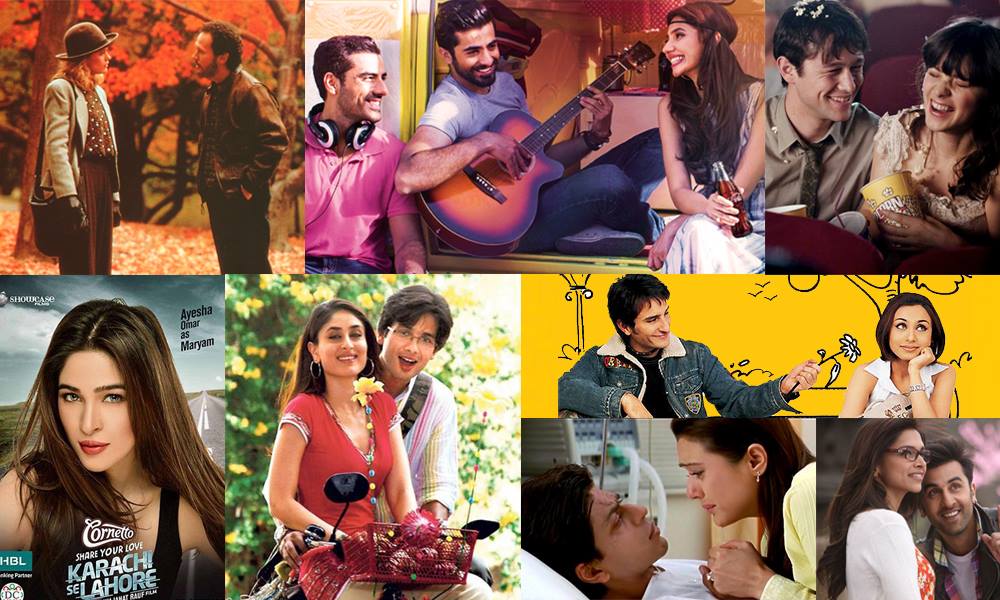 No, Valentine's Day is not around the corner unless we have suddenly started celebrating it in September, but do romantic comedies ever need a particular day to be watched? I don't  think so!
We as humans crave for love and what better way to feel it than playing those all time classic chick flicks and a huge box of tissues, eh? For those hopeless romantics out there, we give you our ultimate rom-com list!
Take a look and see if any of your favorite movies made it to the list!
Hollywood
1. When Harry Met Sally (1989)
The movie till date makes us question that , "Can men and women ever just be friends?" Probably not! Meg Ryan and Billy Crystal worked their magic in this classic film which has become every girl's go-to movie, every Valentine's Day.
2. Bridget Jones Diary (2001)
Hollywood might be the place where box office hits are created but when it comes to romantic comedies, the British industry, does tend to top it.
Based on the book of the same name, which incidentally is an adaptation of Jane Austen's Pride and Prejudice, the film stars Renée Zellweger as Bridget, along with the best of British cinema, Hugh Grant, and Colin Firth.
3. Pretty Woman (1990)
Despite receiving mixed reviews, Richard Gere and Julia Robert's made everyone fall in love with them when they appeared together in Pretty Woman.
Based on the cliched 'rich guy, poor girl' storyline, the movie managed to captivate our hearts and reigns till date!
4. Clueless (1995)
As a teenager, coming-of-age films are very important. Clueless gives us the ultimate rom-com with its cast and a million times watchable story, starring Alicia Silverstone and Paul Rudd, Stacey Dash and the late Brittany Murphy.
5. How To Lose A Guy In 10 Days (2003)
The infamous "yellow dress" that Kate Hudson wore in the movie has become one of the most popular prom dresses, for girls all over the West.
But it was the amazing chemistry between Hudson and Matthew McConaughey, which to date, makes this one of our top favorite rom-com.
6. 50 First Dates (2004)
Imagine having to win your lady every single day?
Sounds tiresome and a lot of work, right? But Adam Sandler shows us exactly how it is done with Drew Barrymore in 50 first dates. Watch this if you haven't already. You'll love this one.
7. Love Actually (2003)
When we hear star-studded cast, nothing comes close to Love Actually. The movie that depicts 'a week before Christmas' with a cast that includes Alan Rickman, Colin Firth, Hugh Grant, Emma Thompson, Liam Neeson to name a few, follows the lives of different people and unfolds their peculiar love stories.
8. Sleepless in Seattle (1993)
Forget Parent Trap. If we ever needed kids to bring together adults, this movie is the perfect example with Tom Hanks playing the role of a widower alongside Meg Ryan.
This one is a must-watch!
9. Annie Hall (1977)
Dubbed as "everyone's favorite Woody Allen movie" by the great Roger Ebert, and listed on every list from the "top feature films in American cinema" to "top comedy films" and ""100 Funniest Movies", Annie Hall tells the story of Alvy "Max" Singer played by Woody Allen along with Diana Keaton.
10. The Wedding Singer (1998)
There is nothing more wrong in a movie than two people being with in love with the wrong people. But then again it's Hollywood and they are bound to get together sooner than later.
Adam Sandler stars in the Wedding Singer alongside Drew Barrymore where he works his charm to make the lady fall in love with him.
11. 500 Days Of Summer (2009)
Joseph Gordon-Levitt and everyone' s favorite, Zooey Deschanel star together in 500 days of Summer as Tom Hansen and Summer, a girl who doesn't believe in true love.
12. He's Just Not That Into You (2009)
Based on the self-help book, by Greg Behrendt and Liz Tuccillo, He's Just Not That Into You, follows the lives of 9 people as their stories and lives come together in the ultimate rom-com.
Bollywood
13. Jab We Met (2007)
Shahid Kapoor and Kareena Kapoor come together for one of the most entertaining movies, where the eccentric Geet Dhillon played by Kareena Kapoor teaches the depressed maniac about the greater things in life.
The on-screen chemistry was the result of some off-screen (real life love) that kindled on the sets, too bad it didn't work out in real life, though.
14. Hum Tum (2004)
Based on Hollywood's When Harry Met Sally, Hum Tum tells the story of Saif Ali Khan and Rani Mukerji who meet each other, part ways, meet gain several years later and eventually fall in love.
15. Dil Walay Dulhaniya Lejayengay (1995)
This movie needs no introduction- still running successfully all over, the movie became an iconic love story for others to take inspiration from.
DDLJ will forever remain as our favorite romantic movie. Nothing beats King Khan and Kajol in their most iconic roles as Raj & Simran, to date.
16. Kuch Kuch Hota Hai (1998)
This coming of age romantic comedy set the tone for pretty much every other Bollywood film for years. King Khan, Salman Khan, Rani Mukherji and of course our favorite Kajol, made hearts melt and had us rooting for our favorite couple, even after years of its release.
17. Humpty Sharma Ki Dulhaniya (2014)
In just his fourth movie appearance, Varun Dhawan made all the ladies root for him as he set out on a quest to win over Alia Bhatt. Sweet, funny, romantic and unbelievably sappy, this movie has it all!
18. Khoobsurat (2014)
A Fawad Khan starer is bound to be a hit. Starring alongside Sonam Kapoor, the movie marked the heartthrob's Bollywood debut, spinning around an unlikely romantic relationship between a doctor and a member of the royal family.
https://www.brandsynario.com/23-best-horror-movies-time/
19. Main Tera Hero (2014)
Despite getting mixed reviews, the movie with the star power of Varun Dhawan and Nargis Fakhri managed to bring together one of the more interesting rom coms of our times.
20. Yeh Jawaani Hai Deewani (2013)
Deepika Padukone and Ranbir Kapoor came together for one of the biggest box office hits of 2013 in Yeh Jawaani Hai Deewani making the unlikely story of a nerdy girl falling for the boy with no romantic aspects.
You can watch this one over and over without getting bored even for a second. It's our favourite and definitely deserves to be on the list.
You can watch this one over and over without getting bored even for a second. It's our favorite and definitely, deserves to be on the list.
21. Kal Ho Na Ho (2003)
A Story of a Lifetime…. In a Heartbeat, literally, still makes us cry! SRK, Preity Zinta, and Saif Ali Khan came together for one of the most powerful romantic films of all time.
The love triangle of Aman, Naina & Rohit combined with the sarcastic humor of SRK managed to make us laugh and cry all at the same time. Having all the ingredients of a perfect Bollywood movie, this one is a must-watch!
22. 2 States (2014)
Based on Chetan Bhagat's best-selling novel of the same name, the movie tells one of the most powerful tales of two families from very different cultural backgrounds to come together for the love of their kids.
23. Jaane Tu Ya Jaane Na (2008)
A flight delayed, a bunch of friends and people with a knack of story telling, things couldn't be better.
The movie tells one of the more incredible love stories made to come true at an airport. You'll laugh, you'll cry, and you'll definitely end up adoring the chemistry Imran and Genelia share in this one.
Lollywood
24. Ho Mann Jahan (2016)
Despite having a clichéd story, Ho Mann Jahan became an instant hit amongst the youth- thanks to Mahira Khan and the rest of the cast, the movie tried to break the norm of the society and was a great effort by the Pakistani film industry.
25. Karachi Se Lahore (2015)
One of the firs Pakistani movies to be screened in Hollywood, Karachi Se Lahore takes us on a road trip with an ensemble cast which included Shehzad Shaikh, Ayesha Omer and of course Javed Sheikh over the course of a 36-hour long journey from Karachi, all the way to Lahore.
This one's hilarious!
26. Bachaana (2016)
A love story set in a foreign country with the gorgeous Sanam Saeed, Mohib Mirza, and Adeel Hashmi, this was one movie that kept you on your toes till the end.
Despite receiving mixed reviews, it's a good watch on a boring Sunday.
27. Jawani Phir Nahi Aani (2015)
Three best friends, a foreign country, and a pretty girl? What else could you need? Jawani Phir Nahi Aani is definitely is your go-to film for a night with your friends.
Becoming one of the highest grosser of Pakistan, this flick is an all time entertainer with its highs and lows that make for a great watch!
So which one these are amongst your favorite? Let us know in the comments below & stay tuned to Brandsynario for more updates.
Happy Watching 🙂