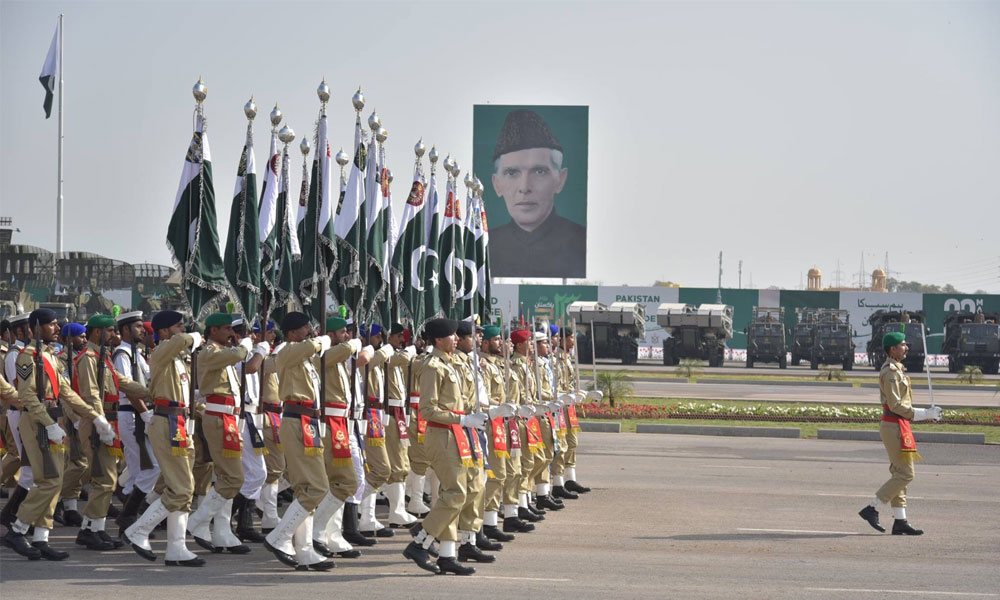 23rd March marks the day when Muslim League drafted the Pakistan Resolution 1940 that called for an independent State. A parade is held to commemorate the national holiday and the dress Rehearsal for Pakistan day is in full swing at Shakaraparian ground in Islamabad.
Security Measures Taken
Strict security measures are taken for Rawalpindi and Islamabad. Mobile phone services are expected to remain suspended in different parts of the twin cities from from 6am to 1pm. Only people with a security pass will be allowed to enter the venue.
Traffic Plan for Rehearsals and Day of Parade
Islamabad traffic police has devised a traffic plan for for 23rd March and rehearsals.
There will be no heavy traffic today, Tuesday and Thursday.
Today, Expressway Khanna pull, Faisal Avenue, Zero Point and Murree Road Rawal dam to Faizabad to remain closed from 6am to 1pm.
Alternate route for people coming from the Airport will be to use Khanna Pull to Tramari Chowk for entering Murree road.
Kashmir Highway will remain open for traffic going to to Aabpara, Bara Kahoo and Murree.
Who will be participating?
Army, Navy, Pakistan Air Force, Frontier Corps, Northern Light Infantry, Mujahid Force are participating in the rehearsal. Along with them, People's Liberation Army (PLA) China's Tri-Services and Saudi Special Force's contingents and Turkish Janissary Military band (Mehteran) will be participating in the annual parade as told by ISPR earlier this month.
The dignitaries attending the parade:
Chief of South African National Defence Force and  General Solly Zacharia Shoke will be present to watch the parade.
Here are some of the highlights from the rehearsals:
Rehearsal of Nataional Day Parade,special guest to this year's parade is China's PLA, who always stand by Pak🇵🇰
Pak China Dosti Zindabad🇵🇰🇨🇳 pic.twitter.com/oIeiX3eate

— Ch.Amjad Farooq (@CPEC15) March 19, 2017
Airshow and Para gliding Rehearsals for #PakistanDay Parade
Credits: On Picture pic.twitter.com/afSngWvsYW

— Defence Pakistan (@DefencePakTeam) March 14, 2017
Pull up , Pull up , Pull up
NOW..
Credits – Aperture Sensation.#PAF #Sherdils #ResolutionDay #PakistanDay #23rdMarch #HumSabKaPakistan pic.twitter.com/r4vF6X27fj

— Kiran Raza (@kiranraza_01) March 19, 2017
Sherdil team of Pakistan Air Force perform stunts during the Pakistan Day parade rehearsals#AirForce #Pakistanday #Islamabad pic.twitter.com/zIFpHcoDEv

— Daily Times (@dailytimespak) March 19, 2017
A guard of honor of Chinese People's Liberation Army (PLA) attends rehearsal of #PakistanDay parade pic.twitter.com/xno8fV0NsE

— China Xinhua News (@XHNews) March 20, 2017
Stay tuned to Brandsynario for latest news and updates.