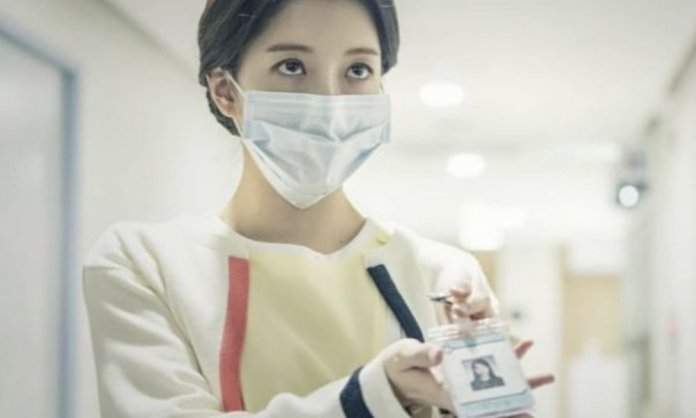 The coronavirus pandemic has the world locked down, with the rising numbers of people getting infected, it has definitely got people around us becoming way more cautious than before.
It is quite interesting to see people coming up with various theories regarding coronavirus. From books predicting the virus to movies like Contagion which is extremely similar to the present time, it seems like there are a few people out there who knew this was coming!
A Korean TV series seems to have known about the Coronavirus way before the outbreak in China late last year. Korean drama series by the name of My Secret Terrius has been trending over social media since yesterday as one of the scenes from episode 10, talks in depth about Coronavirus.
In the scene, the doctor says "the virus belongs to the family of SARS, MERS and common flu." Doesn't this sound similar? She then says that some people have tweaked the coronavirus to increase the mortality rate to 90 per cent. Okay happy to report that the mortality they've mentioned definitely does NOT apply to our present scenario.
Not only this but the doctor further says that the virus has an incubation period of 2 to 14 days and it now attacks a person's lungs within just 5 minutes of being exposed. Well thankfully that last bit is not true in COVID-19's case.
Watch the scenes here!
#COVIDー19 Korean series blatantly discussed coronavirus. My Secret Terrius episode 10 on Netflix. Aired on Oct.10 2018. pic.twitter.com/ww16wLv9ND

— Layal Al-Sahli (@Layal_s) March 23, 2020
The details mentioned in the scene sends a chill down our spine! Here's what people have to say about it!
Episode 10, 53rd minute and you are into #CoronaVirus .. Wtf! #MySecretTerrius , A Korean series on Netflix is a new hot topic.#COVID19 #CoronaLockdown pic.twitter.com/tdGvamNtQF

— Tahir (@AliveToBeDead) March 27, 2020
Corona virus in this shape today was known before or not.. look for it your self in this 2018 Korean series. 🤐 pic.twitter.com/03H1VbYBWG

— Ahmad Bilal (@chahmadbilal) March 26, 2020
#CoronaVillains The South Korean series 'My Secret Terrius' in 2018 predicted that #Coronavirus research is going on as biological weapon & that can't be overruled that China developed the virus & unluckily leaked out from laboratory etc. Some actors of the series are as under. pic.twitter.com/smig8RZCRu

— prem narayan mahanta (@MahantsPrem) March 27, 2020
Now this similarly is even uncanny. The Korean series called My Secret Terrius predicted the #Corona #virus. #COVID2019 #CoronavirusOutbreak #CoronavirusLockdown pic.twitter.com/V0EIIjuJY2

— RED_DEVIL_GEEK (@REDDEVILGEEK1) March 27, 2020
A Korean series predicted the novel coronavirus outbreak 2 years ago. The uncanny similarities will blow your mind.
My Secret Terrius Season 1, episode 10 and skip to 53 minutes 😳 actually freaked me out!!#SafeAtHome #CoronavirusOutbreak pic.twitter.com/Cy87Tj2jpk

— 𝐘𝐚𝐬𝐡𝐢𝐤𝐚 𝐌𝐢𝐧𝐨𝐳 (@LMHisLife) March 26, 2020
This is no Joke.
Secret, Terrius (a Korean series on #Netflix in 2018), speaks about #CoronaVirus & this is something the Chinese Govt has used as a Bio Chemical Attack. They're more accountable to the world for using a Bio Chemical Weapon to attack the world. #ChineseVirus19 pic.twitter.com/Cn6eSWJiSj

— மாறவர்மன் சுந்தரபாண்டியன் (@9HRiHS6cHqPOTtD) March 26, 2020
This season "My Secret Terrius" a Korean series just tells about coronavirus and it predicted perfectly. I just saw this and got shocked. This could be a bio-attack or it just another co-incident? 🤔😱
Well you decide…#COVID19 pic.twitter.com/19HUmGNtde

— Shaheer Ahmed (@shary10001) March 26, 2020
The drama also caught the eye of Indian cricketer Harbajan Singh who posted about it to his Twitter account! He asked everyone to watch it and said, "This is shocking, was it a plan?"
This is crazy . If you are home , go on Netflix now ……. Type "My Secret Terrius" and go to season -1 and episode 10 and move straight to 53 minutes point ! (P.S. this season was made in 2018 and we are in 2020) . This is shocking 😡😡😡 was it a plan ?? pic.twitter.com/KqTZwA1IO2

— Harbhajan Turbanator (@harbhajan_singh) March 26, 2020
Did you find the scene spooky and uncanny to Covid-19? Let us know in the comments below.
Follow Brandsynario for the latest news and updates.