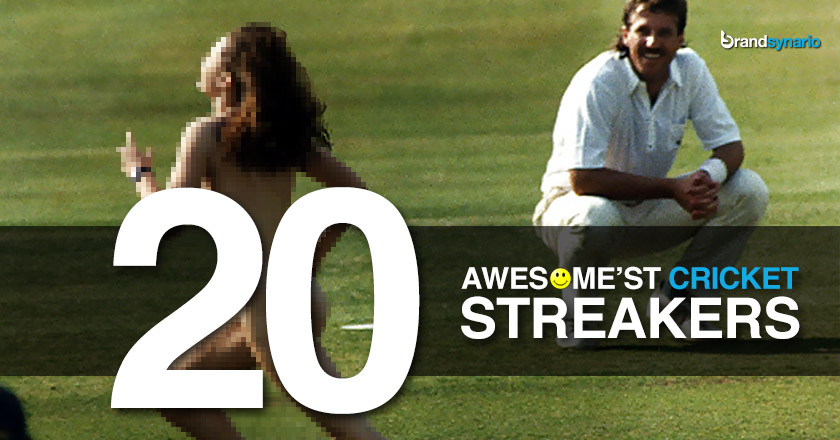 [Warning]: The following content may not be suitable for everyone. This article is published for the sole purpose of fun and light hearted comedy, it should only be regarded as such. "If you do not approve, do not go any further below".
(noun.), means, to move in a specified direction – however in this particular instance, streaking implies running of a person (usually without clothes) on the field of an ongoing sports-match.
Yes, as absurd as it may sound – attention seekers have been practicing this art of bare-body exhibition. Every sport more or less – from cricket to tennis, AFL to Rugby Union, horse racing and even snooker – all of these sports have been targeted by these exhibitionists, who go to inexplicably greater lengths to peel off their kit, exposing themselves to much more than just public ridicule.
But why would people do it?
Well, before we take a walk on the long walk of shame for those who walked (rather, ran) in these tracks exposed and in their birthday suits – let us take a look first at how it started.
The first recorded incident of public streaking was recoded as far back as 1799. Yes, it was an Englishman and, according to Times at least, he did it for a bet.
Then there were those instances of streaking that reached long from university campuses, as early as the 1800s, to full-fledged government protests, in the 1960s, when a generation rebelled against everything, including clothing.
At last streaking hit sports in the 70s and it was none other than the Aussies who led this charge.
Ever since then, both men and women have lifted this sport, within a sport, to a whole new level. Some did it for bets, others to publicize a message while some just simply did it for fun, err… at least that is what there definition of fun.
Who can forget the epic streaking in the prestigious 46th Academy Awards? It might as well be regarded as the first and (thankfully, the only) of its kind streaking by Robert opel.
Then, it hit Cricket. It is still hard to tell when exactly did it all begun, but this one from the Black and White era might just be the first one its kind.
..amazing split, isn't it? Let's have a look at this flexibility from another angle..
Little do people know that LALA is not the not the first one to come up with the "Arms up Victory pose" – in fact, we think we might have just found the man who did it for the first time (Even if its for an entirely different purpose)
More from our Vintage collection of Streakers from the Great Britain – might as well call them 'First World Streakers', eh..? eh? Not funny? OK
Well, after this it pretty much became a thing for Cricketers. You might not remember them, but these incidences have occurred more than one could avoid.
Like who can forget the epic streaker who made the best in Cricket smile. His reaction says it all, doesn't it?
Aussies are famous in Cricket for more than one reasons. One of them; is streakers. 
..also amongst those reasons – Tackling Streakers. (Who can forget Andrew Symonds epic tackle of the streaker who came way too close)
Woah ! Point proved ! Celebrations *Streaker Style*
Now; looking at all of these pictures. the one thing that comes to mind – is there are those streakers who makes us smile because they are females funny and lively – that even makes the 
rivalry between the worst enemies fade for a moment. For instance;
..and those who made the crowd VERY happy but the player shy away.
Streaking is one craft that most would agree should only be performed by willing, attention seeking, good looking yet increasingly stupid females.
… but there are those who JUST WANT TO WATCH THE WORLD BURN.
The Great Ricky Pointing is also renowned for his versatile heroics on the field that includes more than scoring runs.
Also presenting 'Domestic Streakers', who streaked in domestic cricket
Those, who advertised while streaking..
They were followed by The Warrior Streakers..
…and Increasingly disturbing streakers.
Aaaaaanndddddd… we have patriotic Streakers
And finally – what better way could be imagined, to some up the sports Streakers, with a Sportsman streaker.