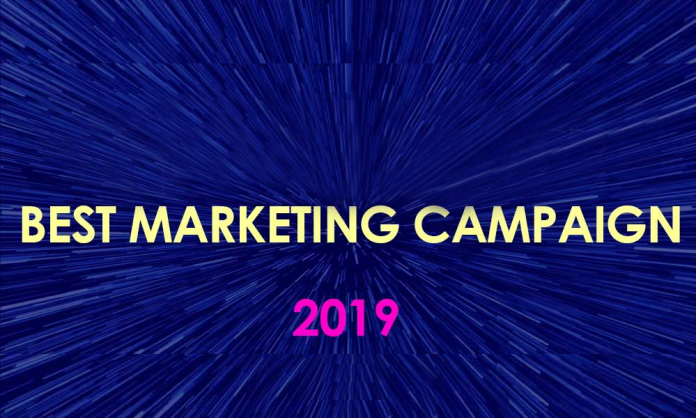 The year 2019 has been super successful for some brands, whereas for others it was not as exceptional.
We saw lots of ups and downs this year. Marketers have to give more than 100% to compete with their rivals, hence creating campaigns that have received standing ovations.
So which brands managed to hit the nail on the hammer this year?
Here's a list of the 20 best marketing campaigns of 2019!
20. #MyCalvins Ft. Shawn Mendes
Thank you @calvinklein #MYTRUTH #MYCALVINS x pic.twitter.com/L7JldrZ3xu

— Shawn Mendes (@ShawnMendes) May 8, 2019
19. Givenchy Hints at New Ambassador
GUESS WHO? THE NEW FACE OF #GIVENCHY, REVEALED TOMORROW. pic.twitter.com/Ttkusa18ER

— Givenchy (@givenchy) May 9, 2019
18. Gucci X Harry Styles
.@metmuseum #MetGala co-chair @Harry_Styles wore a custom #Gucci organza shirt with black lace and organza jabot, high waisted wool mohair trousers, patent leather boots, and a single bee earring.
#AlessandroMichele #MetGala2019 #MetCamp pic.twitter.com/hkOtE8CAhp

— gucci (@gucci) May 8, 2019
17. Announcement for New Season of Rick & Morty
We heard some of you were interested in this information. #WarnerMediaUpfront @rickandmorty pic.twitter.com/UkUINBmw9a

— [adult swim] (@adultswim) May 15, 2019
16. Apple's WWDC
iOS 13 will have "Dark Mode." This is what it looks like.

Thank you @Apple. #WWDC19 pic.twitter.com/YVh7EhxqsD

— Complex (@Complex) June 3, 2019

15. Jennie Charts
Our very own superstar 🌟🔥🤟 #BLACKPINK #JENNIE #블랙핑크 #제니 #CHANELPharrell #CHANELPharrellxJennie #CHANELinSeoul @ygofficialblink @CHANEL pic.twitter.com/OcIIsLcOgH

— JENNIE CHARTS (@jenniecharts) March 28, 2019

14. Nintendo Switch Lite's Announcement 
Introducing #NintendoSwitchLite – a compact, lightweight console that's dedicated to handheld play!

This new addition to the #NintendoSwitch family arrives 20/09 in 3 different colours.

👉: https://t.co/ga5f9Z7ket pic.twitter.com/Aop6MQi8Zx

— Nintendo of Europe (@NintendoEurope) July 10, 2019
13. Nike' Inspiring Video
Show them what crazy dreams can do. #justdoit pic.twitter.com/3fo2XMVkBT

— Nike (@Nike) February 24, 2019
12. Best Fan Army Award
THANK YOU guys for all the support this year. So proud to say our #BTSArmy has been nominated for the @TacoBell #BestFanArmy Award at the 2019 #iHeartAwards! RT to vote! pic.twitter.com/0HGuTs2KNj

— BTS_official (@bts_bighit) February 21, 2019
11. Gucci X Kai
#Kai of #EXO (@weareoneEXO) has become a Gucci ambassador!!! He's the first Korean ambassador in the history of the company! #GucciGlobalAmbassador_KAI pic.twitter.com/VJgVtZZuIb

— Mike Adam (@MikeAdamOnAir) September 16, 2019
10. Popeyes Chicken
Sounds like someone just ate one of our biscuits. Cause y'all looking thirsty. https://t.co/89eqI5vk2z

— Popeyes Chicken (@PopeyesChicken) August 20, 2019
9. The Next Galaxy Smartphone Announcement
Galaxy S10 will be available from March 8 and will come in new eco-friendly packaging. Here are the prices for all three variants: #SamsungEvent https://t.co/0gRGLpuODs pic.twitter.com/zL6NvPEe8y

— Gadgets 360 (@Gadgets360) February 20, 2019
8. Wendy's Spicy Nuggets are Back
Y'all keep asking, so here's your chance.
The people in charge say if you guys can get our tweet (this one right here) to 2 Million likes, they will bring SPICY CHICKEN NUGGETS BACK.
Let's freakin' do this! https://t.co/qrtvWXjj9V

— Wendy's (@Wendys) May 4, 2019
7. Nintendo Direct
What #NintendoSwitch games and announcements from the latest #NintendoDirect have you the most excited?

Give it a watch and let us know: https://t.co/XVcoV8AIQ6 pic.twitter.com/QCO5vFO18w

— Nintendo UK (@NintendoUK) September 6, 2019

6. Amazon X BTS
#BTS in Times Square! Thanks @AmazonMusic! #AlexaPlay the new album by BTS https://t.co/s7qB7wiWSk pic.twitter.com/seBnhzYFfn

— BTS_official (@bts_bighit) April 13, 2019
5. MTV VMAs
YAS! Congrats @iamcardib on winning Best Hip-Hop at the #VMAs pic.twitter.com/kDCKBiaWC8

— MTV (@MTV) August 27, 2019
4. Nintendo's E3 Presence
Your favorite bear-bird duo, Banjo & Kazooie, is joining Super #SmashBrosUltimate! Grab the Fighters Pass and get ready for when Banjo-Kazooie arrive on the battlefield this fall. https://t.co/hJmYO8YgVN pic.twitter.com/tsypQJpdBC

— Nintendo of America (@NintendoAmerica) June 11, 2019
3. Amazon Prime Day
On the first day of #PrimeDay yesterday, worldwide sellers – predominantly small and medium-sized businesses – saw the biggest 24-hour sales day in Amazon history! pic.twitter.com/cLNPuEr3Ea

— Amazon.com (@amazon) July 16, 2019
2. AOC Calls Out Amazon
Amazon is paying $0 in taxes on $11+ billion in profit.

$0 for schools.
$0 for firefighters.
$0 for infrastructure.
$0 for research and healthcare.

Why should corporations that contribute nothing to the pot be in a position to take billions from the public? https://t.co/IdsuKaVOTU

— Alexandria Ocasio-Cortez (@AOC) February 14, 2019
And the winning marketing campaign is…
1. #AppleEvent iPhone 11 Series Unveiling
Apple iPhone 11 Pro starts at $999 and arrives on September 20. #AppleEvent pic.twitter.com/WoUDvboo3b

— Lance Ulanoff (@LanceUlanoff) September 10, 2019
Which campaign did you love the most? Share your thoughts with us in the comments below.
Stay tuned to Brandsynario for more news and updates.
Source: Brandwatch