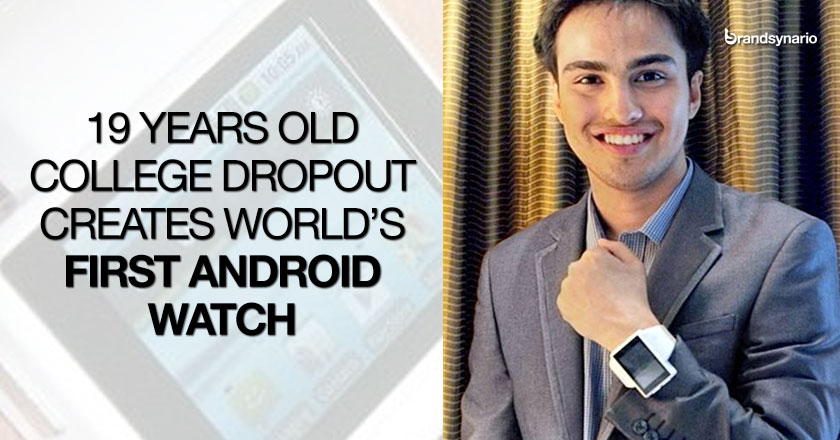 The idea of combining a phone, camera, GPS, and an array of sensors into a smart device and miniaturizing this device to the size of a conventional wristwatch with full Android running on top seems so much fascinating.
Yes! This idea is actually turned into reality by a Teenager beating tech giants by launching world's first smart watch.
Siddhant Vats Co-founder of Androidly Systems is a leading Indian entrepreneur, A TEDx speaker, Co-Founder and President of his mother's voluntary organisation, Falak. At this young age of 19, the guy has achieved a lot.
According to Siddhant, "I never enjoyed doing one thing for a long time. That's what keeps me going. I want to chase my dreams. I want to do anything and whatever comes to my mind. Nothing inspires me. I just want to do something and then I land up doing it because I feel I have too much time for everything." 
Siddhant has a great zeal to chase his dreams. He even dropped out of high school to follow this chase.
"They will tell you your idea is not worth anything. Not just that, everyone apart from you and sometimes even your team members will give you many reasons on why an idea won't work. Nobody will come and tell me how it will work," said Siddhant pointing out at the neighbors and family friends as the biggest challenge in India.
Let's have a look that how Androidly makes our life easy:
Androidly from Androidly on Vimeo.
Androidly, the device with 2inch screen, 2MP camera, Bluetooth, GPS, Wi-Fi, built-in camera, phone SIM card option and 16GB of storage is available all over the world for PKR 19000.
The other smart watches, including the Pebble and Sony's Live Watch, can wirelessly connect with mobile phones, Androidly is the first one with the operating system fully integrated.