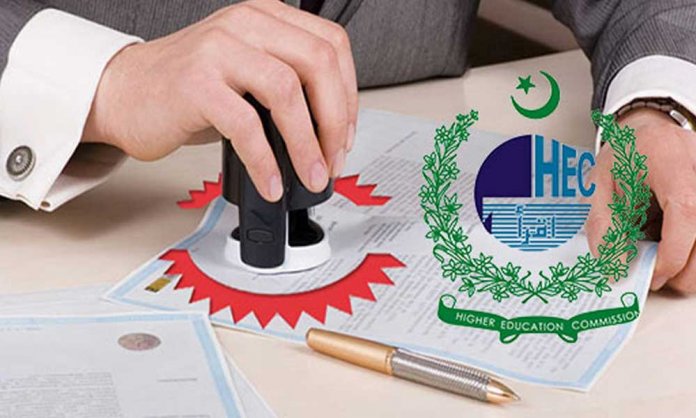 The last two news that we heard with regards to HEC were soon after the fiscal budget for 2019-20 was rolled out and approved.
It was reported that HEC would not be offering any funds to new universities due to a cut in the education budget; secondly, there was a good news: HEC has announced a two year Associate Degree program.
However, the news that has now arrived can be called either good or bad, depending on your wallet.
HEC has made arrangements for urgent degree verification in the form of special booths. The booths have been set up at its headquarters and all regional offices and will be open from Monday to Friday:
45 – headquarters
20 – Lahore
15 – Karachi
10 – Quetta
10 – Peshawar
The normal fee of degree attestation was Rs. 800. The fee for urgent verification, however, is going to be 5000 PKR. Moreover, Director-General Attestation and Equivalence, Tahir Zaidi has said priority will be given to the needy in an attempt to eliminate nepotism.
The option of scheduling an appointment can also be chosen by opting for urgent attestation through the online portal.
A target of Rs. 500,000 per day has been set for the same with the aim to raise an additional revenue of Rs. 150 million every year so that the crisis in education budget can be overcome.
The new has come into effect.
HEC's official website can be visited for more information and details.
Have you been to any of HEC's booths for degree verification lately?
How was your experience? Let us know in the comments.
Stay tuned to Brandsynario for more details and updates.