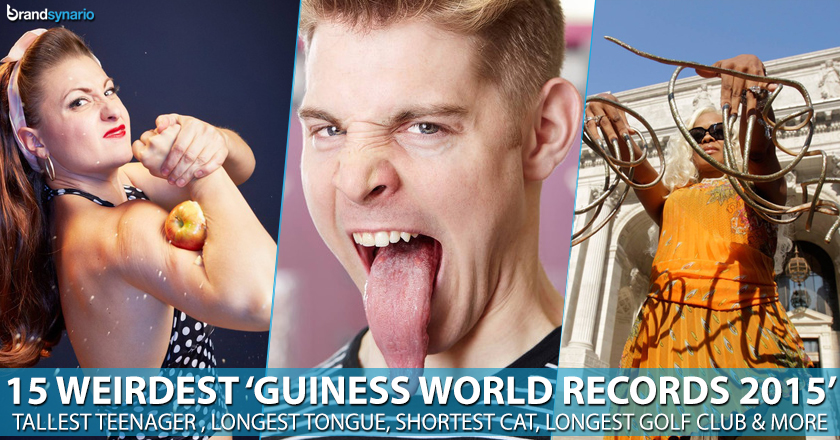 By Zenub Ayaz
Finally the wait is over and the most awaited Guinness World Records 2015 edition is out now. The book was released on Wednesday, September 10th with a numerous amusingly strange and crazy world records.
This edition is full of unique and hilarious records, ranging from the tallest teenager to the shortest cat – it covers everything even the largest Yo Yo and the longest golf club.
The edition includes some fresh faces, whereas some veteran champions are also there. See them all in their quirky, world-dominating glory in the gallery below.
1. Largest Disco Ball – Bestival
This enormous disco ball measures 10.33 meters (about 33 feet) in diameter. Engineers dressed as space men pulled together to hang this giant twinkling sphere above the U.K. music festival.
2. Longest Tongue – Nick Stoeberl
Usually an average human tongue measures about 4 inches, but Stoeberl's tongue measures 3.97 inches from the tip to the middle of the closed lip. This artist and comedian is from California and is fittingly nicknamed "The Lick".
3. Longest Jump by a Cat – Alley
This Super cat is from Austin, Texas and can jump up to 6 feet high.
4. First Musical Act to Perform a Concert on Every Continent – Metallica
The metal group has set a record in December 2013. They travelled to Carlini Station in Antarctica to entertain 120 scientists and competition winners. In their hour-long record breaking set, they performed 10 tracks.
5. Largest Yo-Yo – Beth Johnson
This gigantic toy measures 11 feet, 9 inches and weighs a whopping 4,620 pounds. Surprisingly, this giant construction took only a year and a half to build, and is fully functional.
6. Most Apples Crushed With the Biceps in One Minute – Linsey Lindberg
Lindberg a.k.a Mama Lou has made the most craziest world record and she can thank her mighty muscular arms for that. According to Guinness, she squashed eight apples in Los Angeles, California on June 26, 2013.
7. Shortest Cat – Lilleput
This nine-year-old munchkin cat is the tiniest little creature. She measures only 5.25 inches from the floor to the shoulders. She's owned by Christel Young and lives in Napa, California.
8. Largest Collection of Comic Books – Bob Bretall
A life-long collector, Bretell has managed to collect 94,268 comic books since he was 8 years old. His collection almost weighs up to 8.3 tons, which is as much as 118 adult men.
9. Largest Collection of James Bond Memorabilia – Nick Bennett
The UK native brags a collection of 12,463 pieces of James Bond Memorabilia at last count. He keeps his collection in asecret place, away from the peeping eyes of friends.
10. Longest Golf Club – Karsten Maas
This Denmark native has created the world's longest usable golf club, measuring 14 feet, 5 inches in length. According to Guinness, he's uses his gigantic club to send a ball flying 542 feet, 10.62 inches.
 
11. Smallest Caravan – Yannick Read's QTvan
This thoughtfully named little caravan packs a full size bed, lighting, a TV, a sink and a kettle into a vehicle that measures only 7 feet, 10 inches in length, 5 feet, .24 inches in height and 2 feet, 7.9 inches in width.
12. Largest Electric Guitar – Scott Rippetoe
This huge instrument is playable. It measures 43 feet, 7.5 inches in height, 16 feet, 5.5 inches in width and weighs 2,000 pounds. Students from Conroe Independent School District Academy of Science and Technology in Texas sculpted the guitar after a 1967 Gibson Flying V. It cost only $3,000 to build.
13. Fastest Dog on Two Paws
This little Pomeranian holds two records; fastest time to cover 10 meters on his hind legs and fastest time to cover five meters on his front legs.
14. Tallest Teenager – Broc Brown
This Michigan high school student has a height of precise 7 feet, 1.5 inches. Though Brown is too big to play basketball, Nike has supplied him with size 24 athletic sneakers, which according to Guinness, is larger than those worn by Shaquille O'Neal.
15. Longest Fingernails – The Dutchess
The Dutchess  a.k.a. Christine Walton from Las Vegas, Nevada, has held the top spot since 2011. Last measured, her nails were 23 feet, 11 inches long.