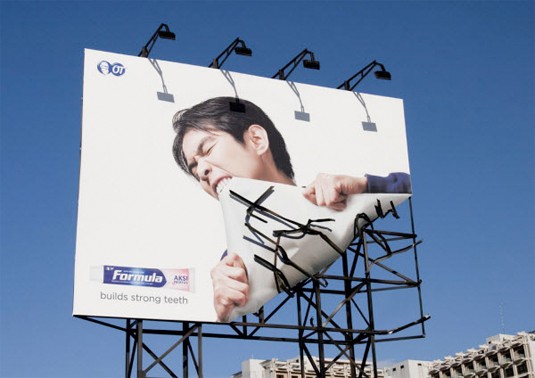 The idea of outdoor advertising is to cut through the commuters' train of thought and capture their attention, even though momentarily, to serve the purpose of the in-your-face practice of advertising.
It is all about the creative thought process behind the execution that we encounter as viewers/audience. Also, not every brand is willing to take the risk – hoisting a blatant message in a sea of other cluttering advertisements.
Related: Samsung's Big Trucks to Become Transparent for Road Safety
Following are the few shortlisted specimens of creative outdoors, yay or nay?
Oldtimer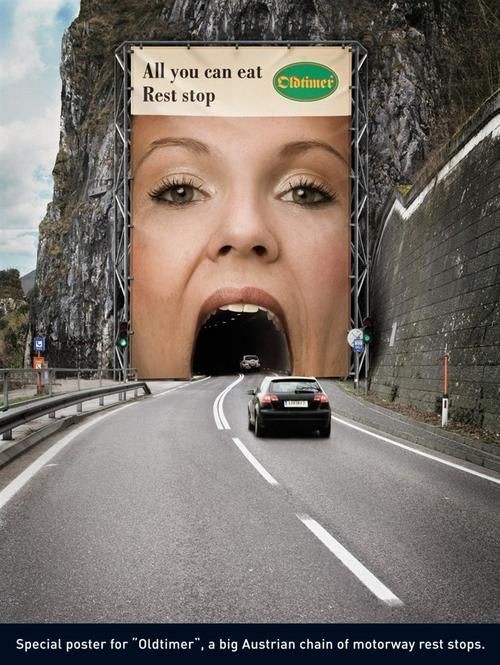 This Oldtimer ad which is basically a motorway rest stops' chain in Austria is upfront and offers the travelers a chance to eat all that they have been wishing for. Guess the creative team at Demner, Merlicek & Bergmann successfully portrayed gluttony through the never-ending tunnel.
Formula Toothpaste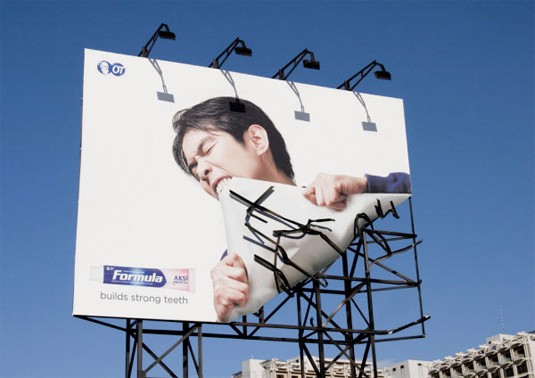 This outdoor advertising created & executed by Ogilvy & Mather in Jakarta, Indonesia brilliantly demonstrates, yet exaggeratedly, the strength of his choppers – not everyone can bite off metallic elements without Formula toothpaste.
Nationwide Insurance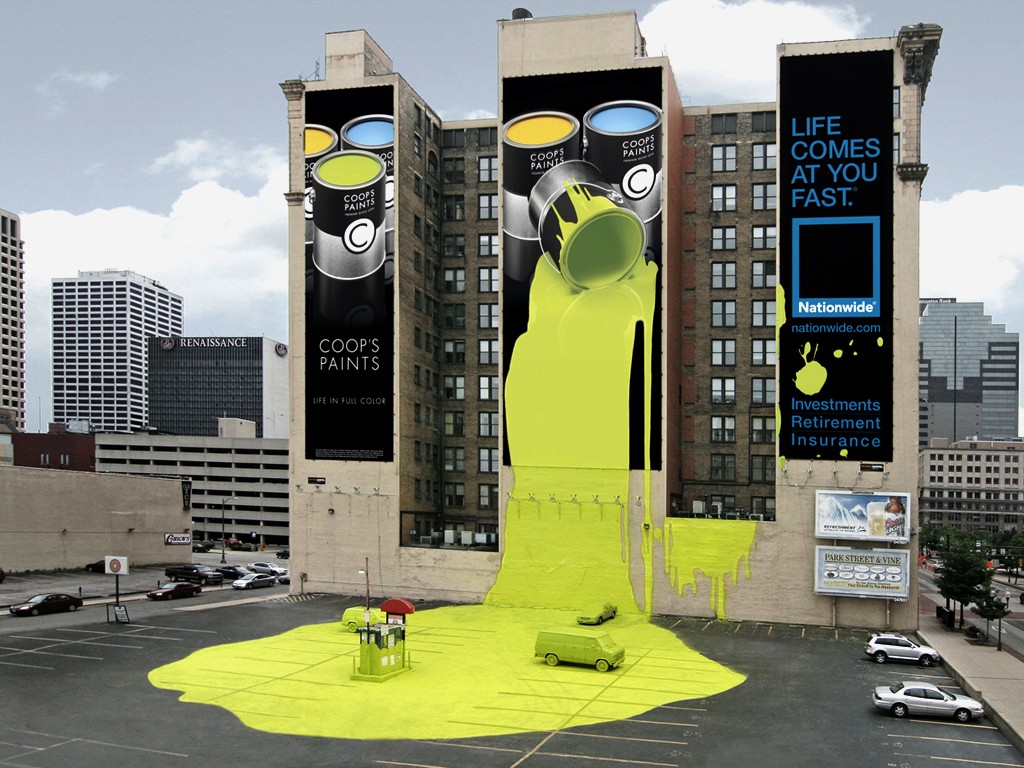 The Nationwide Insurance outdoor ad visualized and executed by TM Advertising took up space around the building but definitely in the minds of the viewers as well – their slogan 'Life comes at you fast' is quite vividly painting the picture with overflowing paint covering the cars and stopping traffic.
Tylenol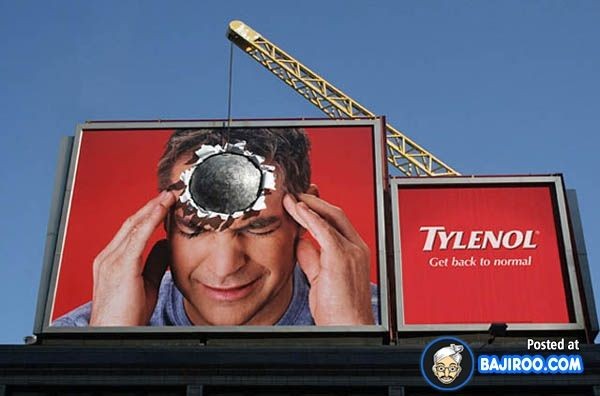 Tylenol's outdoor advert in Canada may seem nonsensical at first glimpse and the message takes a few seconds to sink in – the brand is brilliantly demonstrating, with the help of a wrecking ball, that Tylenol helps cure even the extremely incurable headaches. This is the creative genius of J. Walter Thompson, Toronto.
Panasonic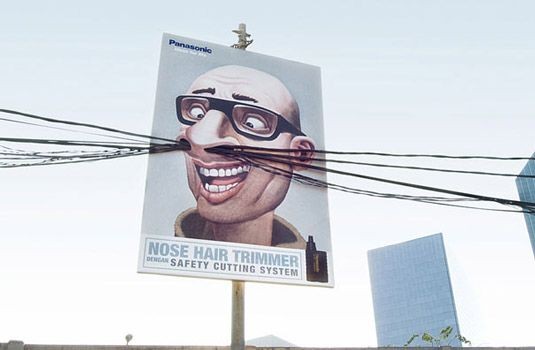 This one from Saatchi & Saatchi Indonesia, yet almost hilarious in nature, perfectly defines the need and usability of Panasonic's nose hair trimmer with strategically positioning the billboard and cleverly incorporating a bunch of wires and a pole.
The Economist
The Economist, takes a subtle and minimalistic approach for its outdoor advert, thanks to the creative team at AMV BBDO London – the light bulb had been placed in such a manner that it would light up every time someone walked under it.
Sugar Free
This Advert for Sugar-Free depicts itself as a 'light' and 'non-caloric' alternative to sugar perfectly with what appear to string tying down the banner supported by balloons! Well done, the creative minds behind this at Rediffusion Y&R, India.
DHL Express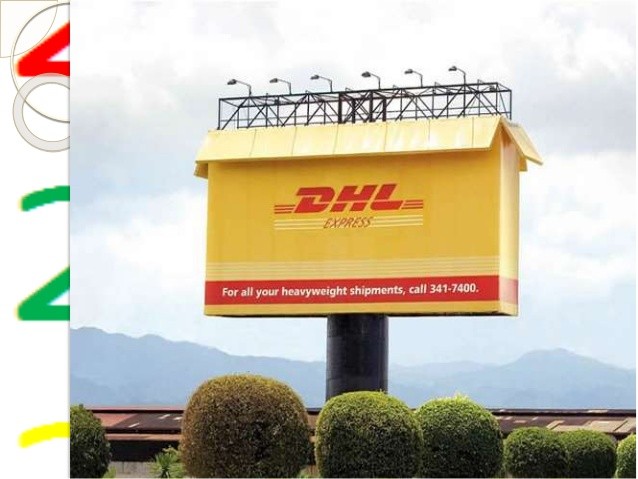 DHL Express does it again – this particular outdoor advert leverages their heavyweight shipment option for customers impeccably! Eye-catching and no-nonsense message which is easily comprehendible! The credit goes to the team at Ogilvy & Mather, Philippines.
Marker's Mark Whiskey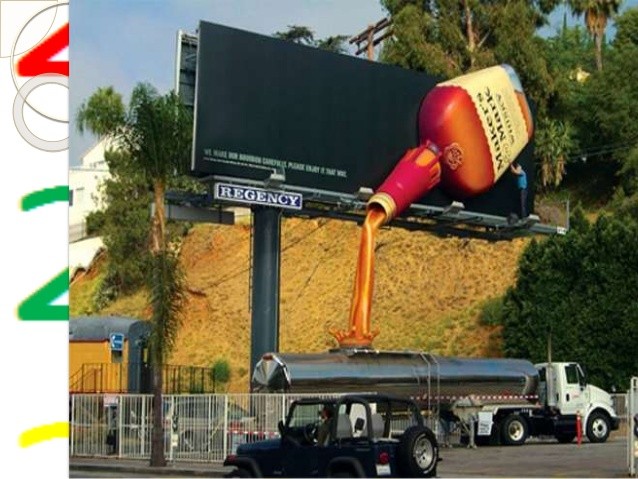 Marker's Mark Whiskey has been operating in the United States for more than 30 years. This outdoor ad depicts a daring approach that is a far cry from its previous ad campaigns! The company behind this attention-grabbing ad campaign goes to Doe-Anderson Inc.
Heineken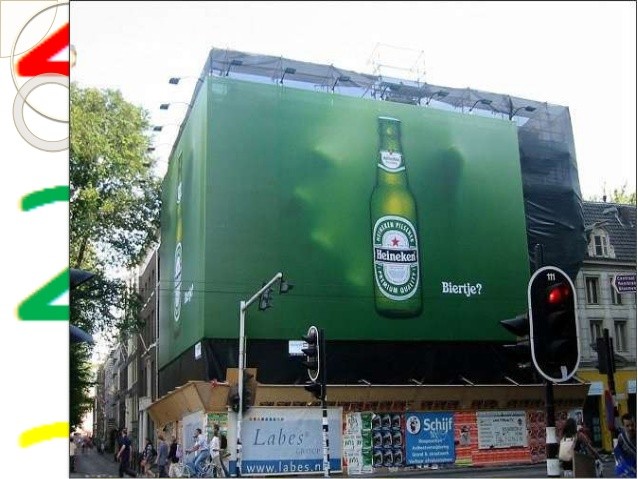 The creative agency behind the Heineken Birtje 3D outdoor campaign is TBWA\Neboko, Amsterdam. This advert needs no explanation as it is a blunt reminder of the brand itself where the 3D hand clutching and offering Biertje (Beer) is depicted.
Pond's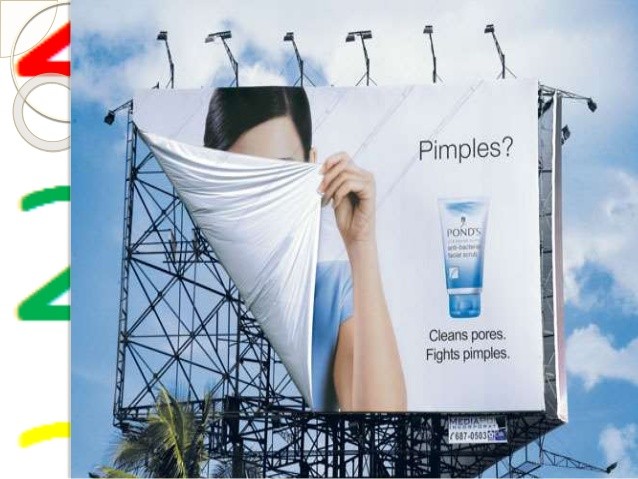 Pond's – Cleans Pores, Fights Pimples – the famous 'curtain' billboard for Pond's Antibacterial Facial Scrub was envisioned and executed by Ogilvy & Mather. Portraying that you do not have to shy away and hide your face any longer! A very well placed and easily comprehendible message! Perfect execution!
Related: 158 Million Spent on Fashion Industry Outdoor Ads in February 2015
Colorado State Patrol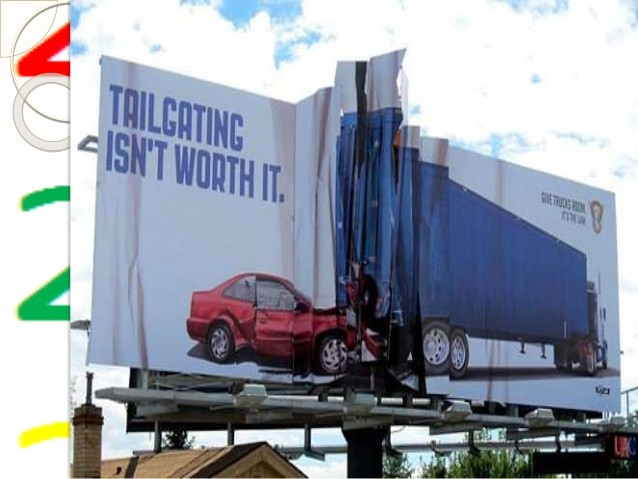 Tailgating isn't worth it campaign entails very vivid and shocking consequence. The creative folks at Amélie Company, Denver, Colorado envisioned the concept and execution of this public service message for the Colorado State Patrol.
Miele Vacuum Cleaners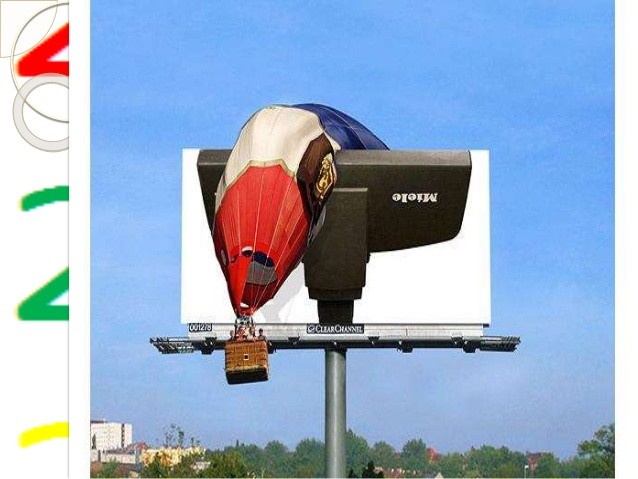 Miele Vacuum cleaners outdoor advert (never saw execution) impeccably portrays the strength and perfect functionality of the vacuum cleaner which completely pulled down a hot air balloon! The students at the Miami Ad School, Hamburg are to thank for visualizing this over-the-top outdoor on Photoshop
Kaiser Permanente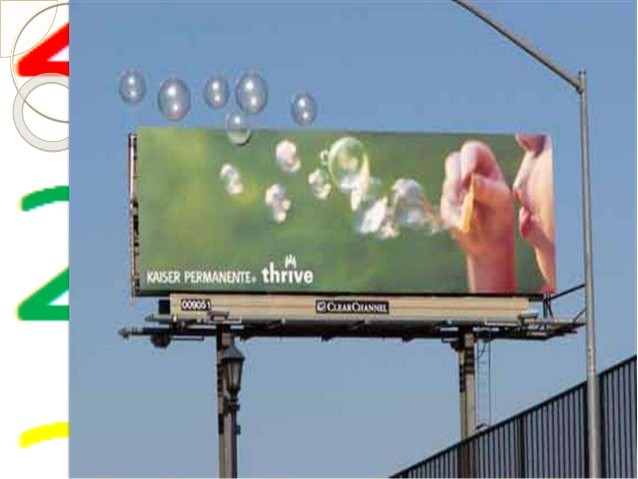 Kaiser Permanente – Thrive outdoor campaign was handled by Campbell-Ewald, Los Angeles, USA. It's a very clean and simple advert for an insurance company who wants to depict the happy and precious aspects of one's life – that in this case are children and their future.
Lacrimare Vodka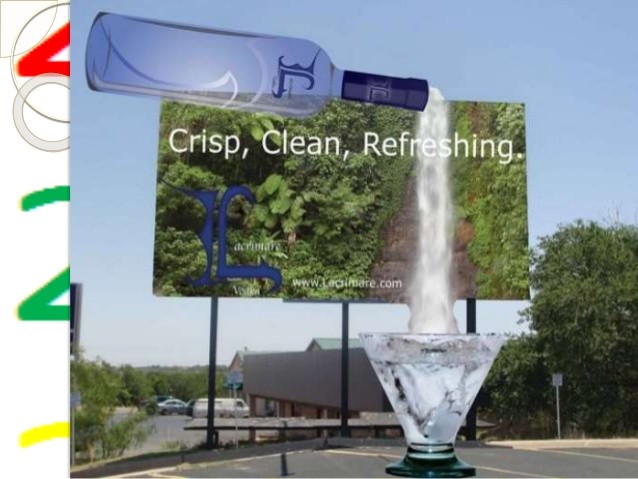 Crisp, clean, refreshing Lacrimare vodka is a famous outdoor ad imagined and created on Photoshop by an artist on Deviant Art who goes by the name – blufyrdragon4. He has taken a bold stance and designed something exciting.
Related: The Best Outdoor Campaigns of 2014-15 You Simply Can't Miss
Take a look at the gallery for all the outdoor ads over here: