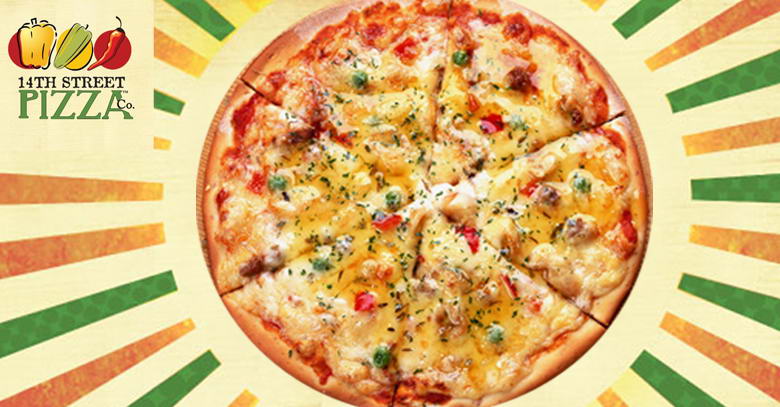 By Areej Aka
It took no small amount of courage for 14th Street Pizza Co. to introduce the 20-inch hand tossed pizza in Pakistan for the very first time.
A country where previously the only pizza offering was a simple deep pan pie had now the privilege to experience the large floppy thin crust slice, smothered in cheese and sauces, and with ridiculously large toppings.
This was a whole new level of food that's fast, portable, requires no ceremony (or table manners) and as adaptable to the Pakistani taste buds as preferred.
Starting from a mere neighborhood pizza delivery place in Karachi on 14th February 2011 , 14th Street Pizza Co. has expanded to 5 main areas of Pakistan
A purely national brand, it is the brainchild of Tanveer Yusuf, CEO at 14th Street Pizza and the owner of Subway Shahbaz, having over 10 years of experience in his domain. Possessing an acute understanding of the market, matched with his ability to come up with innovative solutions, Tanveer believed in bringing convenience in home delivery with the biggest most delicious pizza in town.
Hence, the brand innovated an online ordering system, allowing their fan base to see the pizza come to life on their phones and computer screens. Although various other brands are now available providing a similar product offering, 14th Street Pizza Co. prevails as a victor due to its first mover advantage. This is not just because the company's pizza tastes better, but marketing has a great role to play in this as well.
The strategy for 14th Street Pizza Co. has always been to establish itself as a modern, up-to-date company that stays on top of the virtual buzz and trends in Karachi, and in some cases even become a technological innovator, what with the rumors of upcoming smartphone application making ordering pizza even more convenient for customers. Their interactive tabs and apps on Facebook such as the Twin Slices, Delivery Network, the Menu itself, and the amusing song videos add further to the virtual and real-time appeal of the brand as a whole.
The facts that 14th Street Pizza Co. believes that there are no excuses whereas quality of food is concerned and aims to live up to the title of the self-proclaimed food connoisseurs that they have become, are evident as a result of the various unique qualities their pizzas possess.
According to Tanveer, "We give the most important benefits to our fans; the choice of being able to customize. Our homemade pizza sauces, which come in mild, hot and extra hot, are sure to tantalize those bored taste buds and the freshest of toppings and the finest of cheeses are sure to make one's pizza experience vastly penultimate."
The interesting thing about pizza is its universality. However, it can be significantly localized and customized to a great extent and that plays well with all regional, cultural and demographic groups. Class is no barrier either because of the availability of various brands of pizza that are available in the local market.
An enthusiastic employee declares, "The team at 14th Street Pizza Co. understands these nuances of the expanding food delivery business and prides in providing the incomparable and unquestionable service that its customers deserve." Suffice to say, by providing real time feedback to all customers and ensuring that it is a virtually omnipresent pizza brand on social media, 14th Street Pizza Co. strives constantly to remain at the top.
14th Street Pizza Co. has been a pioneer in riding the wave of social media in Pakistan since the inception of the company.
Its long term goals revolve around the extensive social media strategy that has to be in effect at all times and for times to come. The CEO adds,"The daily competitions, the engaging interactions and the high stakes giveaways are all proofs of the ways in which we seek to delight our customers and ensure that we stay the top of the mind brand when one thinks of ordering pizza."
It is safe to say that after their successful one million integrated campaign a couple of months back 14th Street Pizza is all set to give tough competition to Pizza Hut and other global pizza chains. Their mouthwatering and scrumptious pizzas along with their extensive presence on various social media, and the constant interactive dialogue with their customers and growing number of fans have led to 14th Street Pizza Co. becoming one of the most recognized national brands that caters to all #hunger emergencies indeed.