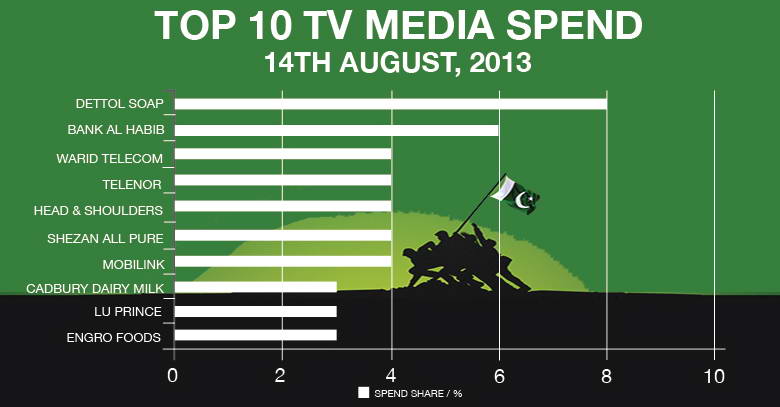 By Hassan Wasti
14th august 2013 was a day when brands got the opportunity to express their patriotism by showcasing how their products best defined the emotions for independence.
This year, the list for the top 10 brands who invested heavily on advertising on independence day included Dettol, Bank Al Habib, Warid Telecom, Telenor, Head and shoulder, Shezan, Mobilink, Cadbury, LU Biscuits, and Engro Foods.
1. Dettol
This year Dettol managed to win the top place, for high advertising expenditure on Independence Day, with 8% of market share and around 20 million spent on advertising.
Dettol seemed to be on the right track as their campaign had it all from a patriotic song by Jawad Ahmad to the Boom Boom superstar Shahid Afridi who had a message for all the children on this Independence Day.
Dettol and Shahid Afridi teamed up for a healthier and a prosperous Pakistan with the tagline "Jab sehat mand hoga Pakistan tabhi tou Bharay ga Pakistan" (A healthy Pakistan will be a Successful Pakistan). Afridi may not be hitting those big ones on the field recently but he definitely hit this one out of the park for Dettol.
2. Bank Al Habib
Bank Al Habib took this opportunity to pay tribute to Mohammad Ali Jinnah and promoted savings among the younger age group. Following along the lines of Dettol it too composed an original track with a message of love and affection towards the country.
The lyrics were packed with patriotism with the tagline being "Iss mulk ko rakhna mere bacho sambhal k" (Keep Pakistan safe, my children). The concept put Habib right behind Dettol, with an impressive 6% market share and spending accumulating to 14 million.
3. Warid
Warid has always made it a point to take marketing to a whole new level and connect with its audience on a personal scale, and one face that can help accomplish this is none other than Shaan.
Warid hit a jackpot by bringing in Shaan as their brand ambassador and he along with Warid spread the message for Unity, Faith and Discipline, helping them to bag the third spot.
Warid made it look easy with a total of 11 million in marketing campaigns and a market share of 4%.
4. Telenor
With Warid spending big on the National holiday, Telenor wasn't far behind as it too came out with campaigns offering exciting call and internet packages for its users.
Telenor made full use of the occasion by offering outrageous discounts on its services. The campaign cost them just around 11 million and they retained a market share of 4%.
5. Head & Shoulders
Shahid Afridi seems to be the go-to-guy for brands these days and after Dettol it was Head and Shoulders who made use of Afridi's popularity and fan base.
By boasting about Head and Shoulders being number one just like himself, Afridi put the brand on the fourth position for this year's heavy spenders. An approximate of 10.5 million and a market share of 4% showed a strong position of the brand on the National Holiday.
6. SHEZAN
Shezan went the conventional way and made it all about their product. Promoting purity and freshness of its juice seemed to do the trick for Shezan. This promotion cost an astounding figure of approximately 10 million and a market share of 4%.
7. Mobilink
Mobilink celebrated independence by showing everything that defines Pakistan, from its inception down to our love for it.
The TVC that was viewed across the country showed the talent, diversity and tradition of Pakistan. Looks like Mobilink knew the right blend and thus brilliantly executed the idea. Mobilink topped it off with its official trademark "Har azadi par crorun Pakistanio ka dil dharkta hai hamary sath"(On Every Independence day billions of Pakistani share our passion for freedom).
The commercial was part of their Har Dil, Har Din campaign which seems to be working out for them. Mobilink sucessfully made it to the 7th place on the charts by spending approximately 9 million on advertising and an impressive 4% market share.
8. Cadbury
Celebrations and Cadbury go hand-in-hand and this Independence Day was no different. Cadbury Dairy milk changed its Purple velvet color to green and white; a more national theme that showed the spirit of the special day.
The market share of 3% and expenditure of 8 million landed Cadbury a spot among the top ten spenders.
9. LU Biscuits
LU's Prince Biscuits were also on the front foot and in full freedom spirit as they came out with approximately 7.5 million in spending and a 3% market share. This secured them the 9th position on the list.
10. Engro Foods
Engro Foods has become a trusted name across the nation and it is for this reason that, on Independence Day, Engro foods tried to showcase how their diverse product portfolio impacts the life of everyone in Pakistan.
They communicated clearly that Engro Foods is the only company which is solely a Pakistani enterprise providing employment opportunity to thousands of people across Pakistan.
From the North most peaks to a village in Sindh the Campaign "Khud Pakistan" celebrated the spirit of Freedom with every Pakistani.
Engro was last on the list, since it used the 'Khud Pakistan' tagline last year as well so they only needed a TVC to refresh it in the minds of consumer. With the expenditure rounding off to seven million Engro foods showed a strong position and listed as the 10th brand to spend heavily on this year Independence Day.
After experiencing such voluminous expenditure I think one can see how brands go out of their way to celebrate Independence Day by putting in their best efforts.
Source: Media Track