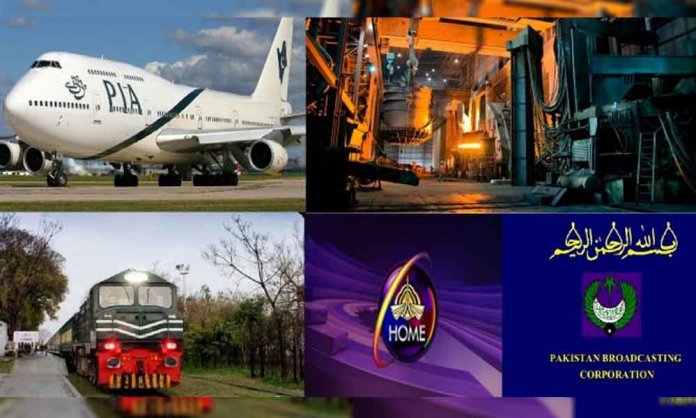 The Government of Pakistan has officially rolled out a Press Release, announcing the removal of 14 state-owned companies (SOEs) from the list of companies to be privatized.
The PR includes top names like Pakistan International Airlines (PIA), Pakistan Railways, Pakistan Steel Mill and others.
Other SOEs which have been removed from the privatization list are as follows:
Civil Aviation Authority
Industrial Development Bank
National Bank of Pakistan
National Highway Authority
National Logistic Company
Pakistan State Oil Company
Printing Corporation of Pakistan
Sui Northern Gas Pipeline
Sui Southern Gas Pipeline
Trading Corporation of Pakistan
Utility Stores
Senator Mir Muhammad Yousuf Badini was present during the meeting as it was conducted under his chairmanship. Furthermore, it was informed to the committee that the state wishes to privatize eight other SOEs on a priority basis.
They are as follows:
First Women Bank
Haveli Bahadur Power Plant
Jinnah Convention Center Islamabad
Lakhra Coal Mines
Parri Petroleum
Services International Hotel Lahore
SME Bank
The committee was further informed that the government is looking forward to privatizing these SOEs to get reasonable rates after putting them in profit.
On the occasion, Minister for Privatization, Mian Muhammad Soomro stated that a threat circulated around the building of circular debts on these SOEs so that the privatization could take place based on the priority set upon them.
In regards to the privatization of the First Women Bank, Senator Farooq H Naik added that this step should not be taken as the financial institution is a symbol of women support given from the state.
The process of privatization of K-Electric was also discussed during the meeting. It was attended by Senator Farooq H Naik, Rubin Khalid, Abida Muhammad Azeem, Secretary Privatization Commission Rizwan Malik and other officials.
PTI Government To Introduce Uniform Education System in Pakistan
Stay tuned to Brandsynario for more news and updates!