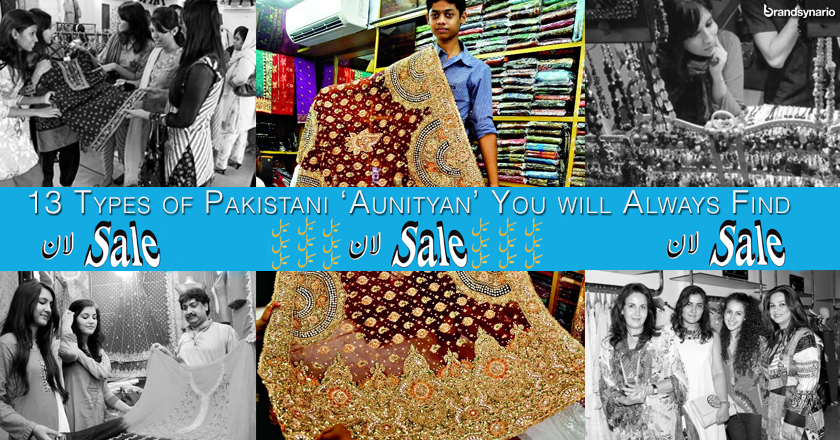 Heat, excitement, rush, sweaty palms, positions taken and eyes on the prize; it's surely not a tournament, but a deadly challenge.
A race where ladies go utterly nuts for designer suits and printed patterns; yes, we are talking about the Lawn craze and their much-awaited sale season.
That's how they react when they see a SALE sign
Every year, our desi aunties get under the lawn spell and lose themselves in their so called addiction, so much so that even their husbands and kids will refuse to recognize them while they catfight their way over a piece of sale items!
Check out these 13 hilarious types of aunties that you will definitely find at the next lawn sale in towns.
1. The Early Birds
These ladies are so used to of waking up early to send their children to school that they won't mind waking up at 6 a.m. in the morning only to ensure that no one could beat them to the stores first, not even the salesmen. The worst part of all – they get the best of all dresses!
2. The Woman on a Murder Spree
So this type is either too desperate or simply belongs to Hitler's Dynasty. She will kill throw daggers at you only with her eyes and will show you no mercy at all if you even laid a finger on her suit.
3. The Frustrated Moms
These are the lawn hungry moms who apparently go deaf and refuse to acknowledge their own piece of flesh while scrounging catalogs and hunting for the particular print worn by Ayyan.
4. If I Can't Buy it, I'll Steal it Type
Believe it or not, some lawn hungry ladies have even been reported shoplifting stoles, dupattas or even buttons off dresses on the mannequins.
5. The Desi Cinderella Who Doesn't Get Anything in the end
While some fight, this type end up whining and complaining about everything – from the quality of the fabric, discounted prices to the rush at the sale shop – well ladies, it isn't Tiffany's – it's Pakistan and it's sale!
6. I Want More Type
There is always a bunch of misers who are not even pleased with a "70%" off the sign. Apparently, they want the whole store for free and will loudly complain about the sale being a waste of time.
7. The Show-Offs
While shopping, you will always overhear some women bragging to their friends in loud voices " I need to wear a new dress everyday" or "I have countless parties to attend this summer" or " I better break my record of buying ten suits from sale last year". One question – Why are you even here then?
8. Buys More than She can Pay Type
These annoying ladies irritate everyone by asking for every single piece on a store, getting all the fabrics cut and ready, only to refuse at the last moment because she is out of cash.
9. The Rishta Hunter Aunty
After weddings, lawn sales have become the most popular sports for "rishta hunting". Well girls, better not get so dressed up next time you go visit a lawn sale or you will end up narrating your daily schedule to some rishta aunty.
10. Hold My Bag Darling Type
Aye, we feel really sorry for those miserable husbands who have to sadly witness their better halves turning into scrounging foxes swearing and fighting over a small piece of shirt.
11. Better Late than Never Type
While some aim to arrive at the stores at the crack of dawn, other ladies turn up at the last moment and have been reported banging fists on the closed doors, even trying to break down the gate.
12. Who won't hear "Sold out" Type
Some ladies don't give up if the designs are out of stock. They scare the living daylights out of salesmen and even climb behind the counters just to get their hands on the last piece.
13. The Addicted Ones
Some ladies literally shop till they drop. They end up fainting due to heat and standing in long lines. But who cares. They wanted the dress Kareena was wearing right?
Can you think of more types? Share with us in the comments below.