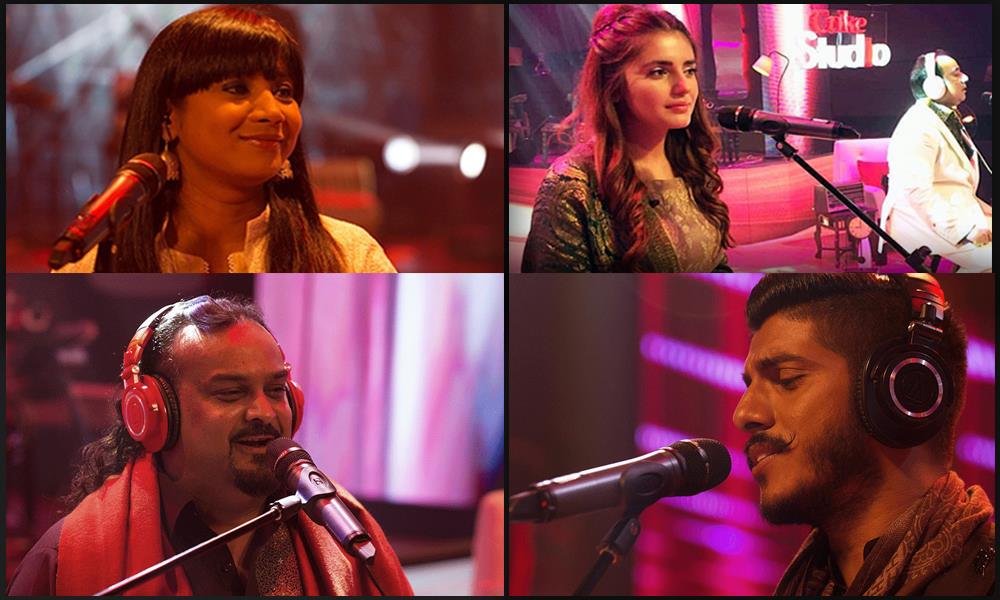 8,740 views
Coke Studio Season 9 officially came to an end this weekend with the veteran, Amjad Sabri's very last performance and left us all teary eyed! Long before this season was even aired, critics and audiences alike were divided over the new management that this season was going to be under.
Produced by Faisal Kapadia and Bilal Maqsood of Strings, one of the highly successful bands from Pakistan, this season featured an array of new artists along with some of the best names from the Pakistani music industry.
What was even more exciting and had everyone eagerly awaiting was of course, the late Amjad Sabri's posthumous performance that was aired on Friday in the season finale.
But was this the best season or the worst season as everyone claims it to be? No one can be sure- giving us some of the best songs like Afreen Afreen, Paar Chana De & and Aaj Rang Hai, there were some arrangements and collaborations that just DID NOT click!
But there is one thing that everyone can agree on, this season has given the Pakistani music industry some new names to obsess over (our very own Momina Mustehsan) and possibly a record deal or two for some emerging new faces, and we literally mean faces and not voices.
For the first time in Coke Studio's history, six producers along with the executive producers were introduced, which got everyone thinking that this might be the season that Coke Studio finally up its game.
With names like Noori, Shani Arshad, Jaffer Zaidi, Faakhir Mehmood, Shiraz Uppal and Shuja Haider along with the mighty Strings, nothing could go wrong. But there was one song in every episode that managed to salvage the show.
Here is our list of this season's best songs that reigned over the nation's hearts.
1.Afreen Afreen by Rahat Fateh Ali Khan & Momina Mustehsan
It has been nearly a month since this song graced our television screens. Rahat Fateh Ali Khan is the undisputed champ when it comes to his performances in Coke Studio and of course when he is performing live.
https://www.youtube.com/watch?v=kw4tT7SCmaY
However, little did he know that his particular collaboration with a relatively not-so-popular singer, Momina Mustehsan, will get famous for all the wrong reasons.
The girl with the nightingale voice steal and rule over hearts since the first song she sang in Coke Studio! We just cannot stop gushing over her.
2.Paar Chanaa De by Shilpa Rao & Noori
The song which can easily and should be happily dubbed as the song that saved the 9th season of Coke Studio was a collaboration between none other than the Indian singer, Shilpa Rao and our very own rock sensation, Noori.
Lyrics, composition, arrangement and collaboration, this track is 'The Winner!' Sung in Punjabi, the song is perhaps the best song of this season.
3. Janay Na Tu by Ali Khan
After a hiatus, Ali Khan brought back yet another nostalgic tune after Saathiya, that we will cherish forever. Not loved by many, the more you listen to the track, the more it grows on you. It definitely was worthy of our list.
Listen to the song below:
Music directed by Jaffer Zaidi, the tune is a melodious ballad written by Ali Khan himself.
4. Aaqa by Abida Parveen & Ali Sethi
The Queen of Sufi and one of Pakistan's critically acclaimed singer, Ali Sethi, came together for a soulful and mesmerizing collaboration of the song Aaqa.
Listen to the mystical track below:
5. Aaja Re Moray Saiyaan by Zeb Bangash & Noorie
One-half of the famous Zeb and Haniya, Zeb Bangash along with Pakistan's cherished singing sensations, Ali Noor & Ali Hamza, Aaja Re Moray Saiyaan got all the Coke Studio listeners up on their feet.
The song is a lively and enrgetic tune that leaves a mark on you!
6.  Main Raasta by Momina Mustehsan & Junaid Khan
The Call front man made his debut in season 9 of Coke Studio and who better than to pair up with, than the nations' 'sudden favorite', Momina Mustehsan for Main Raasta.
7. Uddi Jaa by Mohsin Abbas Haider
The first song of Coke Studio Season 9 episode 4, the sufi track Uddi Jaa had us all hooked! The intense lyrics for Uddi Ja are penned by Mohsin Abbas Haider himself.
The tune sets into the euphoric atmosphere of the music just perfectly. Originally composed by Mohsin, the Qawwali part reflects layers of emotions, that captures the listener, taking them into a musical trance.
Coke Studio 9 Episode 5: Rachel Viccaji Steals the Spotlight!
8. Man Kunto Maula by Javed Bashir & Ali Azmat
Channeling his inner rockstar, Ali Azmat decided to rock the stage with Javed Bashir for Man Kunto Maula. Critics have yet to decide on the fate of this song, however, we think it is worthy of our list!
Listen to the track below:
9. Dilruba Na Raazi by Zeb Bangash & Faakhir Mehmood
The haunting vocals of Zeb Bangash along with Faakhir gave Coke Studio another hit with Dilruba Na Raazi.
10.  Sab Jag Soye by Quratulain Balouch & Shuja Haider
Known for her powerful vocals, QB who rose to fame with the Humsafar Title track, blew away the audiences with her performance of Sab Jag Soye with none other than the very talented Shuja Haider. The track was a stand out tune of Coke Studio Season 9 Finale.
11. O Re by Noori
Coke Studio 9 has given us plenty of ups and downs this season. With the season finale taking place this Friday, an oddly satisfying number of songs were performed by the powerhouses of Pakistani music and Noori once again mesmerized the nation with the track O Re!
12. Tu Kuja Man Kuja by Shiraz Uppal & Rafaqat Ali Khan
Originally composed by the legendary Nusrat Fateh Ali Khan, the cover version of Tu Kuja Man Kuja performed by Rafaqat Ali Khan & Shiraz Uppal,  took the rendition of this classic to a whole new level.
13. Aaj Rang Hai by Rahat Fateh Ali Khan & Amjad Sabri
One of the most powerful qawwal duo that Pakistan has ever produced, the late Amjad Sabri came together with none other Rahat Fateh Ali Khan for Aaj Rang Hai, becoming his first and last Coke Studio performance!In our opinion, the track served as the perfect season finale for Coke Studio Season 9.
It couldn't have ended in a better way!
The epic qawwali was echoed in a shrine, 40 years ago, performed by the legendary Nusrat Fateh Ali Khan and the qawwali maestro Ghulam Farid Sabri. The song soared high in all its glory and the contemporary veteran did justice to the rendition! 'The Sabri and the Khan' clan reunited for the first time since then and took the songs to even greater heights.
7 Reasons Why Coke Studio Pakistan is Better than Coke Studio India
Which one of these songs is your favorite Coke Studio 9 tracks? Comment away and let us know!
Stay tuned to Brandsynario for more updates.