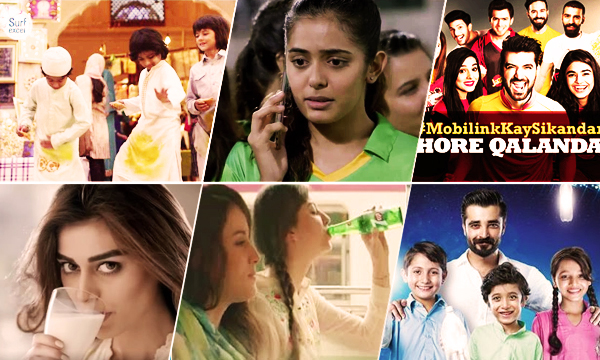 With such a highly competitive, ever-changing market, brands are always looking forward to releasing the next big idea which could ultimately make or break their product.
Gaining such massive popularity, this has now become a trend that every Independence Day, Ramadan, Eid, New Year's, Christmas or just about any holiday becomes the ultimate "who has the best ad of the particular holiday" competition.
Of course, this gives consumers and ad majors something to talk about for a few days but what about the commercials that become the advertisement that sets the benchmark for the brand? There are some specific as that really did make waves this year, be it the theme, song, concept or idea, something clicked and stayed with us the whole year round. 
#YouTubeRewind 2016 Trends: Momina Mustehsan, Taher Shah & Abida Parveen Make it to the List
2016 has had its fair share of ups and downs. With the year finally coming to an end, we take a look back at some of the best advertisements that the Pakistani ad industry came up with.
1. SURF EXCEL RAMADAN AD 2016
A powerful storyline is enough to captivate an audience. Most brands go for the average when it comes to Ramadan ads with the tried and tested formula.
Even though Surf Excel has stuck to the kid's mantra for quite some time, the Ramadan ad deserves the top spot with one of the most beautiful ads for the year.
2. NURPUR RAMADAN AD 2016
Nurpur made perhaps one of the biggest comebacks with this amazing ad featuring none other than close up shots of a variety of food and their products.
For food lovers out there, this was the perfect ad.
https://www.youtube.com/watch?v=SVPqetlrDEI
10 Pakistani Ads Featuring the Latest Social Media Sensation Arshad Khan #Chaiwala
3. 7UP GREENLIGHT COMMERCIAL 2016
When it comes to desi food ads and drinks, 7UP is the ultimate champion of those. Sticking to their ever popular tagline of Manalo Food Ka Love, the new ad featured a revamped version of the popular jingle with a host of desi food for our eyes to feast on.
4. PEPSI RAMADAN LIGHTING UP LIVES AD 2016
Pepsi made the headlines when they came up with Lighting Up Lives campaign. With a beautiful soundtrack featuring the voice of Abida Parveen, Pepsi set new benchmarks among the Ramadan ad campaigns.
 5. TELENOR SACHA SAATH AD
Telenor released a series of ads that became an instant hit in 2016. However one of their commercials did manage to stand out.
Featuring their newest offering HD calling, Telenor made waves with this particular ad of theirs.
https://www.youtube.com/watch?v=W4hf_GG77Hk
6. NESTLE FRUITA VITAL SIP POSITIVE AD 2016
Sending the message of no matter how dark it gets, in nature, you will always find the light! Nestle Fruita Vitals manage to give one of the most positive messages in a thirty-second television ad.
7. QMOBILE RAMADAN NEW AGE NEW CONVERSATION AD 2016
2016 can be dubbed as the year when the #BreakingStereotypes literally took on a whole new meaning and put about so many stories that it has got one thinking that this year is defiantly 'The Year'!
QMobile's commercial highlights the father-daughter relationship and the Breaking Stereotype in this commercial.
 8. SPRITE KHOON MAI HAI CRICKET AD
Featuring one of the most popular sports in Pakistan, Sprite's cricket ad features the sport which unites the nation like no other.
http://www.brandsynario.com/12-ridiculous-pakistani-ads-that-cross-all-limits-of-idiocy/
9. MOBILINK LAHORE QALANDER AD
The Pakistan Super League got everyone hyped up with its inaugural edition this year.
With five teams and each one trying to top the other, the Lahore Qalander ad celebrated the perfect Lahori spirit.
10. HBL PAKISTAN SUPER LEAGUE AD
The official song of the Pakistan Super League sung by none other Ali Zafar, featured a host of Pakistani cricketers and got everyone geared up for the mega cricket event.
11. SOOPER BISCUIT INDEPENDENCE DAY AD 2016
Sooper is known to optimize on Pakistan's picturesque landscape!  This time around the entire country was featured again in one of the best Independence Day ads that is definitely worth watching!
12. TELENOR RAWAAN AD 2016
Telenor makes our list once again with an ad that takes us across Pakistan with a mesmerizing song, bound to give Coke Studio and Nescafe Basement some tough competition.
The song stays with you for a long time- combining cultural diversity, this one puts across a beautiful message.
https://www.youtube.com/watch?v=CNNK8JYf4cE
Which one of these ads is your favorite? Let us know in the comments below and stay tuned to Brandsynario for more updates.