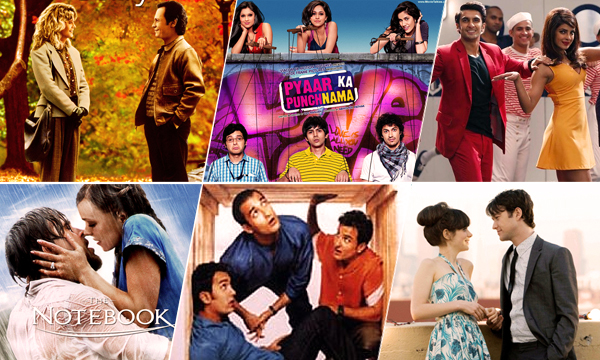 There is no time better than V-Day to cuddle up with your partner and spend time together watching a good flick. If you could not make a reservation at your favorite restaurant, worry not! There are still a plenty of ways to enjoy your date night with your valentine and watching a good rom-com is definitely a sure-fire way to bring fun with romance.
On the other hand, the idea of watching movie works also for those who are dateless. So no matter what category you are in, go through our exciting lists of rom-coms and decide which one to watch this Valentine's Day.
1. The Notebook
Notebook is undoubtedly one of the iconic romantic movies of all time. This is a love story in which the lovey-dovey moments will bring a sweet smile on your face at one moment and will make your eyes full of tears on the other. The irresistible and captivating chemistry between Ryan Gosling and Rachel McAdams will make you fall in love with them. Moreover, their  flawless acting will make you question whether you are watching a movie or experiencing something in real.
2. 50 first dates
50 first dates is a perfect blend of chuckles with sentiments and this makes it a perfect choice to watch it on Valentine's Day. An unusual love story that revolves around short-term memory loss that is narrated in a very light and fun way yet it also has some sentimental and emotional moments that a love story should have.  Also, the romantic and exotic location of Hawaii adds more romantic vibes in it.
3. 500 days of Summer
This romantic comedy flick is all about ups and downs of a love affair. The movie takes you on a roller coaster ride of experiencing the delight and joy of falling in love and then suffer from the pain and emptiness when a relationship ends. It does not feel like a movie; rather, it feels like a journey, where you experience all sorts of emotions.
4. Crazy, Stupid Love
If you are dateless this V-Day, choose Ryan Gosling to be your date and watch him in a flirtatious role on your screen. This light romantic comedy movie with its stellar cast will entertain you to the most. The story is about a forty-something man (Steve Carell) who goes through different sort of emotions and feelings when his wife asks for divorce. Twist in the movie comes when Ryan Gosling enters this helpless man and teaches him some tricks to pick up girls and bring charm in his personality.
[dailymotion id="xhzzjm"]
5. Love, Actually
Love, Actually is not a story of one or two or three but of eight couples and their eight different love stories. It is indeed one of the best comedy romantic movies ever. The touching comedy and story of the movie is so influencing that you can't stop laughing, crying and falling in love with the characters of this movie while watching it.
[dailymotion id="xn65bh"]
6. Silver Linings Playbook
This is a movie with an amazing cast and an amazing story. Both Bradley Cooper as Pat and Jenifer Lawrence as Tiffany are going through the tough path of their loves and decide to help each other to recover and move on normally with their lives.
[dailymotion id="xws73d"]
7. When Harry Met Sally
This is one classical movie in the genre of romantic comedy. While addressing the old traditional question of whether a man and a woman can be friends or not. The movie takes us on a journey of how two friends actually live closely to discover this world's old age question. Watch the movie to find out what answer they find.
[dailymotion id="x1vc6bs"]
8. Pyaar Ka Panchnama
This interesting movie having young and new stars in it will make you forget all your worries and give you many laughter moments. The movie shows a realistic side of love and all the issues that exist in a couple's life that too in a fun and light way. The story is about three young bachelors who are smitten by their girlfriends.
[dailymotion id="xiupfs"]
9. Dil Chahta Hai
This is one timeless and classical movie that Bollywood has produced especially for youngsters. Based on the bond of friendship, the movie reflects a sarcastic take on youngsters' life and what they think and feel about love. Impeccable acting of Amir Khan, dashing Saif Ali Khan and sober Akshay Khana represent different sides and meanings of love.
[dailymotion id="x24j1dy"]
10. Jab We Met
See Shahid Kapoor and Kareena Kapoor doing best roles of their lives in this movie. This is one amazing movie to watch on a V-Day where Shahid as Aditya and Kareena as Geet are two entirely different people and they fall for each other. Watch this romantic comedy movie to find out how this unlikely couple manage to make it work.
[dailymotion id="x4f9be"]
11. Dil Dhadkne Do
Let's celebrate Valentine's Day on a cruise with heartthrob Ranveer Singh along with Anushka Sharma and Priyanka Chopra.  Dil Dhadkne Do is all about family affair that embarks on a life-changing journey on a cruise where they explore new perspective towards life and love. Filled with a lot of candid moments and real reflection of feelings, this is one latest rom-com that you must see.
[dailymotion id="x2mrgzk"]
Stay tuned to Brandsynario for more updates!