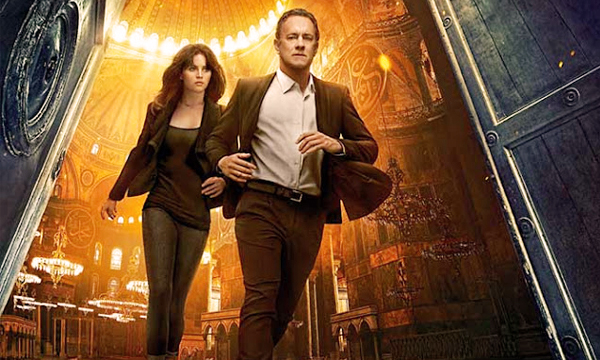 The month of October is filled with an array of movies that look like mega-blockbusters with all different kinds of genres. These releases are definitely going to keep our eyes glued to the screen and our wallets light. However, with the ban on Indian films in Pakistan, it will be difficult not to watch and support these captivating films in the cinemas.
As there are no big Pakistani movies set to release this month, it will surely bring down the number of viewers to cinemas. On the other hand, some great Hollywood movies will surely be enough to satisfy our thirst for entertainment.
Read below to find out which movies you should expect to see in the cinemas this month!
1. The Girl on the Train
Date of Release: 7th October 2016
Rachel Watson- an alcoholic, and a recent divorcee- commutes to work by train every day, fantasizing the relationship of her seemingly happy neighbors, Scott and Megan. One day, she is alarmed by a scene that takes place in their front yard. Watson later learns that Megan is now missing and presumed dead. Rachel takes matters into her own hands, starting an investigation, whilst the police are lead to believe that she is their number one suspect.
This movie, starring award-winning actress, Emily Blunt, is surely going to keep your mind racing as it provides the perfect blend of mystery and thriller.
2. Ae Dil Hai Mushkil
Date of Release: 28th October 2016
Fresh from her breakup, a girl, played by Anushka Sharma, develops a romantic interest in a man who loves to sing, played by Ranbir Kapoor. This Indian romance film is written and directed by the talented Karan Johar. Aside from the interesting main cast, it stars big names as well such as Shah Rukh Khan and Aishwarya Rai.
This movie also stars the Pakistani heartthrob, Fawad Khan, who will definitely work his magic on the silver screen!
3. Max Steel
Date of Release: 14th October 2016
Max McGrath, a teenager, discovers that his body can create the most powerful energy in the Universe. He meets Steel, a sarcastic, rebellious, alien who wants to harness Max's power. After forming a comradery, they combine together to form a turbo-charged superhero, Max Steel. They learn to rely on each other as they accept their fates, working together to defeat a powerful enemy from another Galaxy.
4. Shivaay
Date of Release: 28th October 2016
This upcoming Bollywood action movie, filmed, directed and produced by Ajay Devgan will definitely be breaking all the records. It features the hero himself along with Sayyeshaa Saigal, and Erika Kaar in lead roles. This highly awaited movie features a wonderful soundtrack composed by Mithoon with guest vocal appearances by the British band, 'The Vamps'.
The best part of the movie seems to be its mesmerizing shots which can be easily spotted in the trailer uploaded on Ajay Devgan's own Youtube channel. A reason behind that is because major parts of the movie were shot in Mussoorie, Hyderabad, and Bulgaria. 
5. 31
Date of Release: 21st October 2016
This horror film is set in 1976 featuring five carnival workers who are attacked, kidnapped and held hostage at a large building the night before Halloween by three elderly people dressed as clowns. They are told that they are going to be participating in a game called '31' that will last for the next 12 hours. Then all of them are placed in a maze and need to defend themselves against several clowns who intend to murder them.
Just watching this 3-minute long trailer will have your hair rising, and skin erupting in goosebumps!
Pakistani Cinemas Stop Screening of Indian Movies in Response to India's Ban on Pakistani Celebrities!
6. Inferno
Date of Release: 28th October 2016
Tom Hanks reprises his role as the Harvard symbologist, Robert Langdon, who wakes up in a hospital room with no memory of what occurred over the span of the last few days. He is once again the target of a manhunt and has to solve an intricate riddle, with the help of Dr. Sienna Brooks. This leads him to a place with classic art, secret passageways, and futuristic science.
This upcoming mystery thriller is based on the novel of the same name by Dan Brown is the sequel to the famous 'Da Vinci Code' and 'Angels & Demons'.
7. The Accountant
Date of Release: 14th October 2016
Ben Affleck plays a mathematical genius, Christian Wolff, who has been constantly bullied for his obsessive compulsive behavior and intellect. But as he grows older he manages to use his drawbacks to his advantage. Working secretly for criminal organizations as a hitman at night,  Wolff poses as your average account in the day.
After countless films released this year, such as 'Dark Knight' and 'Jane Got a Gun', this seems to be Ben Affleck's role of the year.
8. The Birth of a Nation
Date of Release: 7th October 2016
Nat Turner, a slave, and Baptist preacher, lives on a Virginia plantation owned by Samuel Turner. With news of an uprising, a cleric convinces Samuel and Nat to preach to the other slaves to be against this slave rebellion. However, after witnessing the ill treatment of his friend, he realizes that he needs to be a part of the bigger cause and to fight for their freedom. On August 2nd, 1831, Turner orchestrates an uprising in Southhampton County that takes a violent turn.
This film, directed and co-produced by Nate Parker, is based on true historic events.
9. Kevin Hart: What Now?
Date of Release: 14th October 2016
Kevin Hart releases a stand-up comedy film, which features short scripted scenes in between, starring Halle Barry. He performs the biggest stand-up ever, in a crowd of 50, 000 people at Lincoln Financial Field which is located in his hometown, Philadelphia. His show gives us an insight of his past and what he had to endure to reach the place where he is at today.
ARVE Error: src mismatch
url: https://www.youtube.com/watch?time_continue=189&v=iUfsjUgod3I
src in: https://www.youtube.com/embed/iUfsjUgod3I?start=189&feature=oembed
src gen: https://www.youtube.com/embed/iUfsjUgod3I?feature=oembed
10. Jack Reacher: Never Go Back
Date of Release : 21st October 2016
Award winning actor, Tom Cruise returns to his role as a former soldier and fugitive running from the law, Jack Reacher. In this action-packed serial, Jack Reacher returns to his old military base to find out his colleague, Susan Turner, played by Cobie Smulders. She has been arrested for a murder he is certain she did not commit. Reacher begins an investigation to prove her innocence and what he uncovers is a government conspiracy that involves the death of U.S. soldiers.
This is a sequel to the 2012 film, once again based on a novel by Lee Child.
Pakistani Cinemas Ban Bollywood Movies: Re-Schedules All-Pakistani Movies
Which of the above movies are you looking forward to? Let us know in the comments below.