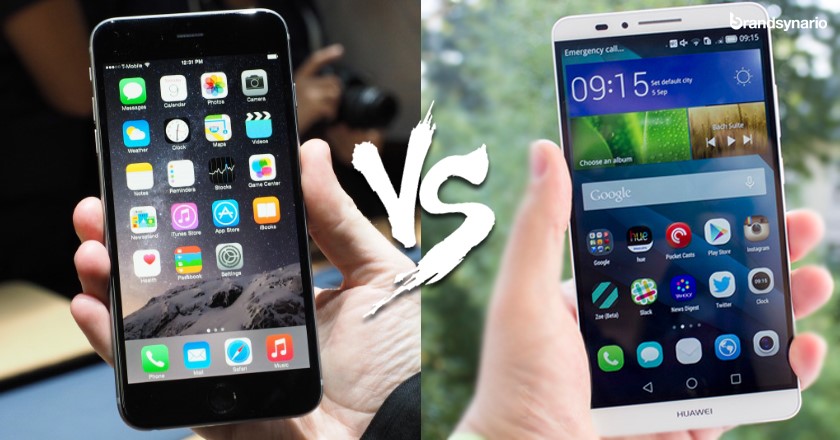 The iPhone 6 plus has had its fair share of criticism since its release and Chinese mobile company, Huawei, decided to cash in on it with its latest flagship device, Ascend Mate 7. The new model is the successor to Ascend Mate 2 and an alternative to Huawei Ascend P7, and is comparable in its features to the i phone 6 plus with some even having an advantage!
We all know China has a way of giving us, if not better, equally great alternatives to more known versions of popular brands, at a cheaper price and Ascend Mate 7 might just be an example of another of their successes.
Here are ten reasons, why Ascend Mate 7 is as good as the iPhone 6 Plus:
1. The Shorter, The Better
Ascend Mate 7, at 157mm, is slightly shorter than iPhone 6 Plus, with a size of 158.1 mm, without compromising the size or quality of the screen. The screen for both the phones boast of 1080 x 1920 pixels and IPS LCD technology. While the size difference of 1.1 mm may not that be such an issue, the negative reviews of iPhone 6 bending might make it a deal breaker for some.
2. Better Screen Ratio
While the size of Ascend Mate 7 is slightly smaller than the popular iPhone 6 plus, it's screen size is actually bigger. With a 6 inch screen as compared to that of the iPhone 6 plus at 5.5 inches, Ascend Mate 7 stands at a better screen ratio of 83% as opposed to iPhone's 73%.
3. Better LCD Technology – Premier IPS-NEO Phone
Ascend Mate 7 is the first ever phone to feature IPS-NEO LCD technology that boasts of high image quality, better viewing angle features and high contrast with almost 15% lower power consumption; a class along the lines of medical image applications. Ascend Mate 7 is currently the only phone with this feature which serves as a pro when compared to iPhone 6 Plus.
4. Better Power Source
Ascend Mate 7 has a non-removable battery with a capacity of a whooping 4100 mAh as compared to iPhone 6 Plus's 2915 mAh. This means that technophiles can enjoy at least two days of battery life with Ascend Mate 7.
5. Heating Value
While there were reports for third degree burn from iPhone 6 devices, it was later claimed that the heating issue is a common occurrence with all smartphones on excessive use. In spite of this, it did create some concern while Ascend Mate 7 has reportedly passed the heating tests by some third parties. 
6. Thickness of the Handset
Although the iPhone 6 Plus is only 7.1 mm in thickness as compared to Ascend Mate7 with a thickness of 7.8 mm, the design of the Huawei phablet is such that at the curved edges of the phone, the thickness is only 2.3 mm.
7. Thickness of Camera
Ascend Mate 7 might be a little thicker than its rival but its camera does not bulge whilst iPhone6 Plus's camera does bulge out a little. Moreover, the quality of the camera differs too with Mate 7's camera boasting of 13 MP in contrast to iPhone 6 Plus's 8 MP camera. 
8. Internet Speed
Ascend Mate 7 beats iPhone 6 Plus at the maximum supported internet speed too. While iPhone 6 Plus supports LTE CAT 4 allowing up to 150 Mbps, Ascend Mate 7 features LTE CAT 6 allowing up to 300 Mbps – double the internet speed. In this digital age, where it's nearly impossible to live without good internet connectivity, this might be a deal breaker for some enthusiastic geeks.
9. The Operating Systems
It seems that Huawei has been slightly inspired by Apple when designing their home screen features. However, Huawei's new flagship device still will be the first smartphone to support two operating systems at the same time. Currently, iPhone 6 plus operates on iOS and Ascend Mate 7 on a tailored version of Android 4.0 Kit Kat, but the newer version of Mate 7 will support two operating systems.
10. Dual SIM Options
Yet again a deal breaker for many, Ascend Mate 7 offers dual SIM options while iPhone 6 Plus supports only one SIM.
With a price difference of around at least $250 (depending on the versions of the phones under discussion), Ascend Mate 7 seems like a good alternative, if not better, to the legendary iPhone 6 Plus.
For die-hard Apple fans, these reasons might not be good enough to jump the Android bandwagon but they are certainly worth consideration.