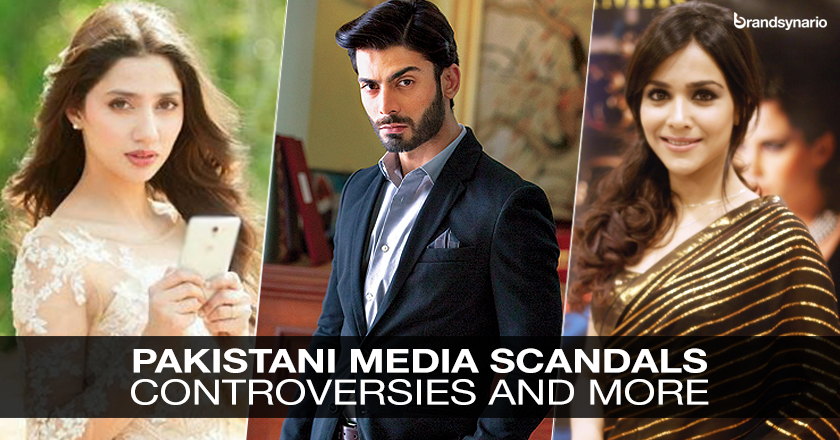 Pakistan's Media and Entertainment Industry is continuously innovating and re-creating some brilliant productions and turning heads internationally as well. It is one of the fastest growing and most volatile industries in the country. This Year, new channels managed to spring up and certain channels became banned or faded out because they were obsolete. Entertainment in Pakistan, has reached newer heights and there have been certain points in the careers of some local celebrities which has re-structured the entire industry and certain standard-quality milestone programs which have set new benchmarks for viewers.
1. Fawad Khan debuts in Bollywood
After gaining momentous success in India through the popularity of television dramas such as Humsafar and Zindagi Gulzar Hai, Fawad Khan debuted in Indian movies through the movie "Khoobsurat". It is a brilliantly directed movie and he is staring in the movie alongside the gorgeous looking Sonam Kapoor. He bagged the award for "Best Bollywood Debut" at Dubai "Masala Awards 2014".
Following his return to Pakistan, he has had massive support from fans and cine-goers at his homeland. Apart from that, he has been endorsing several different brands such as Fair Men's, TUC Biscuits, Clear Shampoo and Qmobile.
2. Coke Studio 7 directed by Strings, Replacing Rohail Hayat
Coke Studio began to be aired on 21nd September 2014 and the changes this season were in the form of the Producers which was the Strings Duo, replacing Rohail Hayat for this year. The Show was as usual sponsored by Coca-Cola and Strings managed to keep the Quality and Standard of Music of the Show to the prior Benchmark that was set by the shows previous producer. From Abbas Ali Khan and Abida Parveen to Jawwad Ahmed and Zoe Viccaji to Zohaib Hassan, the entire season feature 24 different singers who sang out with their heart and soul and somehow managed to keep up the status quo for churning out Magical Melodies.
3. Pakistan Idol
Amidst the country's volatile political landscape, there were two reality shows that brought a certain degree of light-heatedness for viewers. The global franchise for bringing forth an Idol-like singer from the masses was brought to life as Pakistan Idol. The show was sponsored by Pepsi and marketed by Geo TV. The show was hosted by Mohib Mirza and judged by Hadiqa Kiani, Ali Azmat and Bushra Ansari. This was the first ever season to be aired and it was won by Zamad Baig who was voted by millions of fans, closely followed by the runner up of the show, Muhammad Shoaib.
4. MasterChef Pakistan
This is another internationally franchised Reality Show which was recently brought to Pakistan, The first season was launched on 3rd May 2014. It was aired on Urdu1 and judged by three famous local chefs from across the country, Chef Zakir Qureshi, Chef Mehboob Khan and Chef Khurram Awan. The first season was won by a young housewife Ammara Noman in July 2014. The idea and concept of the show was loved by audiences and a lot of people were enthusiastic and glad to watch this show being replicated to their home country.
5. Na-Maloom Afraad, Operation 021 and Dukhtar
The film Industry in Pakistan, this year had some definitive and breakthrough moments. Na-Maloom Afraad was a witty, circumstantial comedy that depicted three reckless individuals whose lives get tangled up and it is set in Karachi city. The movie stares Fahad Mustafa as one of the lead actors along with Javed Sheikh and Mohsin Abbas Haider. It also has a hit item number featuring Mehwish Hayat which has to be historically one of the most popular item numbers in the Industry for now. The movie fared well in terms of earnings as well as critical reviews.
Operation 021 was a spy-thriller film and the first film in Pakistan ever to be released with the surround sound technology of Dolby Atmos which is boasted by movies like Dhoom 3 and Kick. Produced by Zeba Bakhtiar and her son Azaan Sami Khan, and starring Shaan, Aamina Sheikh and Shamoon Abbasi, it is shot in rural areas of Pakistan and has a lot of foreign crew as well. It was also an overall box-office success, which grossed earnings of PKR 61 million.
Dukhtar was another Pakistani, game-changing movie that turned heads. Directed by Afia Nathaniels, this is the film which was Pakistan's Official Entry for "Best Foreign Language Film" for the 87th Annual Academy Awards, however it was not nominated.
6. GEO TV
This Year also marked the fall of television's most famous channel network. From April 2014, when one of the senior-most journalists Hamir Mir was attacked; to 15th May when the extremely popular Shaista Wahidi was accused of conducting blasphemous actions on her morning show "Utho Jago Pakistan". The result of this was that PEMRA suspended Geo Networks license to broadcast for fifteen days.
The channel network managed to lose its market leading position in the face of other competing news channels and lost about 95% of its advertising income.
The channel network lost its higher standing with its biggest rival ARY Network.
7. Dr. Aamir Liaqat joins Express News
One of the most renowned names associated with GEO TV included Dr. Aamir Liaqat Hussain. His Live Ramzan transmissions broadcasted on GEO TV were watched by masses across the country and internationally as well. Being the Vice President of GEO TV, he demanded Mir Shakil-ur-Rehman to promote him to President of the Network, and on being refused he has joined Express Media Group as President.
8. Humaima Malik debuts in Bollywood
Since releasing on August 28, 2014, Humaima Malik's debutante film across the border, called Raja Natwarlal, received critical commendations. Despite not faring as well as expected at the box-office, Humaima's performance alongside Emraan Hashmi as the lead was greatly lauded and she is deemed to have a strong and ravishing screen presence. The actress, according to sources, has signed on to three new movies in the Indian film Industry.
9. Imax Theatres launched in Lahore
Since 2012, there was news that the first Imax theatre was all set to be launched in Lahore. The event actually took place in June 2014. It is a superior quality movie-watching experience, and only the films produced in IMAX film format or converted to that format, can be played there such as Godzilla. This theatre has a capacity for seating around 470 people, and is considered as a blissful treat by cine-lovers. After gaging the audience responses the administration has claimed that there are plans underway to open an Imax theatre in Karachi as well as Islamabad.
10. Mahira Khan's lead role opposite SRK
At the end of the Year, there has been good and surprising news for Pakistani Media. Following the footsteps of her former co-star Fawad Khan, Mahira Khan is said to have signed on to a Bollywood Movie titled, Raees. The movie is staring Shahrukh Khan as a cop and she will be playing the role of his wife. The film producers Farhan Akhter and Ritesh Sidhwani claim that she is a perfect fit for the role.