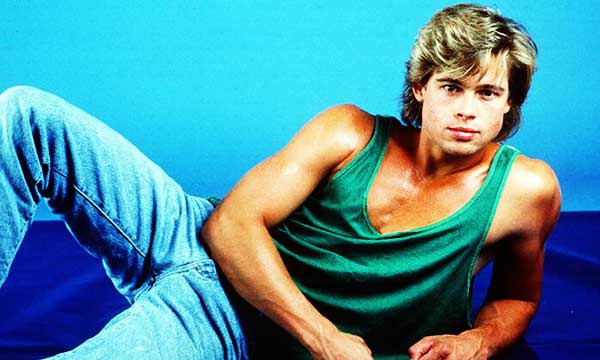 It's seldom that we see a superstar grow into an international phenomenon in front of our eyes. We usually watch them in movies and then endorse brands through advertising after they have claimed their share of stardom. But have you ever wondered how these famous celebs started their careers?
Obviously, they were not so popular once, so how did they make it so big in Hollywood suddenly? Well, the answer is that stardom is not that sudden after all.
Here's a look at some of the stars who made it big only after they gave a fair share of these 'not-so-academy-award-winning' performances. These were some of their stepping stones:
1. Brad Pitt
That's right, the 49-year-old, four-time academy award nominee Brad Pitt,  has given the world cinematic excellences like Troy, The Curious Case of Benjamin Button, 12 monkeys, The Oceans series, Money Ball, Inglorious Bastards and of course, the Fight Club.
Brad Pitt apart from the aforementioned movies has given the world this television commercial you see below:
2. Leonardo DiCaprio
Di Caprio is an American actor nominated for three academy awards and nine Golden Globe Awards in total. He is also a movie producer, but he is primarily known for Movies like Titanic and Inception.
But do you know that before Titanic, Gangs of New York, The Aviator, Blood Diamond, The Departed, Django Unchained and any of his other block buster movies, DiCaprio was starring in this:
3. Nicholas Cage
No introduction is required here, as his critically acclaimed performances elucidates the actor as an acting institution, with movies like Leaving Las Vegas, Con Air, The Rock, Face Off, City of Angels and the National Treasure series.
However rarely have people seen Nicholas Cage like this;
4. Keanu Reeves
The matrix superstar, with dynamic acting skills, has exhibited time and again whether it was The Constantine, Sweet November or the Matrix trilogy, these three completely different movies that showcase the actors' expertise.
5. Tobey Maguire
The 38 year Maguire, is more renowned for his acting as Spider Man. The trilogy is one of the most followed superhero movies of all time and Tobias Vincent "Tobey" has created a trademark character for Peter Parker.
Did any of you believe that Tobey also created this, early in his career?
6. Lindsay Lohan
The Disney child star that rose to fame early in her career, has experienced a fair share of troubles in her professional career. Lohan has been accused of traffic violations, drug usage and several other allegations during the last years.
Here is a look at her Jello ad that showcased the innocence of the child star that once was.
7. Mila Kunis
The 30 year old rising star of 'Black Swan' and 'Friends with Benefits', gave her first internationally acclaimed performances in 2008 in the movie' Forgetting Sarah Marshall.'
The Ukrainian beauty can be seen below when she was only a child artist working for ads like the one below;
8. Ben Affleck
Future Batman of 'Superman vs Batman' movie, Ben Affleck is an International sensation. Affleck has given memorable performances like the ones in Dogma and Chasing Army. However early in his career ,he  won an  academy award as the screenwriter for Goodwill Hunting.
However the rumored new Batman has also been the face for Burger King, long ago;
9. Kristin Stewart
Twilight superstar Stewart, famous for 'not' having one of the most smiling faces, was once a star in Porsche;
10. Steve Carell
The television artist that rose to unbelievable fame through the show, "The Office" – Steve Carrel has become the modern face for a trademark straight-faced comedy. Inspired and created by Ricky Gervais, the actor has tremendous variation in his acting skills.
Take a look at what 'Gru' from the Despicable me, used to do before he became famous;