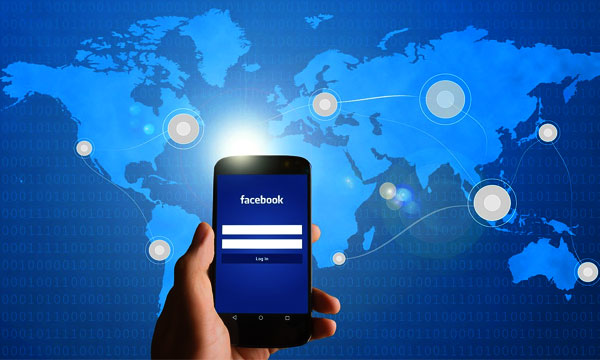 Facebook has become an integral part of our life but even after spending hours of time on this social platform on a daily basis, users still not aware of those tips that can make their Facebook life way easier.
Related: Facebook Users Grow to 1.5 Billion in 2015
Following are some handy tricks and shortcuts every Facebook user must know:
1) Control Visibility of Apps In Use
When you login to Facebook gaming apps (Candy Crush, Farmville etc), your friends are being notified by your activities in their newsfeed. But it is totally in your control to hide all your apps' activity from your friends, here is the procedure:
Log in to your Facebook account from desktop web browser and mouse over the Apps placed on your left side screen and click More.
Select Settings and you will see a list of all the Facebook apps in use, hover over it and click the Pencil icon to hide an app.
Then click the drop down list box of App Visibility and set it to the Only Me option.
2)  Turn off Game Notifications /Requests
If you are annoyed of receiving too many game notifications (Candy Crush/ 8 Ball Pool requests etc), then it is not a major issue. Once kill these notifications and you will not receive anymore.
Click on the More icon to Open the Settings Menu ( If you are using Android it will be at top right corner and if use Facebook via iOS app then More icon will be on lower-right corner)
For Android, Scroll down to the App Settings and for iOS scroll down to Account Settings 
Click Notifications in Android and turn Application Requests Off. In case of iOS, go to Notifications select Mobile and unmark all check boxes of Application Requests and Application Notifications.
Thus, once for all you will get rid of these irritating game requests.
3)  Disconnect Apps from your Facebook account that are not used anymore
The users should disconnect the apps that are no longer used because these apps can still collect information from your facebook account. Here is the way out:
Log in to your Facebook account from desktop web browser and mouse over the Apps placed on your left side screen and click More.
Next click the Settings button and then hover over the app on the list you want to disconnect. Click X button, a dialogue box will open.
Once you click Remove button, the app will be disconnected and won't receive new information from your account.
4) Post on Facebook from Twitter
Majority of the social media users specially journalists or showbiz celebrities stay connected on both Facebook and Twitter by this option.
Click Profile Image of Twitter from desktop and then click Settings.
After that, click Apps on the left side of the screen after scrolling down and then click Connect to Facebook.
 Enter your Facebook Login information in the pop-up window and click Okay, also choose the people whom you want to show your post and click Okay again. Your tweets will be automatically posted to Facebook as well.
5) Download Your Facebook Information
Who knew this feature was even available to us ?
You can download and save all your facebook data including pictures, photo albums, notes and status updates.
Go to the Settings of your Facebook account from the drop down menu on the top-right.
Next click Download a Copy and then select Start My Archive from the next screen. Downloading of your facebook data will start in a .zip file and it can be huge.
6) Easiest Way to Download Pictures
Why use 'Right Click > Save Image As' option when you can directly Download a photo of yours or of yours friend.
Open a photo and click Options in the lower-right corner and then select Download.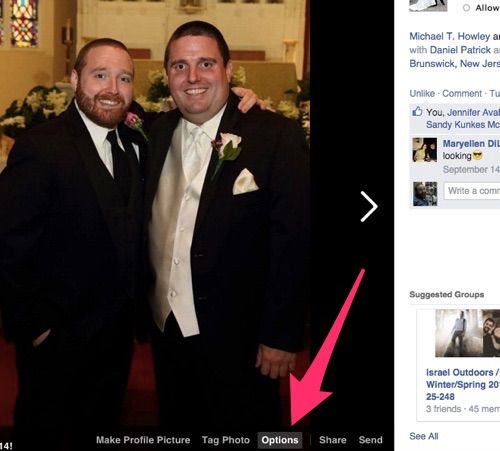 7) Control the audience for your posts
You can easily control and limit the audience who sees your posts.
Open right post or add photo box as usual from Desktop and click Friends, from the drop down menu you can customize the audience for your post by choosing Custom in which you can allow specific people or groups to see your posts and specific people or group to restrict from it.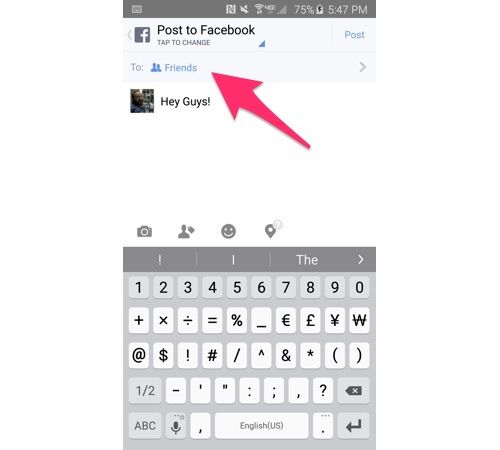 In Android, you will have Friends Except option to restrict anyone.
Read More: 10 Facebook Features for Better User Experience
8) Review what people post on your timeline
This option allows you to screen what people are going to post on your timeline directly or by tagging.
Follow this path: Settings > Account Settings > Timeline and Tagging > Review Posts Friends Tag You in Before They Appear on your Timeline > Enable / Turn On Slider (Android)
9) Increase Your Account Security by enabling Login Approvals
Every user must enable Login approvals of his facebook account to protect it from hacking or misuse.
Go to Settings > Account Settings > Security > Check On Login Approvals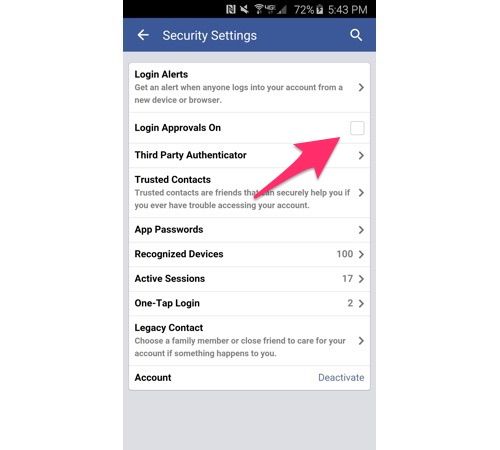 Click On the other checkbox and give a contact number on which Facebook will send you Login code when you or someone else will try to sign in from a new browser.
10) Turn off notifications from a post
It is really irritating when you receive too many notifications for a post either your own or it is a tagged one. You can easily stop receiving notifications for such post.
Go on to the post, Click Arrow on Top Right Corner > Scroll to Drop Down List > Turn Off Notifications for this Post.