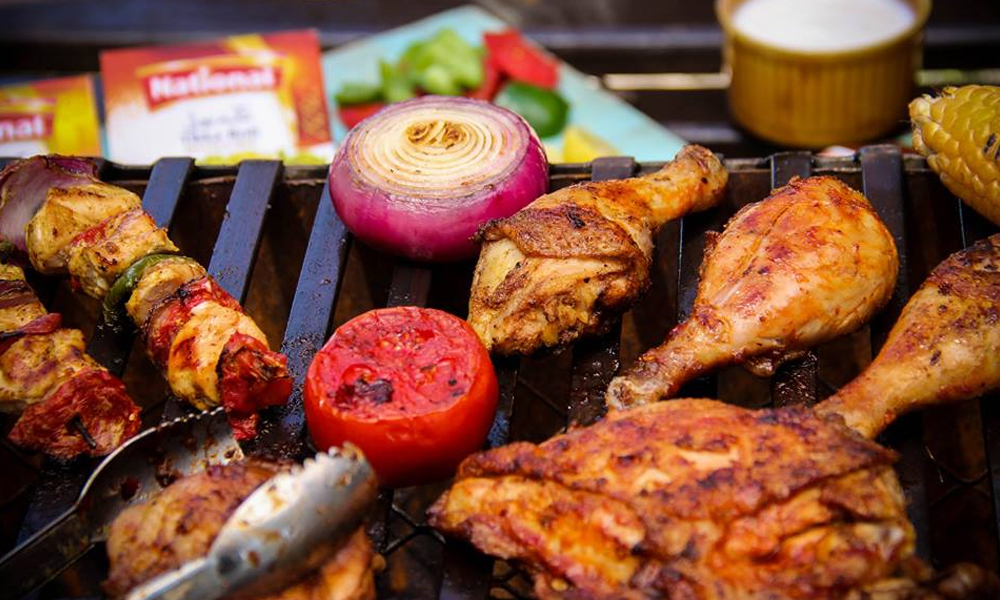 It has been almost 46 glorious years since National Foods Limited built a warm home in the hearts of Pakistanis. Be it the mouth-watering pickles, plain spices or easy-to-cook recipe mixes, the brand has made cooking easier and delightful for die-hard desi foodies.
National Food's latest website, Made Easy is yet another ground-breaking effort to revolutionize time-saving methods of cooking. Positioned as " The Complete Kitchen Solution", the portal is a cool pictorial and video cookbook that features free delectable recipes almost every day.
From student foodies to cooking novices, home cooks to young working women; National's Made Easy will help you find uncomplicated gourmet recipes to otherwise extravagantly difficult meals.
We went through the savvy site and compiled a list of lip-smacking dishes, we bet you will crave to make right away. Enjoy these incredible easy versions of typically tricky treats. Bon Appetite!
Chicken Quesadilla
As difficult as it sounds, National Foods has made this Mexican dish pretty simple to devour. And guess what is the shocking secret ingredient in Chicken Quesadilla? It is National Food's Haleem Masala Mix. Quite out-of-the-box, right?
See how to make Chicken Quesadilla-the National Food's way-here!
Spaghetti Arabiata
If you are a spaghetti lover and looking for something different than mundane pasta recipes, then you must check out Spaghetti Arabiata recipe on National's  Made Easy. The only tough part is to get the sauce right and with this video tutorial, we bet you will never get it wrong!
Watch Spaghetti Arabiata's Easy Make recipe below.
[iframe id="https://www.youtube.com/embed/OM_I7mrQPR4″]
Chicken Karahi
Want to convince your loved ones of your cooking abilities? Then start with this sinfully scrumptious National Food's Chicken Karhai recipe. The perfect sweet, spicy flavor will win both their heart and tummy in no time!
You will start drooling while just looking at it. Learn how to make National's Made Easy Chicken Karhai in this video.
[iframe id="https://www.youtube.com/embed/2Gfdq7uAlp8″]
Sindhi Biryani
Hands down, Biryani is the Holy Grail of all desi dishes! The colorful, aromatic, hot traditional entrée is an all time tantalizing treat in Pakistani households.
But don't worry anymore about standing in front of the stove for long hours just to satiate your craving for a plateful of irresistible Biryani. Try this National's  Made Easy Sindhi Biryani recipe. Pair it with green chutney raita and it will be double yum!
[iframe id="https://www.youtube.com/embed/2bYkDt5vl5Q"]
Paya
We all believe that Payas (Mutton soup) is so complicated only experienced cooks can pull off this regal dish. But with this Made Easy's Paya tutorial, you will think otherwise.
With just a few ingredients and National's Paya Mix, you will get the dish ready in just 60 mins! Don't believe us? Watch it here.
[iframe id="https://www.youtube.com/embed/ZeuXBbBTFCA"]
Pizza Paratha
Pizza lovers, there is something in here for you too! This "East meets West" Pizza Paratha recipe can be an ideal starter for a dawaat  or even an Iftar snack for this Ramadan.
The best part is that you can enjoy that fiery Tikka Pizza taste in it via National's Tikka Boti Masala Mix. Watch how to make it within minutes.
[iframe id="https://www.youtube.com/embed/xAM9Gq3D8IU"]
BBQ Platter
Planning a big barbecue bash for your friends? Then whip up a grand, mouth-watering BBQ platter and wow everyone at the party.
Prepare a feast fit for a king with a lavish serving of Chicken Tikka, Mutton Tikka and White Malai Boti. Seems really challenging, but its is startlingly hassle-free! See it for yourself.
[iframe id="https://www.youtube.com/embed/zpLhQ4p5gr8″]
Meat Balls
Don't we all yearn for those tender and soft Koftas once in a while, that just melt in our mouths and bring bliss to our belly? They are the ultimate meaty balls of love!
Now you can enjoy them more often via National's Made Easy Meat Ball recipe. No need to beg your mom anymore to make it for you. Watch this cooking method and you will be fully qualified to prepare them yourself.
[iframe id="https://www.youtube.com/embed/QomTfsBSGLY"]
Haleem
Gone are the days when cooking Haleem was considered the challenge of the century! With National's Haleem Recipe mix, life is definitely easier.
This healthy Haleem recipe via Made Easy is so awesome, you can master it in a jiffy. In the upcoming Eid season, show your relatives what an expert at Haleem you are! Watch the recipe here.
[iframe id="https://www.youtube.com/embed/huOThw4crnU"]
Crispy Chicken Burger
Having a sudden fast food craving? Want to munch on finger lickin' yummy crispy chicken burger? Seems like National's Made Easy has you covered for good.
You can ditch those cookbooks with long, hefty recipes to make a classic, crispy chicken patty. All you need is the brand's Chicken Broast masala mix and Voila- you can indulge into the mouth-watering juicy, crunchy wonder of a burger!
[iframe id="https://www.youtube.com/embed/WeFWYF4nK1c"]
With Made Easy's aesthetically pleasing and smooth interface you can quickly browse any sort of dish you are looking for. Plus, it includes some awesome chef hacks that you have probably never heard of before!
What is more, the well-equipped search bar makes it even better to reach to the recipe you want. Another feature on the web page is the filter option. Select the ingredient type, the cooking method along with the preparation time and it will find a meal for you as per your needs.
Check out the website for yourself and tell us how much you love it!