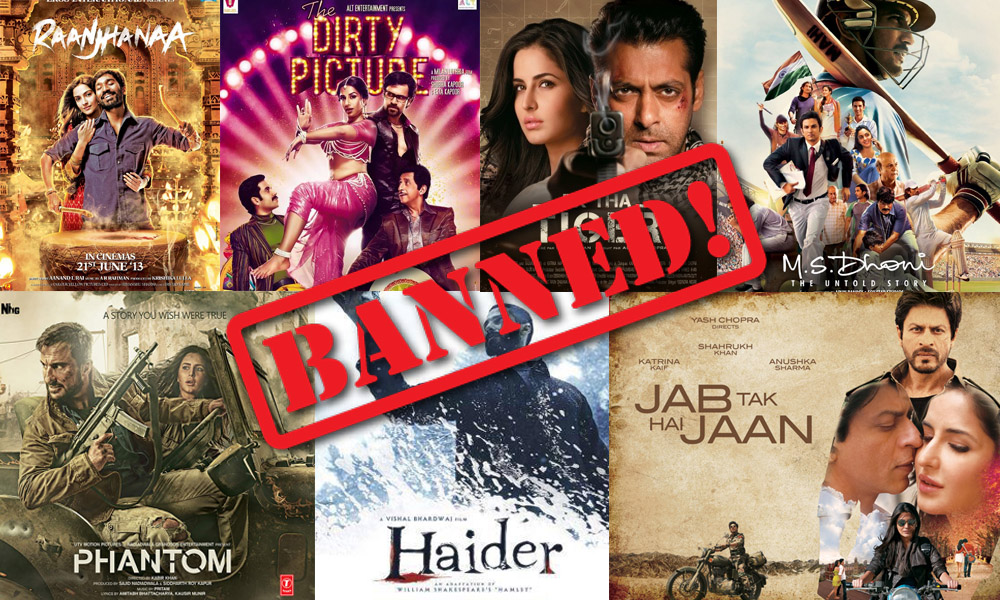 Skirmishes always tend to occur at the Pakistan & India border, however, this time the nation decided to take a stand against India and put a ban on all Bollywood movies from being showcased in Paki-land. As a nation, coming together at this point in time was much- needed, therefore, many movie houses and cable networks in Pakistan have banned the incoming of any Indian content at all.
Surprisingly, this is not the first time a situation similar to this has taken place as Indian movies have been banned in the past as well, but for various different reasons. Those reasons could pertain to controversial topics, vulgar material, or just downright insults to Pakistanis in general.
Here is a list of 10 controversial movies that were banned in Pakistan!
1. Haider
Haider is an Indian drama film that was released on 2nd October 2014 and starred the popular Shahid Kapoor as the lead character. Set in Kashmir, it follows the life of a young man who discovers that his uncle was the man behind his father's tragic murder.
It was banned in the country because in generated intense political reactions since it was set during the time when there was an insurgency in Kashmir -quite a sensitive subject.
Haider was the Indian adaptation of Shakespeare's 'Hamlet' also starring Shraddha Kapoor. Haider' is Director Bhardwaj's third adaptation of Shakespeare's plays, previous two being Maqbool (Macbeth) and Omkara (Othello).
2. Baby
Released in 2015, this spy-action thriller features a team of secret agents titled 'Baby', with the lead role of Ajay played by Ashkay Kumar. Ajay is shown as a member of an elite counter-terrorism unit who uncovers a major threat and leads the team to counter the attack imposed on them.
The Censor Board in Islamabad and Karachi banned the film as they believed that it shed a negative light on Muslims, stereotyping them. All the antagonists in the film had Muslim names.
3. Bangistan
This 2015 Bollywood comedy satire showcased the lives of two young men chosen by their boss to head on a mission and learn the art of terrorism and become 'bomb experts'.
This controversial film, directed by Karan Anshuman and starring Riteish Deshmukh, Pulkit Samrat and Chandan Roy Sanyal, was although meant to be a satire was banned by the Pakistan's Central Board of Film Censors, due to obvious violent connotations.
4. Bhaag Milkha Bhaag
This 2013 hit biographical flick directed by Rakeysh Omprakash Mehra is solely based on the life of Milkha Singh, an Indian athlete who was a national champion runner and an Olympian.
A line by Singh in the film "Mujhse nahi hoga. Main Pakistan nahi jaonga," is what apparently led to its ban. In the film, Singh is asked to head to Pakistan and he refuses since his parents were killed during the partition in 1947.
5. Phantom
The controversial 2015 release Phantom starring Saif Ali Khan stirred quite an uproar in both the countries. The 2015 Indian action thriller film directed by Kabir Khan, follows the life of Daniyal as he tracks down masterminds in India, Europe, America and the Middle East, after several terrorist attacks in India.
He begins to carry out a series of assassinations in order to restore his country's honour. This film, starring Katrina Kaif and Saif Ali Khan, was requested to be banned by Hafiz Muhammad Saeed's Jamaat-ud-Dawa as it displayed the 26/11 attacks.
6. Raanjhanaa
Did you know Raanjhana was banned in Pakistan too? This 2013 romantic comedy, starring Sonam Kapoor, features a small-town Hindu man who falls in love with a Muslim girl, coming from an upper-class family with different ideals and values.
The CFBC banned the film before its release because of the inappropriate relationship between the Muslim girl and a Hindu boy, apparently portraying a false and negative image of real Muslims.
7. Tere Bin Laden
Tere Bin Laden, a Bollywood satire film, starring the renowned Ali Zafar  follows the life of a Pakistani reporter who meets terrorist group Al-Qaeda leader, Osama bin Laden's doppelganger. He shoots a video to gain fame and acknowledgment of the US media.
The ban was quite apparent on this one!The film portrayed quite a negative image of Pakistan, displaying vulgarity and derogatory dialogues.
8. Ek Tha Tiger
In order to retrieve top secret information from a scientist in Dulbin, Salman Khan's character known as 'Tiger' RAW's top spy goes to drastic lengths in order to uncover it. Along the way, he falls in love with a woman who is not who she says she is.
This 2012 action-thriller film, directed by Kabir Khan, was banned due to the screening of altercations between Pakistan and India's respective agencies, ISI and RAW.
9. Jab Tak Hai Jaan
Kabir Khan, known for his spy action films that always contain a controversial note, directed another 2012 film starring Shah Rukh Khan, Anushka Sharm, and Katrina Kaif. It features a journalist who discovers the diary of a major in the Indian army in order to use him and his tragic tale as her subject in her documentary. The recent behind its banning is because of the slight digs taken at the Pakistani army.
10.The Dirty Picture
Who does not remember the racy and very sultry Vidya Baalan in Dirty Picture! The Dirty Picture is a 2011 Indian biographical drama film, based on the affair between late South Indian actress Silk Smitha, who is best known for her erotic roles, and her director.  vulgar scenes and dialogue which did not deem fit for Pakistani audiences by the CFBC.
Erotic scenes vulgar dialogues and racy connotations just did not deem fit for Pakistani audiences by the CFBC and hence it was banned in the country! People still watch the movie, via other means, (if you know what I mean).
With Bollywood movies now banned in Pakistan, this may be just the right time to indulge in some quality Pakistani cinema.
Pakistani Cinemas Stop Screening of Indian Movies in Response to India's Ban on Pakistani Celebrities!
Have anything to add to this story? Let us know in the comments section below.Stay tuned to Brandsynario for more updates!
Stay tuned to Brandsynario for more updates!