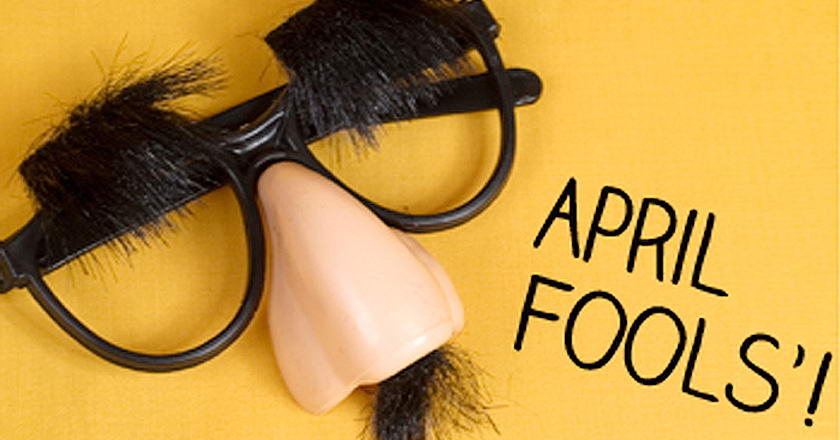 April Fool's Day, when every person is paranoid and nearly every person springs up a practical or an impractical joke. Some are downright hilarious, some desperate and some just LAME and trying too hard.
What with social media being the new world and the real one just a secondary life, all brands are celebrating 'April Fool's Day' on the social circles. Most brands come up with the wittiest and for some people, the cruelest pranks. Well they have their marketers to thank for that. Each prank is made to out-do the other.
It's a World War of Pranks on everyone and Team Brandsynario is here to help you stay updated, lest you should go running to your friends telling them about the hottest news and then it turns out to be a prank. For example, The Rock coming to Pakistan. Got you, didn't we!
With multiple shenanigans, Google is the prank 'King', while other brands are playing catch up with the speeding joker. Brandsynario rounds up the most hilarious pranks by brands all over the world, including our very own Pakistani brands:
Burger King Pakistan
Burger King is bringing the ever popular 'Bun Kebab'.
Foot-Fi with Stylo Shoes
Stylo now has shoes with built-in wifi!
No more waiting around for internet access – its there whereever you step.
Elgoog
Google reminds us that sometimes, to move forward, you need to have a different perspective. You need to look back. And that's exactly what they've done. Everything – even the domain is backwards!
The first time Google uses its top-notch '.google' domain and it's for a prank. Of course.
Everything appears backwards, even images.
Microsoft MS DOS Phone
The much awaited Microsoft MS-DOS mobile is finally here.
A phone that runs completely on DOS – for all you developers out there!
Google Maps Pac-Man
Google's pre-April Fool's Day trick was none other than turning its Maps app into a giant game of Pac-Man! Hello 90's flashback!
Just hit the button next to satellite view and you'll be playing the game in your own neighborhood. It even works on mobile, if you can find one of the hidden little pins that activate the game. We totally need this one on a daily basis!
Clip-on Man Buns
Asos Australia pulls out all the stops and tweets about the latest sensation – Leonardo di Caprio style MAN HAIR BUNS!
The game changer: clip-On Man-Buns, coming soon. pic.twitter.com/rgBSJPCKHM

— ASOS Australia (@ASOS_Au) March 31, 2015
Google Panda – Google Japan
This year, out of Google Japan, we've got an adorable new product called 'Google Panda' which is a cuddly toy you can talk to and consult for answers, just like Google Now.
The company touts Panda as portable (it can cling onto your arm during a run) and it can answer any question using Google's voice recognition technology. This has to be the cutest joke, by far.
Samsung Galaxy BLADE
Samsung is taking its commitment to culinary expertise and cutting-edge technology even further – literally.
You are looking at a clear, glass-like phone with a foldable handle, is ergonomic and ceramic, has a diamond edge, is waterproof (unlike the S6 and S6 Edge), and even has a thermometer stylus!
Running on the latest OS, the Galaxy BLADE edge comes with all the incredible features of the Galaxy S6, but its edge is so sharp and strong that the device can also serve as a chef's knife. In fact, the Galaxy BLADE edge could very well render all the knives in your kitchen obsolete.
Keyless Keyboard
Google Japan strikes again! They didn't settle for just one prank, it also came up with the keyless keyboard. The device is a party horn that can be used to input language into your mobile phone via Bluetooth.
All you have to do is blow on the party horn.
#Chromeselfie
Everyone's favorite – the selfie – is now available on Google Chrome (mobile devices only).
Google added a new option that allows you to take a reaction selfie to any page that you visit on your mobile devices. This is almost like Snap Chat, but much more fun. You can share your website reactions within the social network of your choice dubbed as #ChromSelfie hastag. (Google should totally do this for real).
Vodafone – Emoji Phone
In the tech space, Vodafone announced an emoji phone and I'm sure people will be quite sad to realize it's not a real product.
Its announcement read: "If this phone was real and not a light-hearted April Fools' Day prank, we'd want you to know the handset features our genius image conversion engine; allowing users to text quickly and seamlessly via Emoji and converting received texts back to the image language."
Sad to say it, folks, but this is only the beginning. The next 24-48 hours will generate an even greater number of jokes. Some will be funny. Some will even make us wish they were actual ideas and products.
This is April Fools. Prepare yourselves.