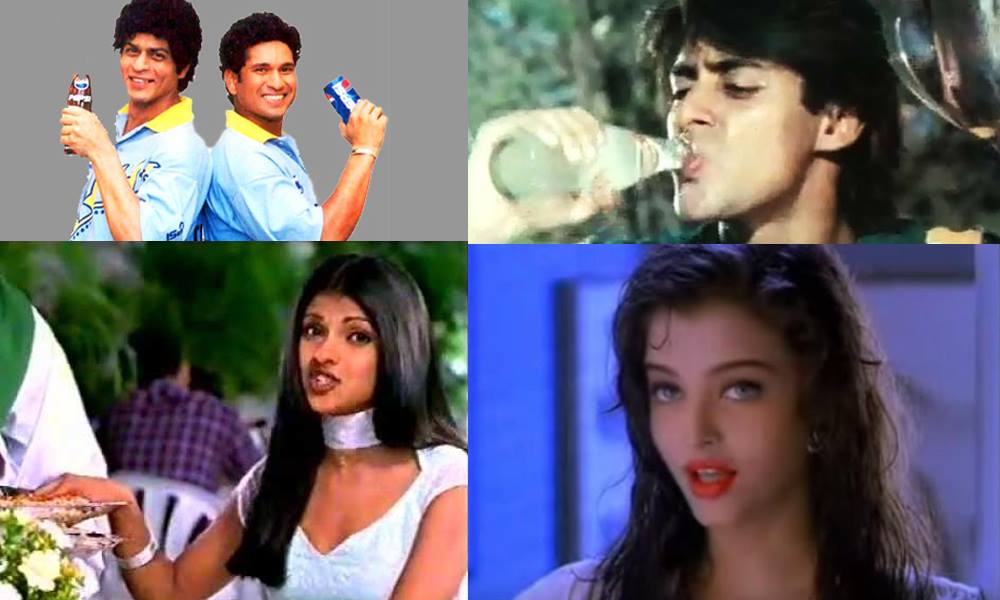 Throwbacks are great! A trip down the memory lane every once in a while is enough to remind us that not all of us were mature, good-looking humans back in the day. We, regular folks, cringe at the idea of looking at our old videos and pictures but what about our favorite Bollwyood celebrities?
The braces and acne phase of our lives will forever haunt us. But for superstars, 20 years back meant starring in commercials they would not be proud of or even watch themselves today.
Not that they were bad actors but for the fact that Bollywood icons are so trained for our eyes that now we would just recoil at the odd clothing, makeup and the advertisement in general!
Let's give you a throwback to some of the most popular Bollywood celebrities and their hilarious ads from the 80s and 90s. Happy watching!
1. Amir Khan in Coke
Back in the days, when buying a Coke bottle wasn't exactly considered a luxury and young Amir Khan was establishing himself as one of Bollywood's bad boys. Mr. perfectionist was part of this Coke ad, flaunting all his authority!
2.Amir Khan and Aishwarya Rai for Coke
Amir Khan, once again, starred in a cheesy TVC for Coca-Cola. His second appearance was alongside Aishwarya Rai in, what can now be considered as, a cliched advert idea of a boy-girl meet up.
3.Amir Khan with Ashwariya Rai and Mahima Chaudry
A boy alone at night with two extremely hot ladies? What could possibly be the story?
This time, Amir Khan starred in a Pepi  ad as a typical lone boy. Alongside him were the leading ladies of B-Town, Ashwariya Rai and Mahima Chaudry.
Forbes' Highest Paid Celebs Include Salman Khan, Amitabh Bachchan & Dhoni
4.Priyanka Chopra in Dabur Vatika
Before she made a name for herself in Hollywood as Alex Parrish in Quantico, Priyanka Chopra came in Dabur Vatika's ad for hair problems. This was before she discovered plastic surgery and became the desi girl of Bollywood. We bet you will be shocked to see the old Priyanka!
5.Shahrukh Khan in Pepsi Ad
Shah Rukh Khan, known for his typical Rahul roles, had a chance to appear with some of the big names of  India's Cricket team. He featured as an over-excited fan of Pepsi in this funny commercial. He is shown making his way to the players' locker room as Sachin Tendulkar while ducking Rahul Dravid and Ravi Shastri all in one.
 6.Shahid Kapoor, Rani Mukherjee, Shahrukh Khan and Kajol in Pepsi
Does anyone remember  a cute, skinny boy who is now one of the hottest commodities of Bollywood ? We are talking about none other than Shahid Kapoor.
Before the hottie had ladies gushing over him left, right and center, he starred in a commercial alongside King Khan, Rani Mukherjee, and Kajol. This TVC is a must-watch as it unveils the young Kapoor shaking a leg with the three big-wigs of tinsel town.
7.Salman Khan in Limca Advert
Call him Dabangg Khan or Mr. Controversy, but ages back Salman Khan made it to the headlines for all the wrong reasons. He starred in a Limca commercial, sporting a really bad hair cut and embarrassing shorts.
8. Kajol in Pepsi Advert
Bad graphics? Check. No storyline? Check. Kajol being a boss? Check, check and check!
In this Pepsi ad, Kajol stars as a boss looking for a boy whose father supposedly changed jobs. Makes sense? Not really! But, then again, her old ads never made much sense!
9.Amitabh Bachchan in BPL Ad
A young, Amitabh Bachchan stars in this old TVC that is well beyond our comprehension, mostly because of the video quality and bad graphics.
Despite having a very visible sign that says Piccadilly Station, the advertisers claimed that the BPL ad was in fact shot in India. Well, logic precedes them and who are we to argue!
10. Saif Ali Khan, Fardeen Khan, Kareena Kapoor and Preity Zinta in Pepsi
We present you one of the earliest ads with the star power of Bollywood! Featuring Saif Ali Khan, Fardeen Khan, Kareena Kapoor and Preity Zinta, this Pepsi ad hits you right in the feels via the old age tried and tested marketing formula.
Shocked to see the younger versions of Bollywood celebrities? We were too!
Stay tuned to Brandsynario for more updates!