Airport authorities are under fire for seizing food items from the passenger's luggage. The development came in after the government decided to impose a ban on the import of around 38 non-essential luxury items in lieu of the declining economic stability.
Airport Authorities Under Fire
Last week authorities banned the import of mobile phones, CBU, home appliances, cosmetics, pottery, pet food, private weapons and ammunition. Imported shoes, chandeliers and lighting (except energy savers), headphones and loudspeakers, doors and window frames. Travelling bags and suitcases, sanitary ware, carpets (except Afghanistan), tissue paper, furniture, and shampoos. Including automobiles, luxury mattresses and sleeping bags, bathroom ware/toiletries, heaters/blowers, sunglasses, kitchenware, and cigarettes. As well as shaving goods, luxury leather apparel, musical instruments, saloon items like hairdryers and decoration/ornamental articles.
However, a week after the decision, Pakistan Customs are now seizing items from travellers arriving at the country's airports. The issue was raised by a traveller who had travelled from a location yet to be disclosed. The seized items include around 5kg of foodstuff and other essentials.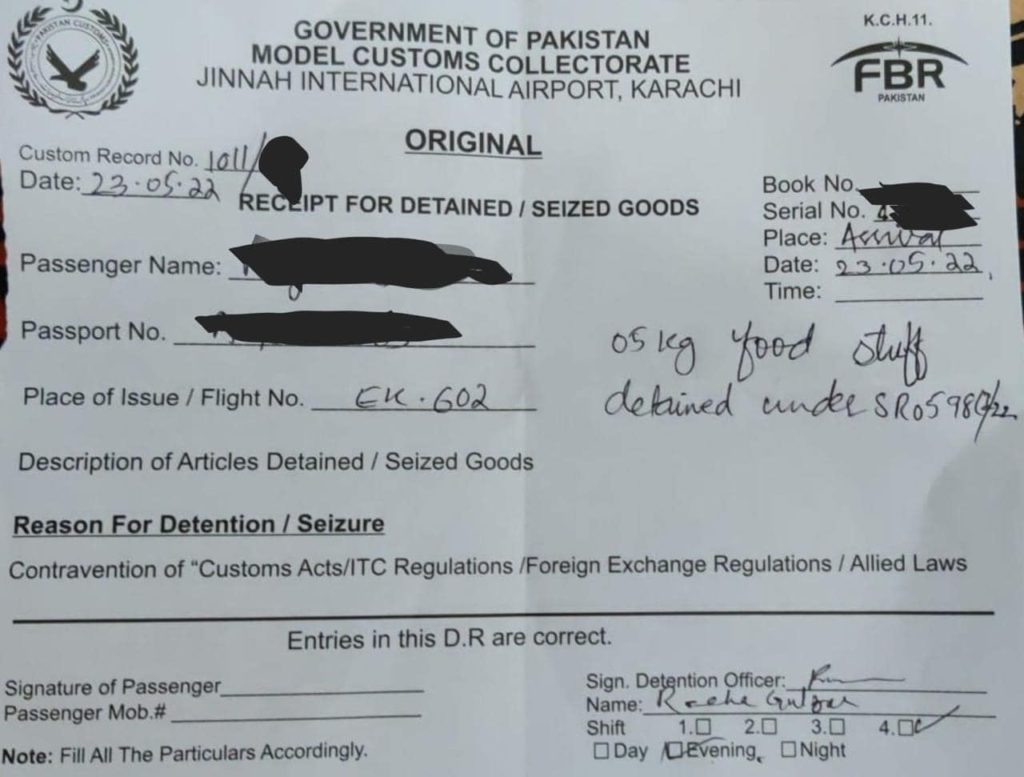 Read More: Regulatory Duties On Cars & Tyres To Increase Up To 100%
امپورٹڈ سامان پر ایس آر او کے باعث لوگوں کے ذاتی سامان حتیٰ کہ ہینڈ کیری میں سے بھی چاکلیٹس اور دیگر سامان نکالا جا رہا ہے۔ @MiftahIsmail اس جہالت کو فوری روکیں اور پابندی کا اطلاق صرف تجارتی کنسائنمنٹس تک محدود رکھیں pic.twitter.com/4dRGlLjLBI

— Shafaat Ali (@iamshafaatali) May 24, 2022
The Custom Authorities Response
A letter was devised by the collectorate who decided to write about the issue at hand to the member of the Federal Board of Revenue. In the letter, they mentioned how the customs officials at the Karachi airport scanned the passengers arriving from the 'risky destinations', which led to the seizure of the goods found in their luggage.
Read More: Gucci Launches Gaming Academy & Here's Everything You Need To Know
"Round the clock vigilance at the international arrival terminal resulted in seizures of various items. Which had been brought in the garb of bona fide passenger baggage," said the letter from the Collectorate of Customs' at the Jinnah International Airport
Meanwhile, severe criticism on social media platforms leads Miftah Ismail to clear the air.  He also mentions the decision taken and to whom it might apply amidst the rising tension with customs officials.
"As the govt has banned importing a few non-essential items, we fear that smuggling of these items will increase. Therefore we have increased enforcement against professional khaipyas. Officials know who they are. A few items brought by ordinary citizens will not cause an issue."
He also shared the document which showed the number of items carried by the customers in their baggage. The huge quantity leads to the confiscation of products. According to which around 76-kilogram foodstuff, 127-kilogram fruits, 42-kilograms sanitarywares. As well as 213 cell phones and 96 pairs of branded shoes by the customs officials.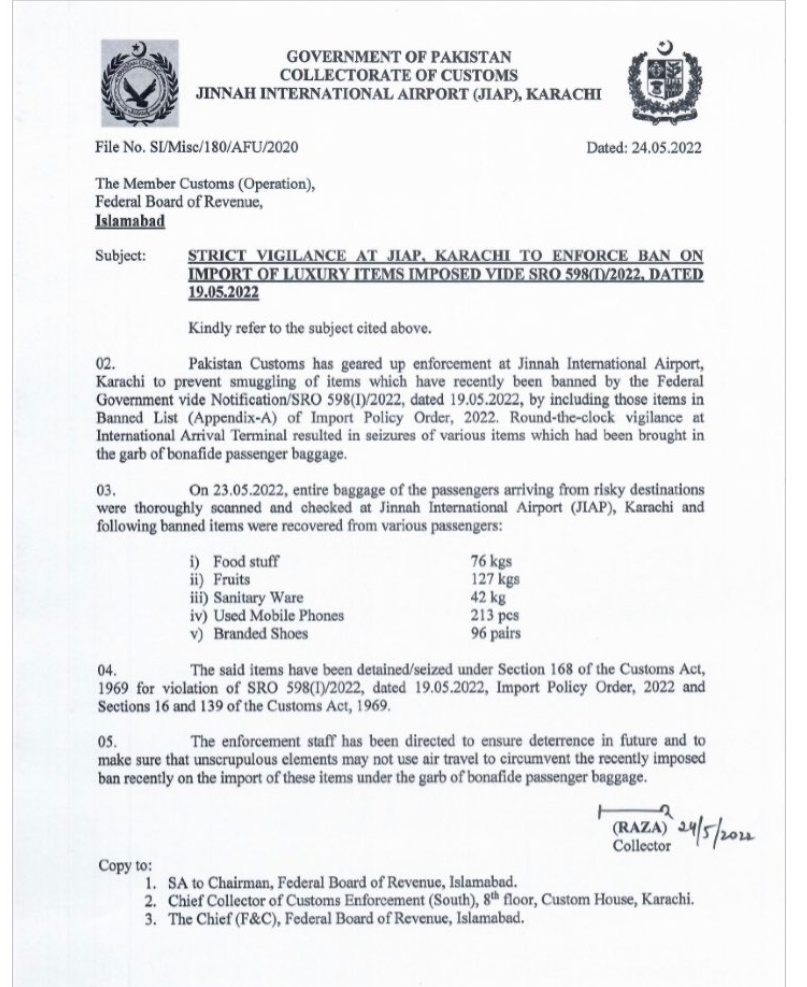 Stay tuned to Brandsynario for the latest news and updates.